Kinase-Inactivated EGFR Is Required for the Survival of Wild-Type EGFR-Expressing Cancer Cells Treated with Tyrosine Kinase Inhibitors
Department of Biology and Biochemistry, College of Natural Science and Mathematics, University of Houston, Houston, TX 77204-5036, USA
*
Author to whom correspondence should be addressed.
Received: 24 March 2019 / Revised: 7 May 2019 / Accepted: 19 May 2019 / Published: 22 May 2019
Abstract
Inhibiting the tyrosine kinase activity of epidermal growth factor receptor (EGFR) using small molecule tyrosine kinase inhibitors (TKIs) is often ineffective in treating cancers harboring wild-type EGFR (wt-EGFR). TKIs are known to cause dimerization of EGFR without altering its expression level. Given the fact that EGFR possesses kinase-independent pro-survival function, the role of TKI-inactivated EGFR in cancer cell survival needs to be addressed. In this study, using wt-EGFR-expressing cancer cells A549 (lung), DU145 (prostate), PC3 (prostate), and MDA-MB-231 (breast), we characterized the TKI-induced dimerization status of EGFR and determined the dependency of cells on kinase-inactivated EGFR for survival. We report that TKI-induced EGFR dimerization is dependent on palmitoylation and independent of its kinase activity, and that mutations of the cysteine residues known to be critical for EGFR's palmitoylation abolished TKI-induced EGFR dimerization. Furthermore, TKI-induced EGFR dimerization is persistent in TKI-resistant cells, and inhibition of palmitoylation by 2-bromopalmitate, or targeted reduction of the kinase-inactivated EGFR by siRNA or by an EGFR-downregulating peptide, are lethal to TKI-resistant cancer cells. This study suggests that kinase-inactivated EGFR remains to be a viable therapeutic target for wt-EGFR cancers and that inhibiting palmitoylation or downregulating EGFR may overcome TKI resistance.
View Full-Text
►

▼

Figures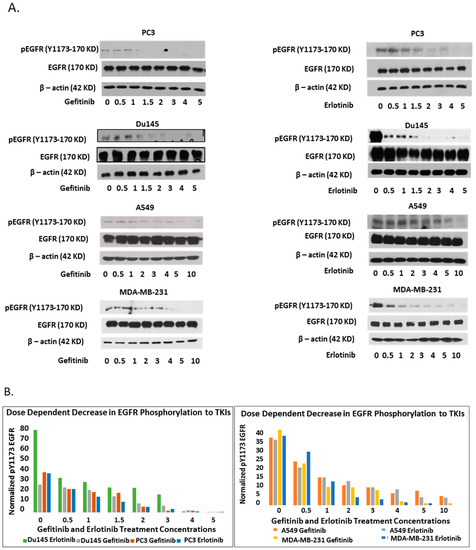 Figure 1
This is an open access article distributed under the
Creative Commons Attribution License
which permits unrestricted use, distribution, and reproduction in any medium, provided the original work is properly cited (CC BY 4.0).

Share & Cite This Article
MDPI and ACS Style
Thomas, R.; Srivastava, S.; Katreddy, R.R.; Sobieski, J.; Weihua, Z. Kinase-Inactivated EGFR Is Required for the Survival of Wild-Type EGFR-Expressing Cancer Cells Treated with Tyrosine Kinase Inhibitors. Int. J. Mol. Sci. 2019, 20, 2515.
Note that from the first issue of 2016, MDPI journals use article numbers instead of page numbers. See further details here.
Related Articles
Comments
[Return to top]