miR-27a-5p Attenuates Hypoxia-induced Rat Cardiomyocyte Injury by Inhibiting
Atg7
1
Institute of Animal Genetics and Breeding, College of Animal Science and Technology, Sichuan Agricultural University, Chengdu 611130, Sichuan, China
2
Farm Animal Genetic Resource Exploration and Innovation Key Laboratory of Sichuan Province, Sichuan Agricultural University, Chengdu 611130, Sichuan, China
*
Authors to whom correspondence should be addressed.
†
These authors contributed equally to this work.
Received: 14 April 2019 / Revised: 7 May 2019 / Accepted: 13 May 2019 / Published: 16 May 2019
Abstract
Acute myocardial infarction (AMI) is an ischemic heart disease with high mortality worldwide. AMI triggers a hypoxic microenvironment and induces extensive myocardial injury, including autophagy and apoptosis. MiRNAs, which are a class of posttranscriptional regulators, have been shown to be involved in the development of ischemic heart diseases. We have previously reported that hypoxia significantly alters the miRNA transcriptome in rat cardiomyoblast cells (H9c2), including miR-27a-5p. In the present study, we further investigated the potential function of miR-27a-5p in the cardiomyocyte response to hypoxia, and showed that miR-27a-5p expression was downregulated in the H9c2 cells at different hypoxia-exposed timepoints and the myocardium of a rat AMI model. Follow-up experiments revealed that miR-27a-5p attenuated hypoxia-induced cardiomyocyte injury by regulating autophagy and apoptosis via
Atg7
, which partly elucidated the anti-hypoxic injury effects of miR-27a-5p. Taken together, this study shows that miR-27a-5p has a cardioprotective effect on hypoxia-induced H9c2 cell injury, suggesting it may be a novel target for the treatment of hypoxia-related heart diseases.
View Full-Text
►

▼

Figures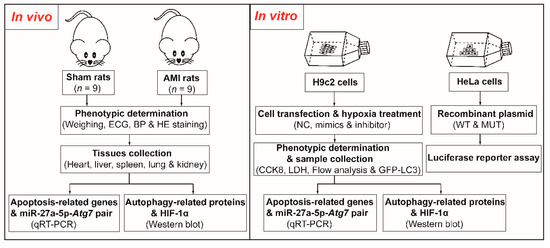 Figure 1
This is an open access article distributed under the
Creative Commons Attribution License
which permits unrestricted use, distribution, and reproduction in any medium, provided the original work is properly cited (CC BY 4.0).

Share & Cite This Article
MDPI and ACS Style
Zhang, J.; Qiu, W.; Ma, J.; Wang, Y.; Hu, Z.; Long, K.; Wang, X.; Jin, L.; Tang, Q.; Tang, G.; Zhu, L.; Li, X.; Shuai, S.; Li, M. miR-27a-5p Attenuates Hypoxia-induced Rat Cardiomyocyte Injury by Inhibiting Atg7. Int. J. Mol. Sci. 2019, 20, 2418.
Note that from the first issue of 2016, MDPI journals use article numbers instead of page numbers. See further details here.
Related Articles
Comments
[Return to top]