We Are What We Eat: A Stoichiometric and Ecometabolomic Study of Caterpillars Feeding on Two Pine Subspecies of
Pinus sylvestris
1
Environmental Molecular Sciences Laboratory, Pacific Northwest National Laboratory, Richland, WA 99354, USA
2
CREAF, Center for Ecological and Forestry Applications, Cerdanyola del Vallès, 08913 Catalonia, Spain
3
CSIC, Global Ecology Unit CREAF-CEAB-CSIC-UAB, Cerdanyola del Vallès, 08913 Catalonia, Spain
4
Grupo de Ecología Terrestre, Departamento de Biología Animal y Ecología, Facultad de Ciencias, Universidad de Granada, 18071 Granada, Spain
5
Global Change Research Institute, Czech Academy of Sciences, Bĕlidla 4a, CZ-603 00 Brno, Czech Republic
*
Author to whom correspondence should be addressed.
Received: 19 November 2018 / Revised: 17 December 2018 / Accepted: 20 December 2018 / Published: 24 December 2018
Abstract
Many studies have addressed several plant-insect interaction topics at nutritional, molecular, physiological, and evolutionary levels. However, it is still unknown how flexible the metabolism and the nutritional content of specialist insect herbivores feeding on different closely related plants can be. We performed elemental, stoichiometric, and metabolomics analyses on leaves of two coexisting
Pinus sylvestris
subspecies and on their main insect herbivore; the caterpillar of the processionary moth (
Thaumetopoea pityocampa
). Caterpillars feeding on different pine subspecies had distinct overall metabolome structure, accounting for over 10% of the total variability. Although plants and insects have very divergent metabolomes, caterpillars showed certain resemblance to their plant-host metabolome. In addition, few plant-related secondary metabolites were found accumulated in caterpillar tissues which could potentially be used for self-defense. Caterpillars feeding on N and P richer needles had lower N and P tissue concentration and higher C:N and C:P ratios, suggesting that nutrient transfer is not necessarily linear through trophic levels and other plant-metabolic factors could be interfering. This exploratory study showed that little chemical differences between plant food sources can impact the overall metabolome of specialist insect herbivores. Significant nutritional shifts in herbivore tissues could lead to larger changes of the trophic web structure.
View Full-Text
►

▼

Figures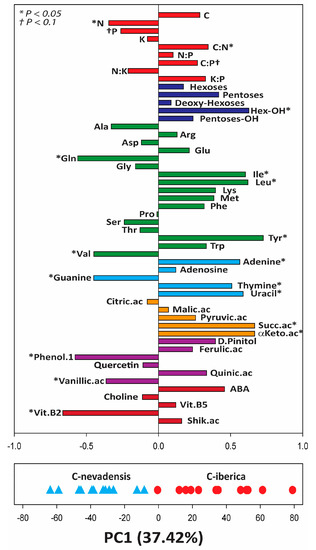 Figure 1
This is an open access article distributed under the
Creative Commons Attribution License
which permits unrestricted use, distribution, and reproduction in any medium, provided the original work is properly cited (CC BY 4.0).

Share & Cite This Article
MDPI and ACS Style
Rivas-Ubach, A.; Peñuelas, J.; Hódar, J.A.; Oravec, M.; Paša-Tolić, L.; Urban, O.; Sardans, J. We Are What We Eat: A Stoichiometric and Ecometabolomic Study of Caterpillars Feeding on Two Pine Subspecies of Pinus sylvestris. Int. J. Mol. Sci. 2019, 20, 59.
Note that from the first issue of 2016, MDPI journals use article numbers instead of page numbers. See further details here.
Related Articles
Comments
[Return to top]