Morniga-G, a T/Tn-Specific Lectin, Induces Leukemic Cell Death via Caspase and DR5 Receptor-Dependent Pathways
1
Université de Toulouse, Cancer Research Center of Toulouse, INSERM UMR 1037, 2 Avenue Hubert Curien, 31037 Toulouse, France
2
Université de Toulouse, UMR 152 PharmaDev, Université Paul Sabatier, Institut de Recherche et Développement, Faculté de Pharmacie, 35 Chemin des Maraîchers, 31062 Toulouse, France
3
Department of Biotechnology, Faculty of Bioscience Engineering, Ghent University, Coupure links 653, B-9000 Ghent, Belgium
*
Author to whom correspondence should be addressed.
Received: 11 December 2018 / Revised: 30 December 2018 / Accepted: 31 December 2018 / Published: 8 January 2019
Abstract
Morniga-G, the Gal-specific black mulberry (
Morus nigra
) lectin, displays high affinity for T (CD176) and Tn (CD175) antigens, frequently expressed at the cancer cell surface. The effects of Morniga-G were investigated on a Tn-positive leukemic Jurkat cell line. The lectin, used in a concentration range between 5–20 μg/mL, induced cell death in leukemic Jurkat cells. Microscopic and cytofluorometric analyses indicated that Jurkat cell death was essentially apoptotic, associated with an increase in the ceramide content and a depolarization of the mitochondrial transmembrane potential. This lectin-mediated cell death was inhibited by the pan caspase-inhibitor zVAD. In addition, cleavage of caspases 8, 9, and 3 was observed in Morniga-G-treated Jurkat cells whereas Jurkat cell lines that are deficient in caspase 8–10, caspase 9, or FADD, survived to the lectin-mediated toxicity. Furthermore, in the presence of TRAIL- or DR5-blocking mononoclonal antibodies, Jurkat cells became resistant to Morniga-G, suggesting that the lectin triggers cell death via the TRAIL/DR5 pathway. In silico computer simulations suggest that Morniga-G might facilitate both the DR5 dimerization and the building of TRAIL/DR5 complexes. Finally, upon treatment of Jurkat cells with benzyl-GalNAc, an
O
-glycosylation inhibitor, a decrease in Tn antigen expression associating with a reduced Morniga-G toxicity, was observed. Taken together, these results suggest that Morniga-G induces the cell death of Tn-positive leukemic cells via concomitant
O
-glycosylation-, caspase-, and TRAIL/DR5-dependent pathways.
View Full-Text
►

▼

Figures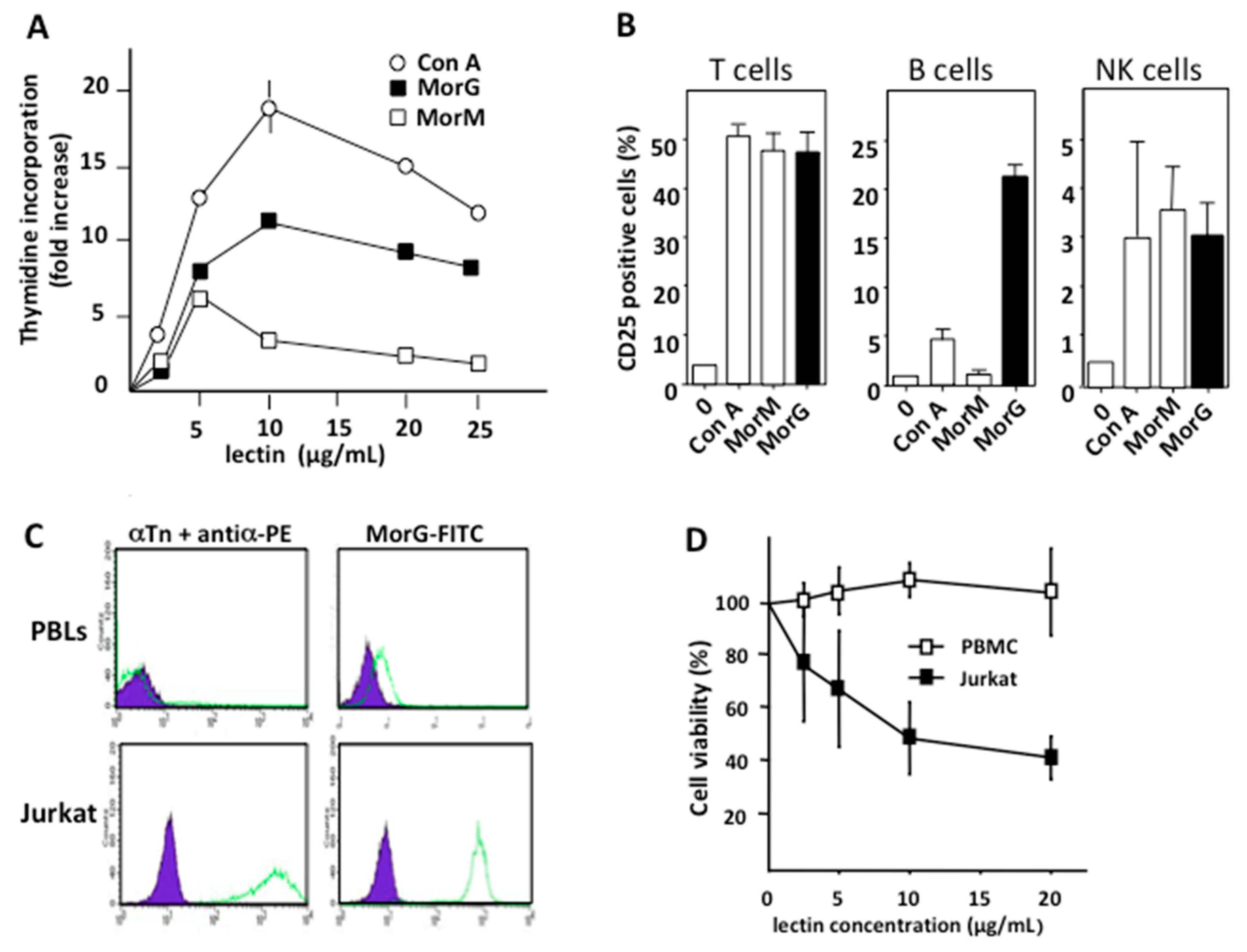 Figure 1
This is an open access article distributed under the
Creative Commons Attribution License
which permits unrestricted use, distribution, and reproduction in any medium, provided the original work is properly cited (CC BY 4.0).

Share & Cite This Article
MDPI and ACS Style
Poiroux, G.; Barre, A.; Simplicien, M.; Pelofy, S.; Segui, B.; Van Damme, E.J.M.; Rougé, P.; Benoist, H. Morniga-G, a T/Tn-Specific Lectin, Induces Leukemic Cell Death via Caspase and DR5 Receptor-Dependent Pathways. Int. J. Mol. Sci. 2019, 20, 230.
Note that from the first issue of 2016, MDPI journals use article numbers instead of page numbers. See further details here.
Related Articles
Comments
[Return to top]