Integrating Thyroid Hormone Signaling in Hypothalamic Control of Metabolism: Crosstalk Between Nuclear Receptors
1
Laboratory BVBGR, LR11ES31, Higher Institute of Biotechnology of SidiThabet (ISBST), Department of Biotechnology, University of Manouba, Sidi Thabet 2020, Tunisia
2
Laboratory of Genetics, Immunology and Human Pathology, Faculty of Sciences of Tunis, Department of Biology, University Tunis El Manar, Tunis 2020, Tunisia
3
CNRS UMR 7221 "Evolution of Endocrine Regulations" Department of "Life Adaptations" MuséumNational d'HistoireNaturelle 57, rue Cuvier CP 32, 75231 Paris, CEDEX 05, France
*
Author to whom correspondence should be addressed.
Received: 7 June 2018 / Revised: 6 July 2018 / Accepted: 6 July 2018 / Published: 11 July 2018
Abstract
The obesity epidemic is well recognized as a significant global health issue. A better understanding of the energy homeostasis mechanisms could help to identify promising anti-obesity therapeutic strategies. It is well established that the hypothalamus plays a pivotal role governing energy balance. The hypothalamus consists of tightly interconnected and specialized neurons that permit the sensing and integration of several peripheral inputs, including metabolic and hormonal signals for an appropriate physiological response. Current evidence shows that thyroid hormones (THs) constitute one of the key endocrine factors governing the regulation and the integration of metabolic homeostasis at the hypothalamic level. THs modulate numerous genes involved in the central control of metabolism, as
TRH
(Thyrotropin-Releasing Hormone) and
MC4R
(Melanocortin 4 Receptor). THs act through their interaction with thyroid hormone receptors (TRs). Interestingly, TH signaling, especially regarding metabolic regulations, involves TRs crosstalk with other metabolically linked nuclear receptors (NRs) including PPAR (Peroxisome proliferator-activated receptor) and LXR (Liver X receptor). In this review, we will summarize current knowledge on the important role of THs integration of metabolic pathways in the central regulation of metabolism. Particularly, we will shed light on the crosstalk between TRs and other NRs in controlling energy homeostasis. This could be an important track for the development of attractive therapeutic compounds.
View Full-Text
►

▼

Figures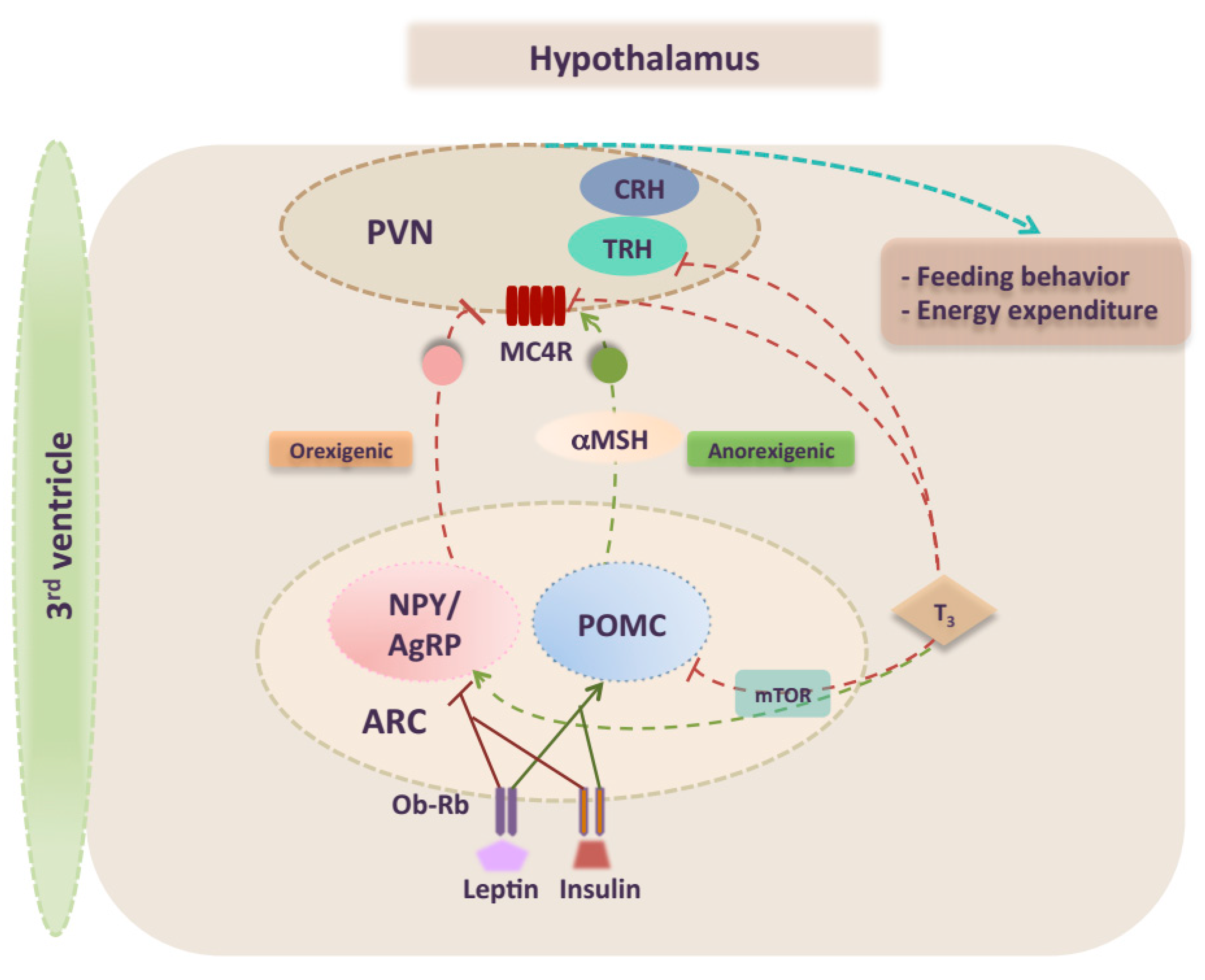 Figure 1
This is an open access article distributed under the
Creative Commons Attribution License
which permits unrestricted use, distribution, and reproduction in any medium, provided the original work is properly cited (CC BY 4.0).

Share & Cite This Article
MDPI and ACS Style
Kouidhi, S.; Clerget-Froidevaux, M.-S. Integrating Thyroid Hormone Signaling in Hypothalamic Control of Metabolism: Crosstalk Between Nuclear Receptors. Int. J. Mol. Sci. 2018, 19, 2017.
Note that from the first issue of 2016, MDPI journals use article numbers instead of page numbers. See further details here.
Related Articles
Comments
[Return to top]