DEAD-Box Protein RNA-Helicase DDX6 Regulates the Expression of HER2 and FGFR2 at the Post-Transcriptional Step in Gastric Cancer Cells
1
Department of Surgical Oncology, Graduate School of Medicine, Gifu University, 1-1 Yanagido, Gifu 501-1194, Japan
2
Department of General and Gastroenterological Surgery, Osaka Medical College, 2-7 Daigaku-machi, Takatsuki, Osaka 569-8686, Japan
3
Translational Research Program Osaka Medical College, 2-7 Daigaku-machi, Takatsuki, Osaka 569-8686, Japan
4
United Graduate School of Drug Discovery and Medical Information Sciences, Gifu University, 1-1 Yanagido, Gifu 501-1193, Japan
5
Division of Biomarker Discovery, Exploratory Oncology and Clinical Trial Center, National Cancer Center, 6-5-1 Kashiwa, Chiba 277-8577, Japan
*
Author to whom correspondence should be addressed.
Received: 3 June 2018 / Revised: 3 July 2018 / Accepted: 6 July 2018 / Published: 9 July 2018
Abstract
The human DEAD/H-box RNA helicase DDX6 (RCK/p54) is a protein encoded by the fusion gene from the t(11;14)(q23;q32) chromosomal translocation observed in human B-cell lymphoma cell line RC-K8. DDX6 has a variety of functions such as translation initiation, pre-mRNA splicing, and ribosome assembly. However, details of the regulatory mechanism governing DDX6 and the functions of DDX6 are largely unknown. Previously, we reported that DDX6 is overexpressed in most malignant cell lines and clinical colorectal tumor samples and that DDX6 positively contributes to the pathogenesis of various cancers. In the current study, we aimed at revealing the function of DDX6 in HER2 and FGFR2 related human gastric cancer (GC) by using clinical samples and GC cell lines. DDX6 protein was overexpressed in about 60% of the clinical samples; HER2, in 35%; and FGFR2, in 30%, (
n
= 20). Interestingly, the DDX6 protein was overexpressed in all HER2-positive samples (
n
= 7), and in 83% (5 of 6) of the FGFR2-positive samples, which could reflect the contribution of DDX6 to the expression of HER2 and FGFR2. In the GC cell line MKN7, which has
HER2
amplification, the knockdown of
DDX6
by siR-DDX6 led to the decreased expression of the HER2 protein. On the other hand, the knockdown of
HER2
did not influence the DDX6 expression. Similar results were also obtained for the KATO-III and HSC39 cell lines having amplified FGFR2 expression. The increased expression of DDX6 induced a significantly increased expression of the HER2 protein without increasing the mRNA expression. The results of an RNP Immunoprecipitation (RIP)-assay using GC cells indicated that the DDX6 protein acted as an RNA-binding protein for
HER2
and FGFR2 mRNAs and positively regulated their post-transcriptional processes. These findings demonstrated that DDX6 was an upstream molecule that positively regulated the expression of HER2 and FGFR2 at the post-transcriptional step in GC cells.
View Full-Text
►

▼

Figures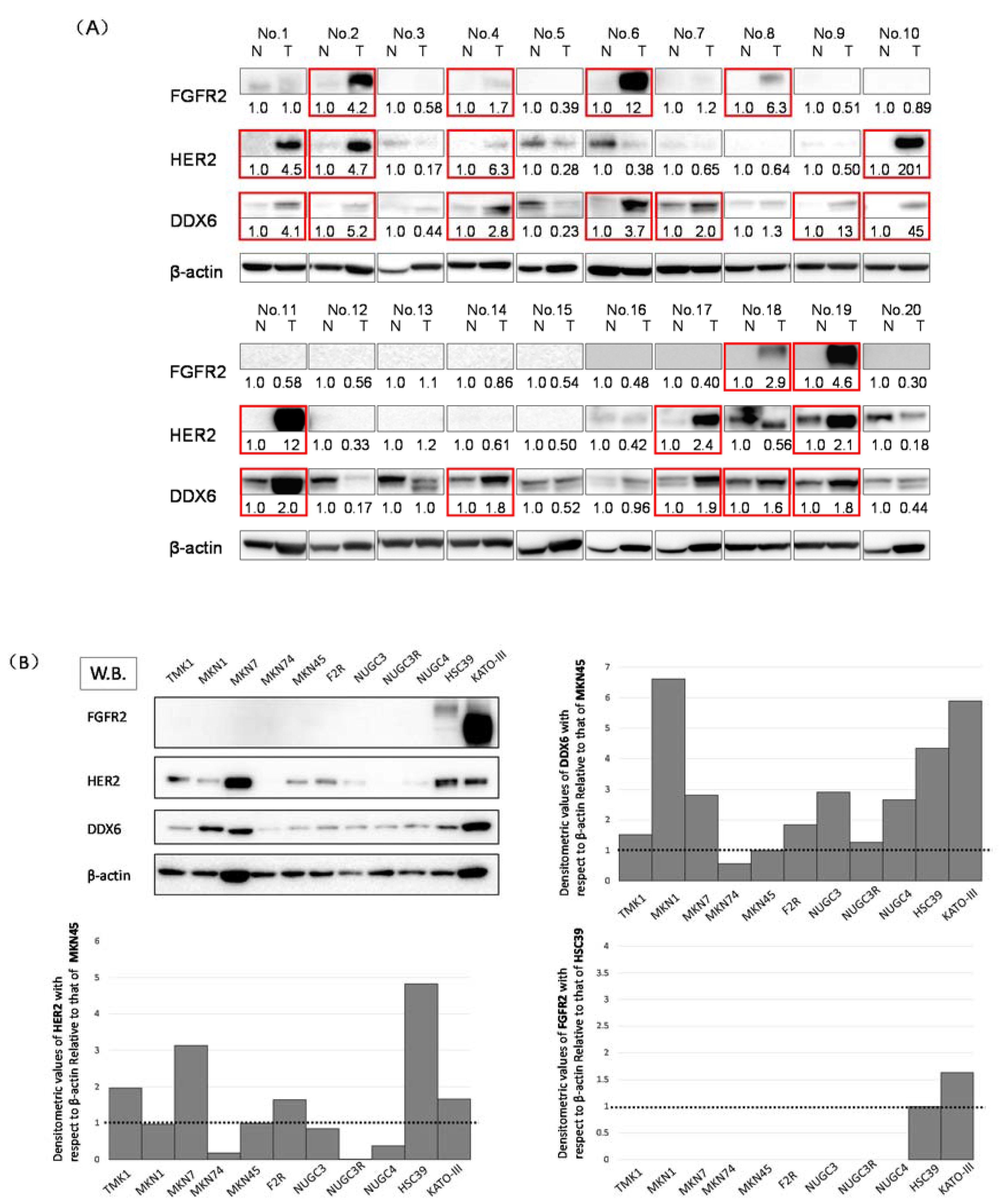 Figure 1
This is an open access article distributed under the
Creative Commons Attribution License
which permits unrestricted use, distribution, and reproduction in any medium, provided the original work is properly cited (CC BY 4.0).

Share & Cite This Article
MDPI and ACS Style
Tajirika, T.; Tokumaru, Y.; Taniguchi, K.; Sugito, N.; Matsuhashi, N.; Futamura, M.; Yanagihara, K.; Akao, Y.; Yoshida, K. DEAD-Box Protein RNA-Helicase DDX6 Regulates the Expression of HER2 and FGFR2 at the Post-Transcriptional Step in Gastric Cancer Cells. Int. J. Mol. Sci. 2018, 19, 2005.
Note that from the first issue of 2016, MDPI journals use article numbers instead of page numbers. See further details here.
Related Articles
Comments
[Return to top]