Lateral Membrane Heterogeneity Regulates Viral-Induced Membrane Fusion during HIV Entry
1
Laboratory of Bioelectrochemistry, A.N. Frumkin Institute of Physical Chemistry and Electrochemistry, Russian Academy of Sciences, 31/4 Leninskiy Prospekt, 119071 Moscow, Russia
2
Faculty of Physics, M.V. Lomonosov Moscow State University, 1-2 Leninskie Gory, 119991 Moscow, Russia
3
Department of Theoretical Physics and Quantum Technologies, National University of Science and Technology "MISiS", 4 Leninskiy Prospekt, 119049 Moscow, Russia
4
Department of Engineering of Technological Equipment, National University of Science and Technology "MISiS", 4 Leninskiy Prospekt, 119049 Moscow, Russia
5
Laboratory of Electrophysiology, Federal Clinical Center of Physical-Chemical Medicine of FMBA, 1a Malaya Pirogovskaya Street, 119435 Moscow, Russia
6
Department of Physics of Living Systems, Moscow Institute of Physics and Technology (State University), 9 Institutskiy Lane, Dolgoprudniy, 141700 Moscow Region, Russia
*
Author to whom correspondence should be addressed.
Received: 8 April 2018 / Revised: 8 May 2018 / Accepted: 14 May 2018 / Published: 16 May 2018
Abstract
Sphingomyelin- and cholesterol- enriched membrane domains, commonly referred to as "rafts" play a crucial role in a large number of intra- and intercellular processes. Recent experiments suggest that not only the volumetric inhomogeneity of lipid distribution in rafts, but also the arrangement of the 1D boundary between the raft and the surrounding membrane is important for the membrane-associated processes. The reason is that the boundary preferentially recruits different peptides, such as HIV (human immunodeficiency virus) fusion peptide. In the present work, we report a theoretical investigation of mechanisms of influence of the raft boundary arrangement upon virus-induced membrane fusion. We theoretically predict that the raft boundary can act as an attractor for viral fusion peptides, which preferentially distribute into the vicinity of the boundary, playing the role of 'line active components' of the membrane ('linactants'). We have calculated the height of the fusion energy barrier and demonstrated that, in the case of fusion between HIV membrane and the target cell, presence of the raft boundary in the vicinity of the fusion site facilitates fusion. The results we obtained can be further generalized to be applicable to other enveloped viruses.
View Full-Text
►

▼

Figures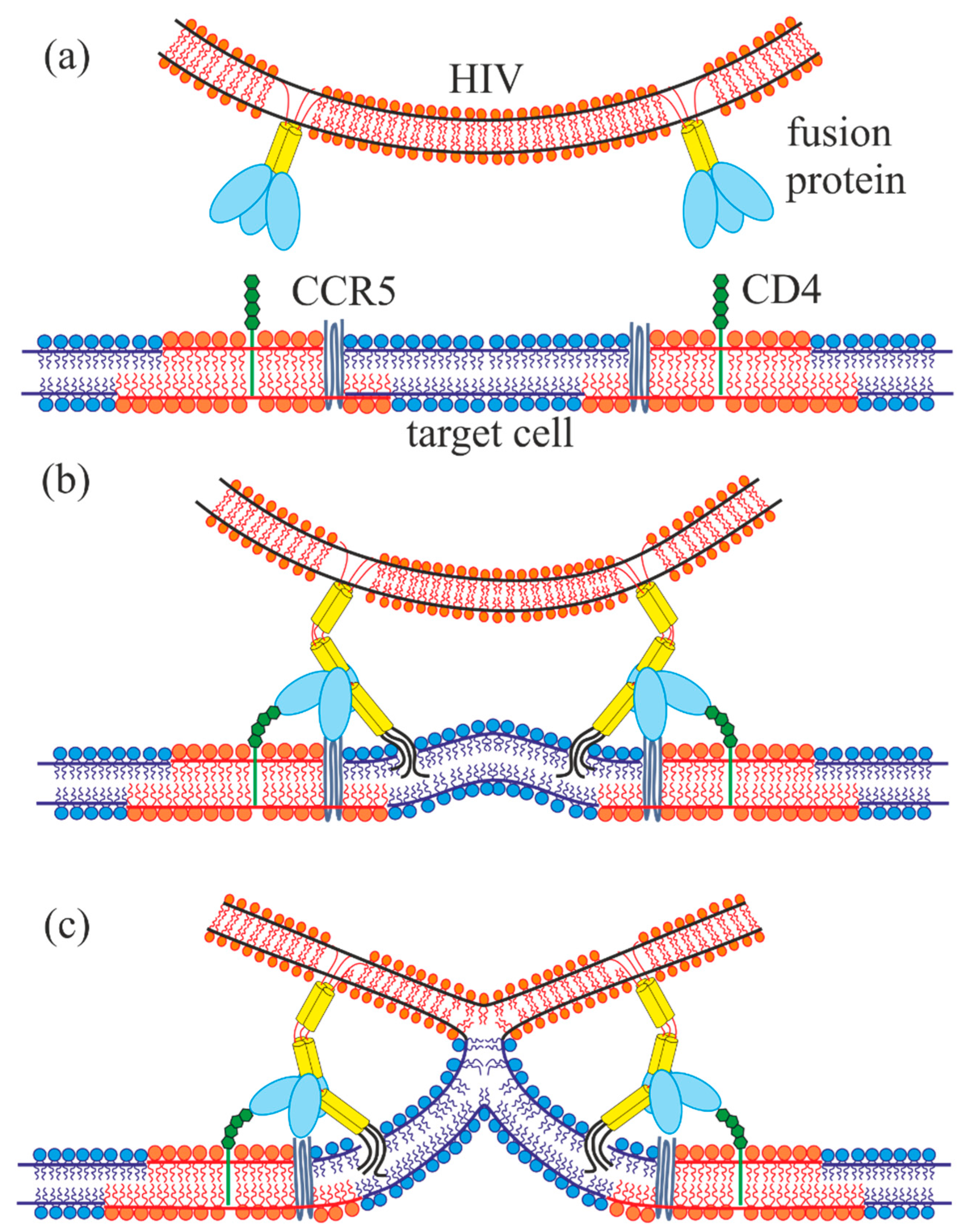 Figure 1
This is an open access article distributed under the
Creative Commons Attribution License
which permits unrestricted use, distribution, and reproduction in any medium, provided the original work is properly cited (CC BY 4.0).

Share & Cite This Article
MDPI and ACS Style
Molotkovsky, R.J.; Alexandrova, V.V.; Galimzyanov, T.R.; Jiménez-Munguía, I.; Pavlov, K.V.; Batishchev, O.V.; Akimov, S.A. Lateral Membrane Heterogeneity Regulates Viral-Induced Membrane Fusion during HIV Entry. Int. J. Mol. Sci. 2018, 19, 1483.
Note that from the first issue of 2016, MDPI journals use article numbers instead of page numbers. See further details here.
Related Articles
Comments
[Return to top]