Structure/Function Analysis of Cotton-Based Peptide-Cellulose Conjugates: Spatiotemporal/Kinetic Assessment of Protease Aerogels Compared to Nanocrystalline and Paper Cellulose
1
Southern Regional Research Center, USDA, New Orleans, LA 70124, USA
2
University of Natural Resources and Life Sciences Vienna, Konrad-Lorenz-Straße 24, A-3430 Tulln an der Donau, Austria
*
Author to whom correspondence should be addressed.
Received: 2 January 2018 / Revised: 24 February 2018 / Accepted: 25 February 2018 / Published: 13 March 2018
Abstract
Nanocellulose has high specific surface area, hydration properties, and ease of derivatization to prepare protease sensors. A Human Neutrophil Elastase sensor designed with a nanocellulose aerogel transducer surface derived from cotton is compared with cotton filter paper, and nanocrystalline cellulose versions of the sensor. X-ray crystallography was employed along with Michaelis–Menten enzyme kinetics, and circular dichroism to contrast the structure/function relations of the peptide-cellulose conjugate conformation to enzyme/substrate binding and turnover rates. The nanocellulosic aerogel was found to have a cellulose II structure. The spatiotemporal relation of crystallite surface to peptide-cellulose conformation is discussed in light of observed enzyme kinetics. A higher substrate binding affinity (
K
m
) of elastase was observed with the nanocellulose aerogel and nanocrystalline peptide-cellulose conjugates than with the solution-based elastase substrate. An increased
K
m
observed for the nanocellulosic aerogel sensor yields a higher enzyme efficiency (
k
cat
/
K
m
), attributable to binding of the serine protease to the negatively charged cellulose surface. The effect of crystallite size and β-turn peptide conformation are related to the peptide-cellulose kinetics. Models demonstrating the orientation of cellulose to peptide O6-hydroxymethyl rotamers of the conjugates at the surface of the cellulose crystal suggest the relative accessibility of the peptide-cellulose conjugates for enzyme active site binding.
View Full-Text
►

▼

Figures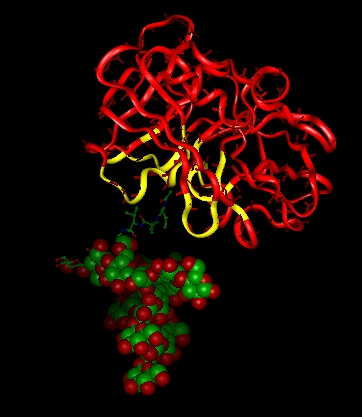 Graphical abstract
This is an open access article distributed under the
Creative Commons Attribution License
which permits unrestricted use, distribution, and reproduction in any medium, provided the original work is properly cited (CC BY 4.0).

Share & Cite This Article
MDPI and ACS Style
Edwards, J.V.; Fontenot, K.; Liebner, F.; Pircher, N.D.; French, A.D.; Condon, B.D. Structure/Function Analysis of Cotton-Based Peptide-Cellulose Conjugates: Spatiotemporal/Kinetic Assessment of Protease Aerogels Compared to Nanocrystalline and Paper Cellulose. Int. J. Mol. Sci. 2018, 19, 840.
Note that from the first issue of 2016, MDPI journals use article numbers instead of page numbers. See further details here.
Related Articles
Comments
[Return to top]