Unravelling the Effects of the Mutation m.3571insC/
MT-ND1

on Respiratory Complexes Structural Organization

1

Dipartimento di Farmacia e Biotecnologie (FABIT), Università di Bologna, Via Francesco Selmi 3, 40126 Bologna, Italy

2

Dipartimento Scienze Mediche e Chirurgiche (DIMEC), U.O. Genetica Medica, Pol. Universitario S. Orsola-Malpighi, Università di Bologna, via Massarenti 9, 40138 Bologna, Italy

3

Medical Research Council, Mitochondrial Biology Unit, Cambridge CB2 0XY, UK

4

Inserm U1016, Institut Cochin, F-75014 Paris, France

5

Centro Interdipartimentale di Ricerca Industriale Scienze della Vita e Tecnologie per la Salute, Università di Bologna, 40100 Bologna, Italy

*

Author to whom correspondence should be addressed.

†

These authors contributed equally to this work.

Received: 1 March 2018 / Revised: 5 March 2018 / Accepted: 6 March 2018 / Published: 7 March 2018
Abstract
Mammalian respiratory complex I (CI) biogenesis requires both nuclear and mitochondria-encoded proteins and is mostly organized in respiratory supercomplexes. Among the CI proteins encoded by the mitochondrial DNA, NADH-ubiquinone oxidoreductase chain 1 (ND1) is a core subunit, evolutionary conserved from bacteria to mammals. Recently, ND1 has been recognized as a pivotal subunit in maintaining the structural and functional interaction among the hydrophilic and hydrophobic CI arms. A critical role of human ND1 both in CI biogenesis and in the dynamic organization of supercomplexes has been depicted, although the proof of concept is still missing and the critical amount of ND1 protein necessary for a proper assembly of both CI and supercomplexes is not defined. By exploiting a unique model in which human ND1 is allotopically re-expressed in cells lacking the endogenous protein, we demonstrated that the lack of this protein induces a stall in the multi-step process of CI biogenesis, as well as the alteration of supramolecular organization of respiratory complexes. We also defined a mutation threshold for the m.3571insC truncative mutation in mitochondrially encoded NADH:ubiquinone oxidoreductase core subunit 1 (
MT-ND1
), below which CI and its supramolecular organization is recovered, strengthening the notion that a certain amount of human ND1 is required for CI and supercomplexes biogenesis.
View Full-Text
►

▼

Figures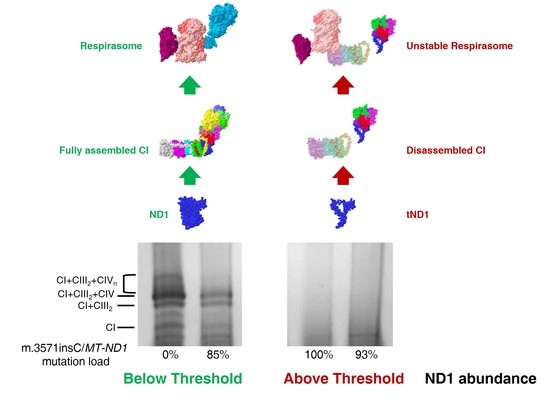 Graphical abstract
This is an open access article distributed under the
Creative Commons Attribution License
which permits unrestricted use, distribution, and reproduction in any medium, provided the original work is properly cited (CC BY 4.0).

Share & Cite This Article
MDPI and ACS Style
Iommarini, L.; Ghelli, A.; Tropeano, C.V.; Kurelac, I.; Leone, G.; Vidoni, S.; Lombes, A.; Zeviani, M.; Gasparre, G.; Porcelli, A.M. Unravelling the Effects of the Mutation m.3571insC/MT-ND1 on Respiratory Complexes Structural Organization. Int. J. Mol. Sci. 2018, 19, 764.
Note that from the first issue of 2016, MDPI journals use article numbers instead of page numbers. See further details here.
Related Articles
Comments
[Return to top]