Melatonin Inhibits Androgen Receptor Splice Variant-7 (AR-V7)-Induced Nuclear Factor-Kappa B (NF-κB) Activation and NF-κB Activator-Induced AR-V7 Expression in Prostate Cancer Cells: Potential Implications for the Use of Melatonin in Castration-Resistant Prostate Cancer (CRPC) Therapy
1
School of Biomedical Sciences, The University of Hong Kong, Hong Kong, China
2
Division of Nursing and Health Studies, School of Science and Technology, Open University of Hong Kong, Hong Kong, China
*
Author to whom correspondence should be addressed.
Academic Editor: Russel J. Reiter
Received: 28 March 2017 / Revised: 9 May 2017 / Accepted: 17 May 2017 / Published: 31 May 2017
Abstract
A major current challenge in the treatment of advanced prostate cancer, which can be initially controlled by medical or surgical castration, is the development of effective, safe, and affordable therapies against progression of the disease to the stage of castration resistance. Here, we showed that in LNCaP and 22Rv1 prostate cancer cells transiently overexpressing androgen receptor splice variant-7 (AR-V7), nuclear factor-kappa B (NF-κB) was activated and could result in up-regulated interleukin (
IL
)
-6
gene expression, indicating a positive interaction between AR-V7 expression and activated NF-κB/IL-6 signaling in castration-resistant prostate cancer (CRPC) pathogenesis. Importantly, both AR-V7-induced NF-κB activation and
IL-6
gene transcription in LNCaP and 22Rv1 cells could be inhibited by melatonin. Furthermore, stimulation of
AR-V7
mRNA expression in LNCaP cells by betulinic acid, a pharmacological NF-κB activator, was reduced by melatonin treatment. Our data support the presence of bi-directional positive interactions between AR-V7 expression and NF-κB activation in CRPC pathogenesis. Of note, melatonin, by inhibiting NF-κB activation via the previously-reported MT
1
receptor-mediated antiproliferative pathway, can disrupt these bi-directional positive interactions between AR-V7 and NF-κB and thereby delay the development of castration resistance in advanced prostate cancer. Apparently, this therapeutic potential of melatonin in advanced prostate cancer/CRPC management is worth translation in the clinic via combined androgen depletion and melatonin repletion.
View Full-Text
►

▼

Figures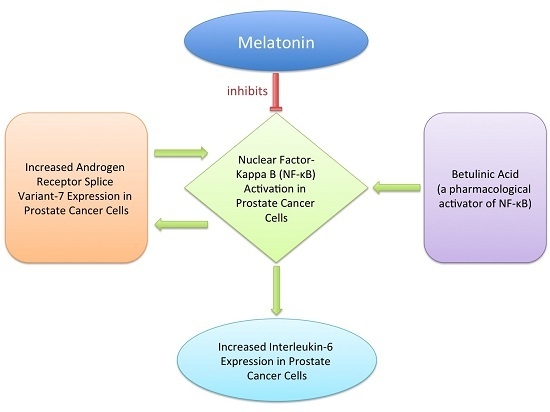 Graphical abstract
This is an open access article distributed under the
Creative Commons Attribution License
which permits unrestricted use, distribution, and reproduction in any medium, provided the original work is properly cited (CC BY 4.0).

Share & Cite This Article
MDPI and ACS Style
Liu, V.W.S.; Yau, W.L.; Tam, C.W.; Yao, K.-M.; Shiu, S.Y.W. Melatonin Inhibits Androgen Receptor Splice Variant-7 (AR-V7)-Induced Nuclear Factor-Kappa B (NF-κB) Activation and NF-κB Activator-Induced AR-V7 Expression in Prostate Cancer Cells: Potential Implications for the Use of Melatonin in Castration-Resistant Prostate Cancer (CRPC) Therapy. Int. J. Mol. Sci. 2017, 18, 1130.
Note that from the first issue of 2016, MDPI journals use article numbers instead of page numbers. See further details here.
Related Articles
Comments
[Return to top]