Impaired Insulin Signaling is Associated with Hepatic Mitochondrial Dysfunction in IR+/−-IRS-1+/− Double Heterozygous (IR-IRS1dh) Mice
1
Institute of Vegetative Physiology, Medical Faculty, University of Köln, Robert-Koch-Str. 39, D-50931 Cologne, Germany
2
Department of Internal Medicine IV, Division of Endocrinology, Diabetology, Angiology, Nephrology and Clinical Chemistry, University Hospital Tübingen, Otfried-Müller-Str. 10, D-72076 Tübingen, Germany
3
Center for Biochemistry, Medical Faculty, University of Köln, Joseph-Stelzmann-Str. 52, D-50931 Cologne, Germany
4
Department of Pediatrics, University Hospital Cologne, Kerpener Str. 62, D-50937 Cologne, Germany
5
Center for Molecular Medicine Cologne (CMMC), University of Köln, D-50931 Cologne, Germany
6
Cologne Excellence Cluster on Cellular Stress Responses in Ageing-associated Diseases (CECAD), University of Köln, D-50931 Cologne, Germany
*
Author to whom correspondence should be addressed.
Academic Editor: Patricia Renard
Received: 28 April 2017 / Revised: 21 May 2017 / Accepted: 25 May 2017 / Published: 30 May 2017
Abstract
Mitochondria play a pivotal role in energy metabolism, but whether insulin signaling per se could regulate mitochondrial function has not been identified yet. To investigate whether mitochondrial function is regulated by insulin signaling, we analyzed muscle and liver of insulin receptor (IR)
+/−
-insulin receptor substrate-1 (IRS-1)
+/−
double heterozygous (IR-IRS1dh) mice, a well described model for insulin resistance. IR-IRS1dh mice were studied at the age of 6 and 12 months and glucose metabolism was determined by glucose and insulin tolerance tests. Mitochondrial enzyme activities, oxygen consumption, and membrane potential were assessed using spectrophotometric, respirometric, and proton motive force analysis, respectively. IR-IRS1dh mice showed elevated serum insulin levels. Hepatic mitochondrial oxygen consumption was reduced in IR-IRS1dh animals at 12 months of age. Furthermore, 6-month-old IR-IRS1dh mice demonstrated enhanced mitochondrial respiration in skeletal muscle, but a tendency of impaired glucose tolerance. On the other hand, 12-month-old IR-IRS1dh mice showed improved glucose tolerance, but normal muscle mitochondrial function. Our data revealed that deficiency in IR/IRS-1 resulted in normal or even elevated skeletal muscle, but impaired hepatic mitochondrial function, suggesting a direct cross-talk between insulin signaling and mitochondria in the liver.
View Full-Text
►

▼

Figures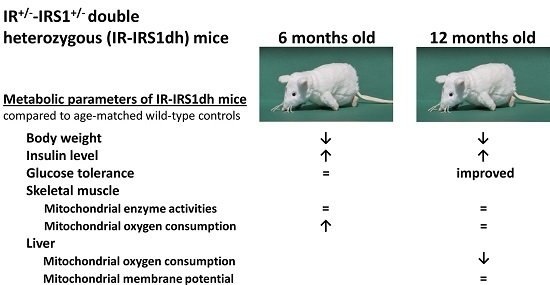 Graphical abstract
This is an open access article distributed under the
Creative Commons Attribution License
which permits unrestricted use, distribution, and reproduction in any medium, provided the original work is properly cited (CC BY 4.0).

Share & Cite This Article
MDPI and ACS Style
Franko, A.; Kunze, A.; Böse, M.; Von Kleist-Retzow, J.-C.; Paulsson, M.; Hartmann, U.; Wiesner, R.J. Impaired Insulin Signaling is Associated with Hepatic Mitochondrial Dysfunction in IR+/−-IRS-1+/− Double Heterozygous (IR-IRS1dh) Mice. Int. J. Mol. Sci. 2017, 18, 1156.
Note that from the first issue of 2016, MDPI journals use article numbers instead of page numbers. See further details here.
Related Articles
Comments
[Return to top]