Hereditary Nephrogenic Diabetes Insipidus: Pathophysiology and Possible Treatment. An Update
1
Department of Biosciences, Biotechnologies and Biopharmaceutics, University of Bari, 70126 Bari, Italy
2
Department of Sciences, University of Basilicata, 85100 Potenza, Italy
*
Author to whom correspondence should be addressed.
Received: 19 October 2017 / Revised: 3 November 2017 / Accepted: 7 November 2017 / Published: 10 November 2017
Abstract
Under physiological conditions, excessive loss of water through the urine is prevented by the release of the antidiuretic hormone arginine-vasopressin (AVP) from the posterior pituitary. In the kidney, AVP elicits a number of cellular responses, which converge on increasing the osmotic reabsorption of water in the collecting duct. One of the key events triggered by the binding of AVP to its type-2 receptor (AVPR2) is the exocytosis of the water channel aquaporin 2 (AQP2) at the apical membrane the principal cells of the collecting duct. Mutations of either AVPR2 or AQP2 result in a genetic disease known as nephrogenic diabetes insipidus, which is characterized by the lack of responsiveness of the collecting duct to the antidiuretic action of AVP. The affected subject, being incapable of concentrating the urine, presents marked polyuria and compensatory polydipsia and is constantly at risk of severe dehydration. The molecular bases of the disease are fully uncovered, as well as the genetic or clinical tests for a prompt diagnosis of the disease in newborns. A real cure for nephrogenic diabetes insipidus (NDI) is still missing, and the main symptoms of the disease are handled with s continuous supply of water, a restrictive diet, and nonspecific drugs. Unfortunately, the current therapeutic options are limited and only partially beneficial. Further investigation in vitro or using the available animal models of the disease, combined with clinical trials, will eventually lead to the identification of one or more targeted strategies that will improve or replace the current conventional therapy and grant NDI patients a better quality of life. Here we provide an updated overview of the genetic defects causing NDI, the most recent strategies under investigation for rescuing the activity of mutated AVPR2 or AQP2, or for bypassing defective AVPR2 signaling and restoring AQP2 plasma membrane expression.
View Full-Text
►

▼

Figures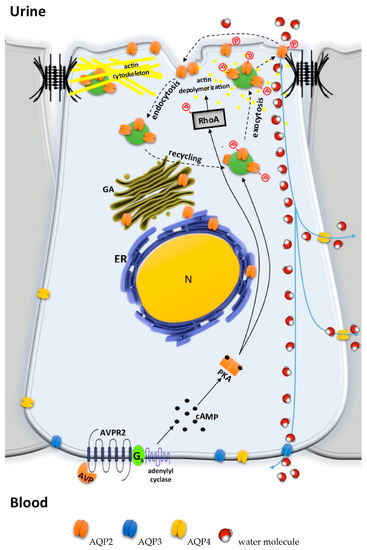 Figure 1
This is an open access article distributed under the
Creative Commons Attribution License
which permits unrestricted use, distribution, and reproduction in any medium, provided the original work is properly cited (CC BY 4.0).

Share & Cite This Article
MDPI and ACS Style
Milano, S.; Carmosino, M.; Gerbino, A.; Svelto, M.; Procino, G. Hereditary Nephrogenic Diabetes Insipidus: Pathophysiology and Possible Treatment. An Update. Int. J. Mol. Sci. 2017, 18, 2385.
Note that from the first issue of 2016, MDPI journals use article numbers instead of page numbers. See further details here.
Related Articles
Comments
[Return to top]