IQGAP1 in Podosomes/Invadosomes Is Involved in the Progression of Glioblastoma Multiforme Depending on the Tumor Status
1
Laboratorio de Biología del Desarrollo, UD de Bioquímica y Biología Molecular and Centro de Investigaciones Biomédicas de Canarias (CIBICAN), Universidad de La Laguna, La Laguna, Av. Astrofísico Sánchez s/n, 38206 La Laguna, Tenerife, Spain
2
CNR–National Research Council, Institute of Endocrinology and Experimental Oncology (IEOS), Via Sergio Pansini, 5-80131 Naples, Italy
3
Service of Medical Oncology, University Hospital Nuestra Señora de Candelaria, 38010 Santa Cruz de Tenerife, Canary Islands, Spain
4
Medical Oncology, Hospiten® Hospitals, 38001 Santa Cruz de Tenerife, Tenerife, Spain
5
Service of Pathology, University Hospital Nuestra Señora de Candelaria, 38010 Santa Cruz de Tenerife, Canary Islands, Spain
6
Faculty of Health and Medical Sciences, University of Surrey, Guildford, Surrey GU2 7XH, UK
7
Center of Excellence in Genomic Medicine Research (CEGMR), King Fahd Medical Research Center (KFMRC), Faculty of Applied Medical Sciences, King AbdulAziz University, Jeddah 21589, Saudi Arabia
*
Author to whom correspondence should be addressed.
Academic Editor: Anthony Lemarié
Received: 17 November 2016 / Revised: 20 December 2016 / Accepted: 6 January 2017 / Published: 13 January 2017
Abstract
Glioblastoma multiforme (GBM) is the most frequent and aggressive primary brain tumor. GBM is formed by a very heterogeneous astrocyte population, neurons, neovascularization and infiltrating myeloid cells (microglia and monocyte derived macrophages). The IQGAP1 scaffold protein interacts with components of the cytoskeleton, cell adhesion molecules, and several signaling molecules to regulate cell morphology and motility, cell cycle and other cellular functions. IQGAP1 overexpression and delocalization has been observed in several tumors, suggesting a role for this protein in cell proliferation, transformation and invasion. IQGAP1 has been identified as a marker of amplifying cancer cells in GBMs. To determine the involvement of IQGAP1 in the onco-biology of GBM, we performed immunohistochemical confocal microscopic analysis of the IQGAP1 protein in human GBM tissue samples using cell type-specific markers. IQGAP1 immunostaining and subcellular localization was heterogeneous; the protein was located in the plasma membrane and, at variable levels, in nucleus and/or cytosol. Moreover, IQGAP1 positive staining was found in podosome/invadopodia-like structures. IQGAP1
+
staining was observed in neurons (Map2
+
cells), in cancer stem cells (CSC; nestin
+
) and in several macrophages (CD31
+
or Iba1
+
). Our results indicate that the IQGAP1 protein is involved in normal cell physiology as well as oncologic processes.
View Full-Text
►

▼

Figures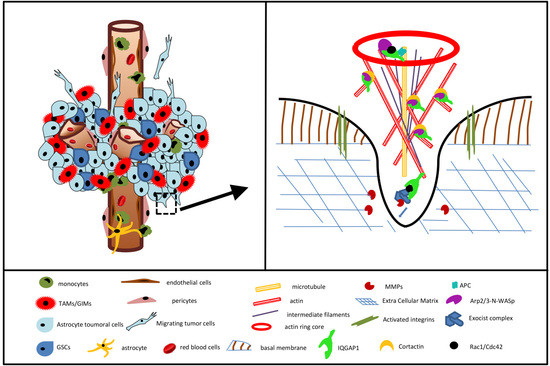 Graphical abstract
This is an open access article distributed under the
Creative Commons Attribution License
which permits unrestricted use, distribution, and reproduction in any medium, provided the original work is properly cited (CC BY 4.0).

Share & Cite This Article
MDPI and ACS Style
Rotoli, D.; Pérez-Rodríguez, N.D.; Morales, M.; Maeso, M.D.C.; Ávila, J.; Mobasheri, A.; Martín-Vasallo, P. IQGAP1 in Podosomes/Invadosomes Is Involved in the Progression of Glioblastoma Multiforme Depending on the Tumor Status. Int. J. Mol. Sci. 2017, 18, 150.
Note that from the first issue of 2016, MDPI journals use article numbers instead of page numbers. See further details here.
Related Articles
Comments
[Return to top]