Enhancement of Anti-Hypoxic Activity and Differentiation of Cardiac Stem Cells by Supernatant Fluids from Cultured Macrophages that Phagocytized Dead Mesenchymal Stem Cells
1
Department of Cardiology, Xinhua Hospital, Shanghai Jiao Tong University School of Medicine, 1665 Kongjiang Road, Shanghai 200092, China
2
Department of Cardiology, Central Hospital of Minhang District, 170 Xinsong Road, Shanghai 201199, China
*
Author to whom correspondence should be addressed.
†
These authors contributed equally to this work.
Academic Editor: Maurizio Battino
Received: 14 June 2016 / Revised: 6 July 2016 / Accepted: 13 July 2016 / Published: 20 July 2016
Abstract
Background:
Most mesenchymal stem cells (MSCs) die shortly after transplantation into a myocardial infarcted area. Dead MSCs (dMSCs) are phagocytized by macrophages (pMΦ) in vivo and in vitro; however, the effects of pMΦ on cardiac stem cells (CSCs) remain unknown.
Methods:
MSCs, CSCs, and macrophages were obtained from bone marrow, hearts, and peritoneal cavity of mice, respectively. dMSCs were harvested after hypoxia for 24 h, and incubated with macrophages (2:1) for another 2 days with or without lipopolysaccharide (LPS, 50 ng/mL) and sorted by flow cytometry to obtain pMΦ. Viability and apoptosis of CSCs were respectively evaluated with the cell counting kit-8 (CCk-8) assay and Annexin V-PE/7-AAD staining at 0, 6, 12, and 24 h of culture with supernatant fluids from macrophages (MΦ), LPS-stimulated macrophages (LPS-pMΦ), pMΦ, and MSCs. GATA-4 and c-TnI expression was measured by flow cytometry on the seventh day. Expression of inflammation and growth factors was assessed by real-time polymerase chain reaction (RT-PCR) in MΦ, LPS-pMΦ, and pMΦ cells.
Results:
pMΦ expressed higher levels of interleukin-10 (IL-10) and transforming growth factor-β (TGF-β)and lower levels of tumor necrosis factor-α(TNF-α)and IL-6 than LPS-pMΦ, higher levels of growth factors and of GATA-4 and c-TnI at the 7th day, which were similar to those in MSCs. CSCs cultured with supernatant fluids of pMΦ exhibited higher proliferative, anti-hypoxic, and differentiation activities.
Conclusion:
The supernatant fluids of macrophages that had phagocytized dead MSCs encouraged changes in phenotype and growth factor expression, enhanced proliferation, differentiation, and anti-hypoxic activity of CSCs, which is relevant to understanding the persistent therapeutic effect of MSCs after their massive demise upon transplantation in myocardial infarction. Furthermore, some miRNAs or proteins which were extracted from the supernatant fluids may give us a new insight into the treatment of myocardial infarction in the future.
View Full-Text
►

▼

Figures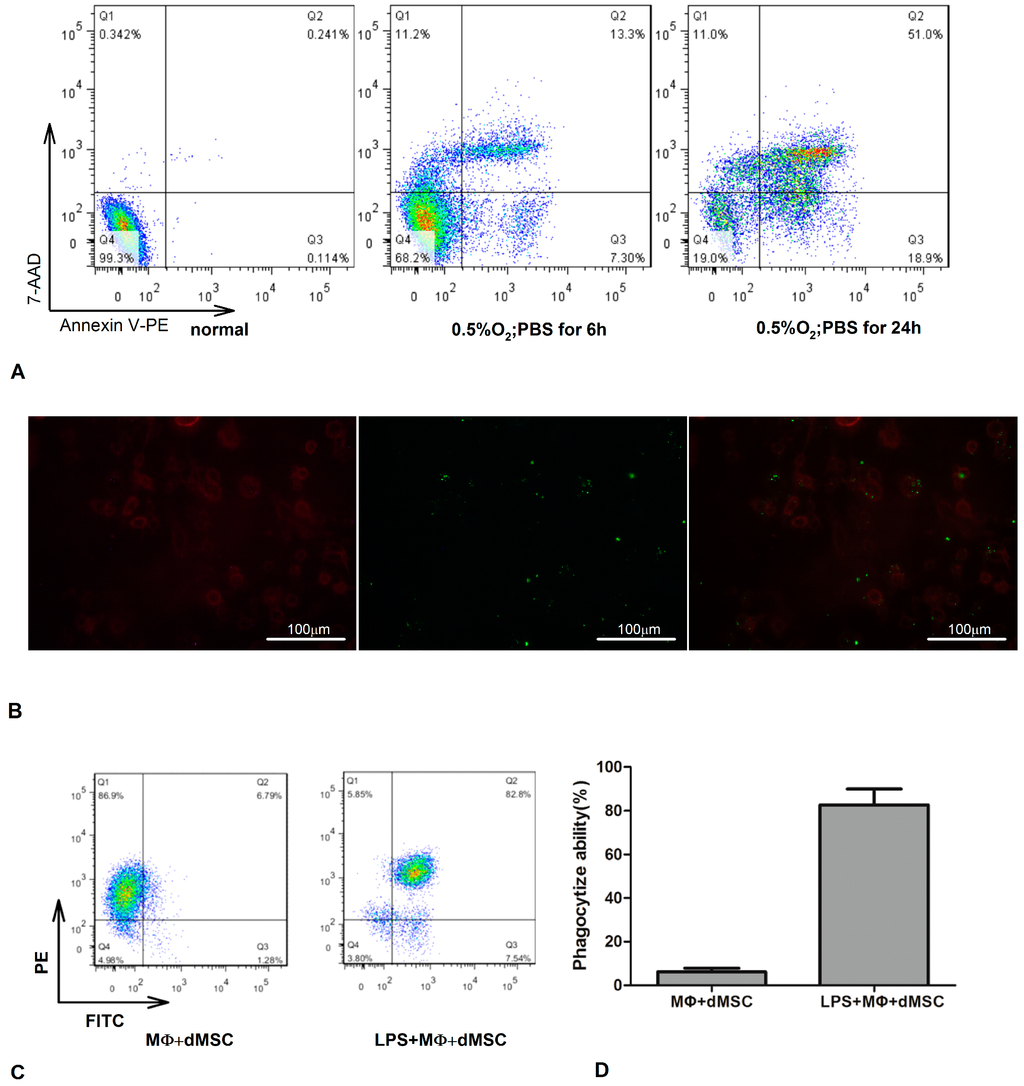 Figure 1
This is an open access article distributed under the
Creative Commons Attribution License
which permits unrestricted use, distribution, and reproduction in any medium, provided the original work is properly cited (CC BY 4.0).

Share & Cite This Article
MDPI and ACS Style
Liu, L.; Jin, X.; Zhou, Z.; Shen, C. Enhancement of Anti-Hypoxic Activity and Differentiation of Cardiac Stem Cells by Supernatant Fluids from Cultured Macrophages that Phagocytized Dead Mesenchymal Stem Cells. Int. J. Mol. Sci. 2016, 17, 1175.
Note that from the first issue of 2016, MDPI journals use article numbers instead of page numbers. See further details here.
Related Articles
Comments
[Return to top]