Distinct Dasatinib-Induced Mechanisms of Apoptotic Response and Exosome Release in Imatinib-Resistant Human Chronic Myeloid Leukemia Cells
1
Department of Hematology, Harbin Medical University Second Hospital, Harbin 150086, China
2
Department of Pediatrics, Harbin Medical University Second Hospital, Harbin 150086, China
3
Department of Hematology and Lymphology, Harbin Medical University Cancer Hospital, Harbin 150086, China
*
Author to whom correspondence should be addressed.
Academic Editor: Charles J. Malemud
Received: 13 January 2016 / Revised: 25 March 2016 / Accepted: 1 April 2016 / Published: 8 April 2016
Abstract
Although dasatinib is effective in most imatinib mesylate (IMT)-resistant chronic myeloid leukemia (CML) patients, the underlying mechanism of its effectiveness in eliminating imatinib-resistant cells is only partially understood. This study investigated the effects of dasatinib on signaling mechanisms driving-resistance in imatinib-resistant CML cell line K562 (K562R
IMT
). Compared with K562 control cells, exsomal release, the phosphoinositide 3-kinase (PI3K)/protein kinase B (Akt)/ mammalian target of rapamycin (mTOR) signaling and autophagic activity were increased significantly in K562R
IMT
cells and mTOR-independent beclin-1/Vps34 signaling was shown to be involved in exosomal release in these cells. We found that Notch1 activation-mediated reduction of phosphatase and tensin homolog (PTEN) was responsible for the increased Akt/mTOR activities in K562R
IMT
cells and treatment with Notch1 γ-secretase inhibitor prevented activation of Akt/mTOR. In addition, suppression of mTOR activity by rapamycin decreased the level of activity of p70S6K, induced upregulation of p53 and caspase 3, and led to increase of apoptosis in K562R
IMT
cells. Inhibition of autophagy by spautin-1 or beclin-1 knockdown decreased exosomal release, but did not affect apoptosis in K562R
IMT
cells. In summary, in K562R
IMT
cells dasatinib promoted apoptosis through downregulation of Akt/mTOR activities, while preventing exosomal release and inhibiting autophagy by downregulating expression of beclin-1 and Vps34. Our findings reveal distinct dasatinib-induced mechanisms of apoptotic response and exosomal release in imatinib-resistant CML cells.
View Full-Text
►

▼

Figures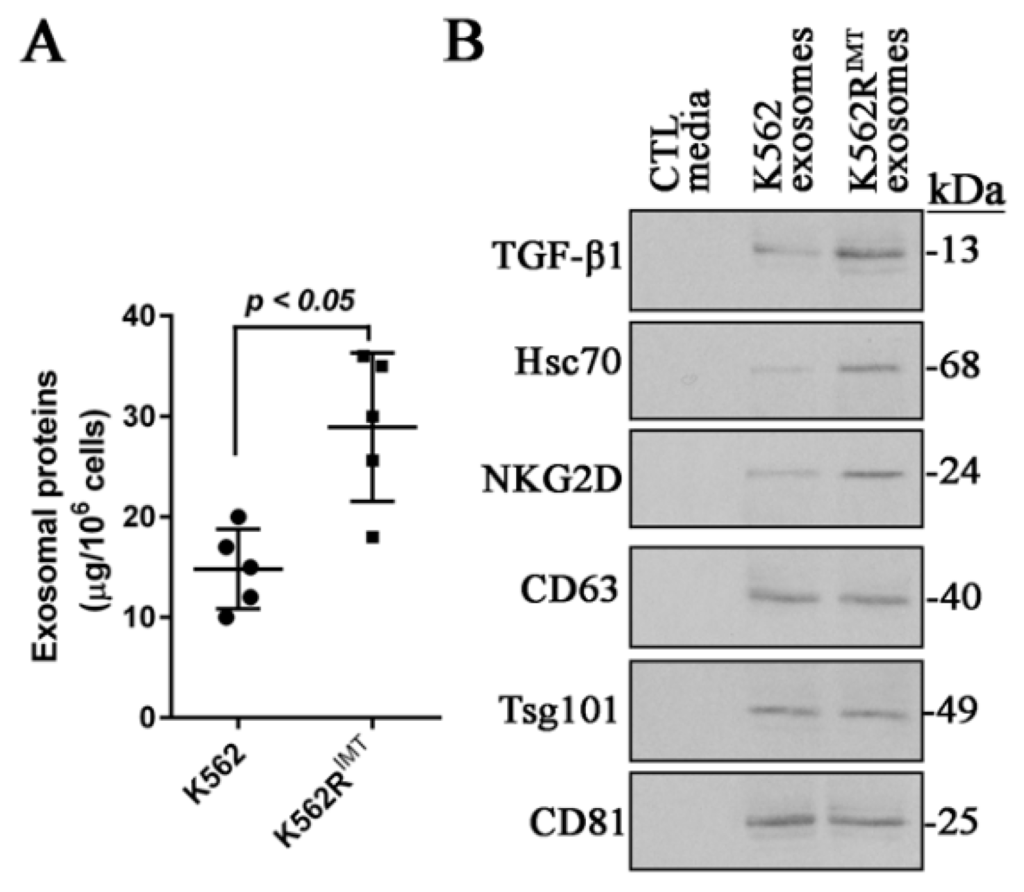 Figure 1
This is an open access article distributed under the
Creative Commons Attribution License
which permits unrestricted use, distribution, and reproduction in any medium, provided the original work is properly cited (CC BY 4.0).

Share & Cite This Article
MDPI and ACS Style
Liu, J.; Zhang, Y.; Liu, A.; Wang, J.; Li, L.; Chen, X.; Gao, X.; Xue, Y.; Zhang, X.; Liu, Y. Distinct Dasatinib-Induced Mechanisms of Apoptotic Response and Exosome Release in Imatinib-Resistant Human Chronic Myeloid Leukemia Cells. Int. J. Mol. Sci. 2016, 17, 531.
Note that from the first issue of 2016, MDPI journals use article numbers instead of page numbers. See further details here.
Related Articles
Comments
[Return to top]