The Protective Role of Carbon Monoxide (CO) Produced by Heme Oxygenases and Derived from the CO-Releasing Molecule CORM-2 in the Pathogenesis of Stress-Induced Gastric Lesions: Evidence for Non-Involvement of Nitric Oxide (NO)
1
Department of Physiology, Jagiellonian University Medical College, 31-531 Cracow, Poland
2
Division of Molecular Biology and Clinical Genetics, Department of Medicine, Jagiellonian University Medical College, 31-006 Cracow, Poland
3
Department of Forensic Toxicology, Institute of Forensic Research, 31-033 Cracow, Poland
4
Department of Ergonomics and Exercise Physiology, Faculty of Health Sciences, Jagiellonian University Medical College, 31-531 Cracow, Poland
*
Author to whom correspondence should be addressed.
Academic Editor: Masatoshi Maki
Received: 24 January 2016 / Revised: 18 March 2016 / Accepted: 18 March 2016 / Published: 24 March 2016
Abstract
Carbon monoxide (CO) produced by heme oxygenase (HO)-1 and HO-2 or released from the CO-donor, tricarbonyldichlororuthenium (II) dimer (CORM-2) causes vasodilation, with unknown efficacy against stress-induced gastric lesions. We studied whether pretreatment with CORM-2 (0.1–10 mg/kg oral gavage (i.g.)), RuCl
3
(1 mg/kg i.g.), zinc protoporphyrin IX (ZnPP) (10 mg/kg intraperitoneally (i.p.)), hemin (1–10 mg/kg i.g.) and CORM-2 (1 mg/kg i.g.) combined with N
G
-nitro-
l
-arginine (
l
-NNA, 20 mg/kg i.p.), 1H-[1,2,4]oxadiazolo[4,3-a]quinoxalin-1-one (ODQ, 10 mg/kg i.p.), indomethacin (5 mg/kg i.p.), SC-560 (5 mg/kg i.g.), and celecoxib (10 mg/kg i.g.) affects gastric lesions following 3.5 h of water immersion and restraint stress (WRS). Gastric blood flow (GBF), the number of gastric lesions and gastric CO and nitric oxide (NO) contents, blood carboxyhemoglobin (COHb) level and the gastric expression of HO-1, HO-2, hypoxia inducible factor 1α (HIF-1α), tumor necrosis factor α (TNF-α), cyclooxygenase (COX)-2 and inducible NO synthase (iNOS) were determined. CORM-2 (1 mg/kg i.g.) and hemin (10 mg/kg i.g.) significantly decreased WRS lesions while increasing GBF, however, RuCl
3
was ineffective. The impact of CORM-2 was reversed by ZnPP, ODQ, indomethacin, SC-560 and celecoxib, but not by
l
-NNA. CORM-2 decreased NO and increased HO-1 expression and CO and COHb content, downregulated HIF-1α, as well as WRS-elevated COX-2 and iNOS mRNAs. Gastroprotection by CORM-2 and HO depends upon CO's hyperemic and anti-inflammatory properties, but is independent of NO.
View Full-Text
►

▼

Figures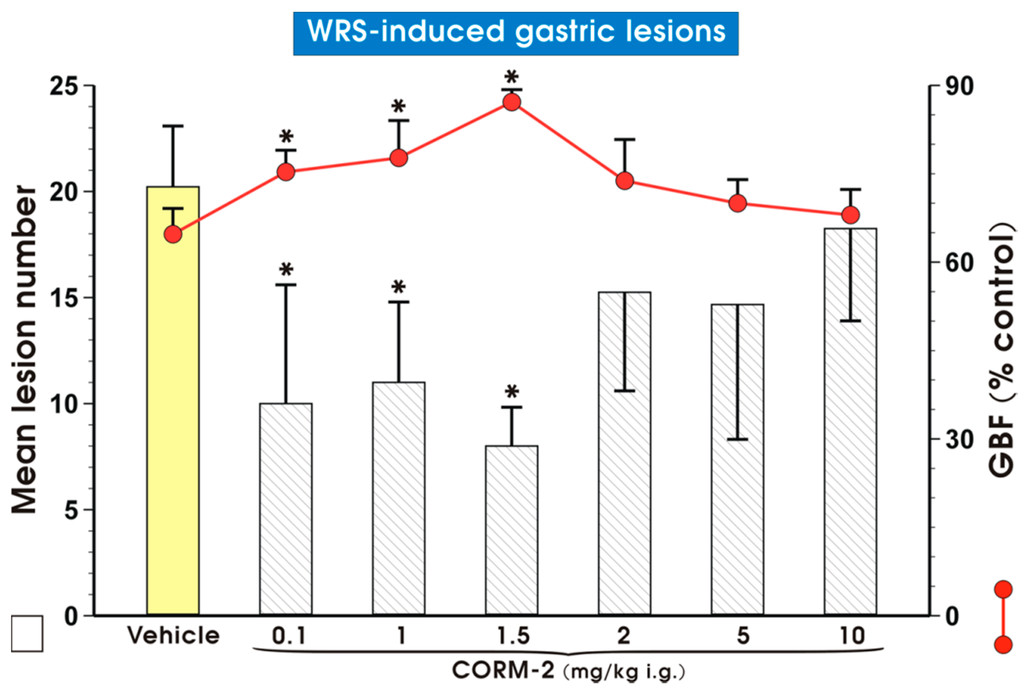 Figure 1
This is an open access article distributed under the
Creative Commons Attribution License
which permits unrestricted use, distribution, and reproduction in any medium, provided the original work is properly cited (CC BY 4.0).

Share & Cite This Article
MDPI and ACS Style
Magierowska, K.; Magierowski, M.; Surmiak, M.; Adamski, J.; Mazur-Bialy, A.I.; Pajdo, R.; Sliwowski, Z.; Kwiecien, S.; Brzozowski, T. The Protective Role of Carbon Monoxide (CO) Produced by Heme Oxygenases and Derived from the CO-Releasing Molecule CORM-2 in the Pathogenesis of Stress-Induced Gastric Lesions: Evidence for Non-Involvement of Nitric Oxide (NO). Int. J. Mol. Sci. 2016, 17, 442.
Note that from the first issue of 2016, MDPI journals use article numbers instead of page numbers. See further details here.
Related Articles
Comments
[Return to top]