Comprehensive Analysis of miRNome Alterations in Response to Sorafenib Treatment in Colorectal Cancer Cells
1
Division of Oncology, Department of Internal Medicine, Medical University of Graz, 8010 Graz, Austria
2
Research Unit of Non-Coding RNA and Genome Editing in Cancer, Medical University of Graz, 8010 Graz, Austria
3
Department of Phoniatrics, ENT University Hospital, Medical University, 8010 Graz, Austria
4
Institute of Pathology, Medical University of Graz, 8010 Graz, Austria
5
Laboratory for Tumour Biology and Experimental Therapies (TREAT), Institute of Physiology and Pathophysiology, Paracelsus Medical University, 5020 Salzburg, Austria
6
Department of Internal Medicine I, Salzburger Landeskliniken, Paracelsus Medical University, 5020 Salzburg, Austria
7
Institute for Diabetes and Cancer (IDC), Helmholtz Zentrum München, German Research Center for Environmental Health, 85764 Neuherberg, Germany
8
Joint Heidelberg-IDC Translational Diabetes Program, Heidelberg University Hospital, 69120 Heidelberg, Germany
9
Molecular Metabolic Control, Medical Faculty, Technical University Munich, 85764 Munich, Germany
10
German Center for Diabetes Research (DZD), 85764 Neuherberg, Germany
11
Department of Urology, Medical University of Graz, 8010 Graz, Austria
12
Department of Experimental Therapeutics, The University of Texas MD Anderson Cancer Center, Houston, TX 77054, USA
*
Author to whom correspondence should be addressed.
Academic Editor: William Chi-shing Cho
Received: 25 August 2016 / Revised: 18 November 2016 / Accepted: 24 November 2016 / Published: 1 December 2016
Abstract
MicroRNAs (miRNAs) are master regulators of drug resistance and have been previously proposed as potential biomarkers for the prediction of therapeutic response in colorectal cancer (CRC). Sorafenib, a multi-kinase inhibitor which has been approved for the treatment of liver, renal and thyroid cancer, is currently being studied as a monotherapy in selected molecular subtypes or in combination with other drugs in metastatic CRC. In this study, we explored sorafenib-induced cellular effects in Kirsten rat sarcoma viral oncogene homolog olog (KRAS) wild-type and KRAS-mutated CRC cell lines (Caco-2 and HRT-18), and finally profiled expression changes of specific miRNAs within the miRNome (>1000 human miRNAs) after exposure to sorafenib. Overall, sorafenib induced a time- and dose-dependent growth-inhibitory effect through S-phase cell cycle arrest in KRAS wild-type and KRAS-mutated CRC cells. In HRT-18 cells, two human miRNAs (hsa-miR-597 and hsa-miR-720) and two small RNAs (SNORD 13 and hsa-miR-3182) were identified as specifically sorafenib-induced. In Caco-2 cells, nine human miRNAs (hsa-miR-3142, hsa-miR-20a, hsa-miR-4301, hsa-miR-1290, hsa-miR-4286, hsa-miR-3182, hsa-miR-3142, hsa-miR-1246 and hsa-miR-720) were identified to be differentially regulated post sorafenib treatment. In conclusion, we confirmed sorafenib as a potential anti-neoplastic treatment strategy for CRC cells by demonstrating a growth-inhibitory and cell cycle–arresting effect of this drug. Changes in the miRNome indicate that some specific miRNAs might be relevant as indicators for sorafenib response, drug resistance and potential targets for combinatorial miRNA-based drug strategies.
View Full-Text
►

▼

Figures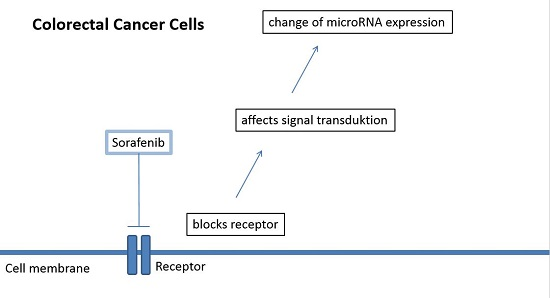 Graphical abstract
This is an open access article distributed under the
Creative Commons Attribution License
which permits unrestricted use, distribution, and reproduction in any medium, provided the original work is properly cited (CC BY 4.0).

Share & Cite This Article
MDPI and ACS Style
Pehserl, A.-M.; Ress, A.L.; Stanzer, S.; Resel, M.; Karbiener, M.; Stadelmeyer, E.; Stiegelbauer, V.; Gerger, A.; Mayr, C.; Scheideler, M.; Hutterer, G.C.; Bauernhofer, T.; Kiesslich, T.; Pichler, M. Comprehensive Analysis of miRNome Alterations in Response to Sorafenib Treatment in Colorectal Cancer Cells. Int. J. Mol. Sci. 2016, 17, 2011.
Note that from the first issue of 2016, MDPI journals use article numbers instead of page numbers. See further details here.
Related Articles
Comments
[Return to top]