Identification of Hydroxyanthraquinones as Novel Inhibitors of Hepatitis C Virus NS3 Helicase
1
Department of Life Science and Medical Bioscience, Waseda University, 2-2 Wakamatsu-cho, Shinjuku-ku, Tokyo 162-8480, Japan
2
Biomedical Research Institute, National Institute of Advanced Industrial Science and Technology (AIST), 1-1-1 Higashi, Tsukuba, Ibaraki 305-8566, Japan
3
Institute of Medical Chemistry, Hoshi University, 2-4-41 Ebara, Shinagawa-ku, Tokyo 142-8501, Japan
4
Department of Chemistry, Biology and Marine Science, University of the Ryukyus, Nishihara, Okinawa 903-0213, Japan
5
Radioisotope Center, The University of Tokyo, 2-11-16 Yayoi, Bunkyo-ku, Tokyo 113-0032, Japan
6
Environmental Measurement Research Institute, National Institute of Advanced Industrial Science and Technology (AIST), 16-1 Onogawa, Tsukuba, Ibaraki 305-8569, Japan
7
Department of Microbiology, Division of Medicine, Graduate School of Medicine and Engineering, University of Yamanashi, 1110 Shimokato, Chuo-shi, Yamanashi 409-3898, Japan
8
Department of Pharmaceutical Sciences, Toho University, 2-2-1 Miyama, Funabashi-shi, Chiba 274-8510, Japan
†
Current address: Infectious Disease and Immunogenetics Section, Department of Transfusion Medicine, Clinical Center, National Institutes of Health, Bethesda, MD 20892, USA
*
Authors to whom correspondence should be addressed.
Academic Editor: Tatsuo Kanda
Received: 29 May 2015 / Revised: 14 July 2015 / Accepted: 31 July 2015 / Published: 7 August 2015
Abstract
Hepatitis C virus (HCV) is an important etiological agent of severe liver diseases, including cirrhosis and hepatocellular carcinoma. The HCV genome encodes nonstructural protein 3 (NS3) helicase, which is a potential anti-HCV drug target because its enzymatic activity is essential for viral replication. Some anthracyclines are known to be NS3 helicase inhibitors and have a hydroxyanthraquinone moiety in their structures; mitoxantrone, a hydroxyanthraquinone analogue, is also known to inhibit NS3 helicase. Therefore, we hypothesized that the hydroxyanthraquinone moiety alone could also inhibit NS3 helicase. Here, we performed a structure–activity relationship study on a series of hydroxyanthraquinones by using a fluorescence-based helicase assay. Hydroxyanthraquinones inhibited NS3 helicase with IC
50
values in the micromolar range. The inhibitory activity varied depending on the number and position of the phenolic hydroxyl groups, and among different hydroxyanthraquinones examined, 1,4,5,8-tetrahydroxyanthraquinone strongly inhibited NS3 helicase with an IC
50
value of 6 µM. Furthermore, hypericin and sennidin A, which both have two hydroxyanthraquinone-like moieties, were found to exert even stronger inhibition with IC
50
values of 3 and 0.8 µM, respectively. These results indicate that the hydroxyanthraquinone moiety can inhibit NS3 helicase and suggest that several key chemical structures are important for the inhibition.
View Full-Text
►

▼

Figures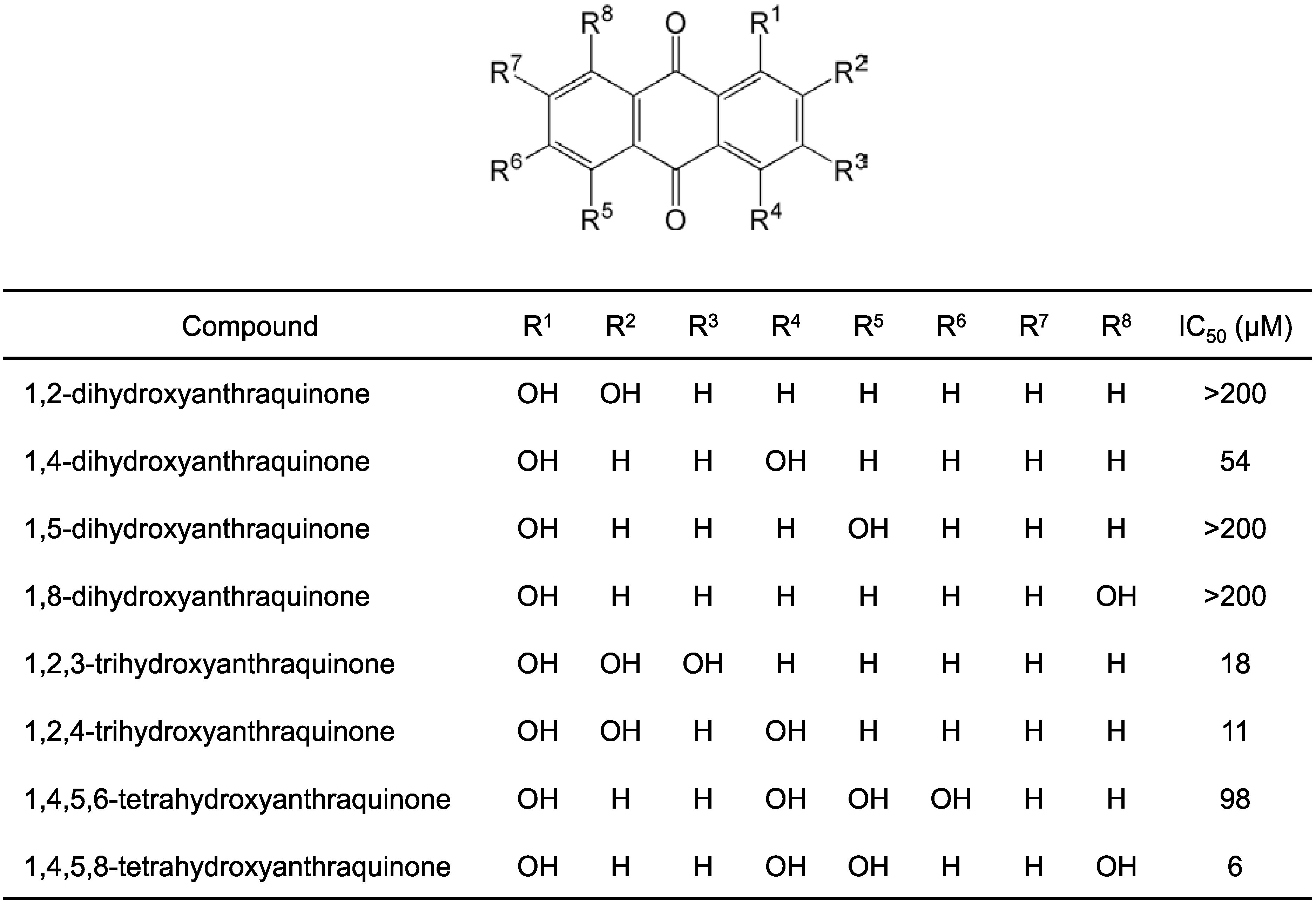 Figure 1
This is an open access article distributed under the
Creative Commons Attribution License
which permits unrestricted use, distribution, and reproduction in any medium, provided the original work is properly cited (CC BY 4.0).

Share & Cite This Article
MDPI and ACS Style
Furuta, A.; Tsubuki, M.; Endoh, M.; Miyamoto, T.; Tanaka, J.; Salam, K.A.; Akimitsu, N.; Tani, H.; Yamashita, A.; Moriishi, K.; Nakakoshi, M.; Sekiguchi, Y.; Tsuneda, S.; Noda, N. Identification of Hydroxyanthraquinones as Novel Inhibitors of Hepatitis C Virus NS3 Helicase. Int. J. Mol. Sci. 2015, 16, 18439-18453.
Related Articles
Comments
[Return to top]