Solvent Properties of Water in Aqueous Solutions of Elastin-Like Polypeptide
1
Analiza, Inc., Cleveland, OH 44114, USA
2
Department of Chemical and Biomedical Engineering, Cleveland State University, Cleveland, OH 44115, USA
3
Department of Chemistry, Philipps University, Marburg D-35032, Germany
4
Department of Molecular Medicine and USF Health Byrd Alzheimer's Research Institute, Morsani College of Medicine, University of South Florida, Tampa, FL 33612, USA
5
Institute for Biological Instrumentation, Russian Academy of Sciences, Pushchino, Moscow Region 142292, Russia
6
Department of Biology, Faculty of Science, King Abdulaziz University, Jeddah 21589, Saudi Arabia
7
Laboratory of Structural Dynamics, Stability and Folding of Proteins, Institute of Cytology, Russian Academy of Sciences, St. Petersburg 194064, Russia
*
Author to whom correspondence should be addressed.
Academic Editor: Malcolm D'Souza
Received: 15 May 2015 / Accepted: 10 June 2015 / Published: 12 June 2015
Abstract
The phase-transition temperatures of an elastin-like polypeptide (ELP) with the (GVGVP)
40
sequence and solvent dipolarity/polarizability, hydrogen-bond donor acidity, and hydrogen-bond acceptor basicity in its aqueous solutions were quantified in the absence and presence of different salts (Na
2
SO
4
, NaCl, NaClO
4
, and NaSCN) and various osmolytes (sucrose, sorbitol, trehalose, and trimethylamine
N
-oxide (TMAO)). All osmolytes decreased the ELP phase-transition temperature, whereas NaCl and Na
2
SO
4
decreased, and NaSCN and NaClO
4
increased it. The determined phase-transition temperatures may be described as a linear combination of the solvent's dipolarity/polarizability and hydrogen-bond donor acidity. The linear relationship established for the phase-transition temperature in the presence of salts differs quantitatively from that in the presence of osmolytes, in agreement with different (direct and indirect) mechanisms of the influence of salts and osmolytes on the ELP phase-transition temperature.
View Full-Text
►

▼

Figures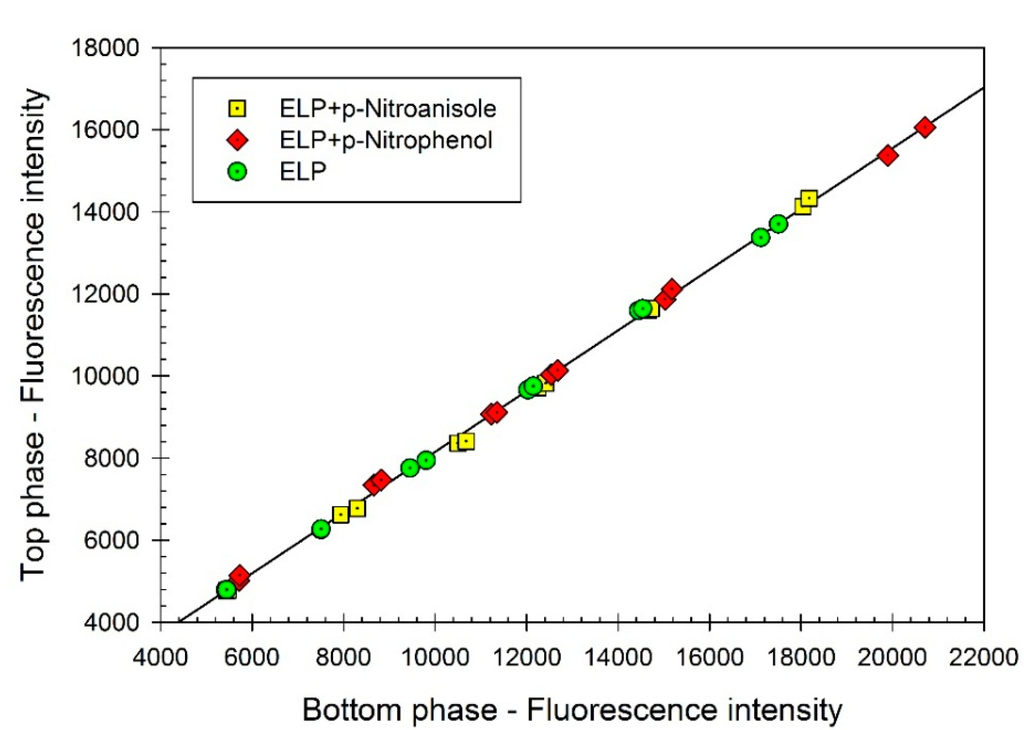 Figure 1
This is an open access article distributed under the
Creative Commons Attribution License
which permits unrestricted use, distribution, and reproduction in any medium, provided the original work is properly cited (CC BY 4.0).

Share & Cite This Article
MDPI and ACS Style
Ferreira, L.A.; Cole, J.T.; Reichardt, C.; Holland, N.B.; Uversky, V.N.; Zaslavsky, B.Y. Solvent Properties of Water in Aqueous Solutions of Elastin-Like Polypeptide. Int. J. Mol. Sci. 2015, 16, 13528-13547.
Related Articles
Comments
[Return to top]