Regulative Effect of Mir-205 on Osteogenic Differentiation of Bone Mesenchymal Stem Cells (BMSCs): Possible Role of SATB2/Runx2 and ERK/MAPK Pathway
1
Department of Stomatology, Chinese PLA General Hospital, Beijing 100853, China
2
Department of Pharmacy, 401 Military Hospital, Qingdao 266071, China
*
Authors to whom correspondence should be addressed.
†
These authors contributed equally to this work.
Academic Editor: Martin Pichler
Received: 16 March 2015 / Revised: 22 April 2015 / Accepted: 4 May 2015 / Published: 7 May 2015
Abstract
Bone mesenchymal stem cells (BMSCs) have multiple potentials to differentiate into osteoblasts and adipocytes, and methods to enhance their osteogenic differentiation are gaining increasing attention. MicroRNAs are critical regulation factors during the process of the osteogenic induction in BMSCs, and mir-205 has been substantiated to be involved in the osteogenic process, but the underlying mechanisms remain unclear. The purpose of this article is to investigate the role of mir-205 in the osteogenic differentiation of BMSCs. We found that mir-205 expression was down-regulated in a time-dependent manner during BMSC osteo-induction. Inhibition of mir-205 enhanced osteogenic abilities by up-regulating bone sialoprotein (BSP) and osteopontin (OPN) protein levels and increasing alkaline phosphatase (ALP) activity and osteocalcin secretion. Furthermore, we found that mir-205 could regulate protein expression of special AT-rich sequence-binding protein 2 (SATB2) and runt-related transcription factor 2 (Runx2), and over-expression of SATB2 activated Runx2 and reversed the negative effects of mir-205 on osteoblastic differentiation. Furthermore, we examined the extracellular signal-regulated kinase (ERK) and p38 mitogen-activated protein kinase (p38 MAPK) pathways during osteogenic induction and our data indicates that mir-205 might exert negative functions on the osteogenic differentiation in BMSCs at least partly via altering phosphorylation of ERK and p38 MAPK. These results shed new light on the molecular mechanisms of microRNAs in governing differentiation of BMSCs.
View Full-Text
►

▼

Figures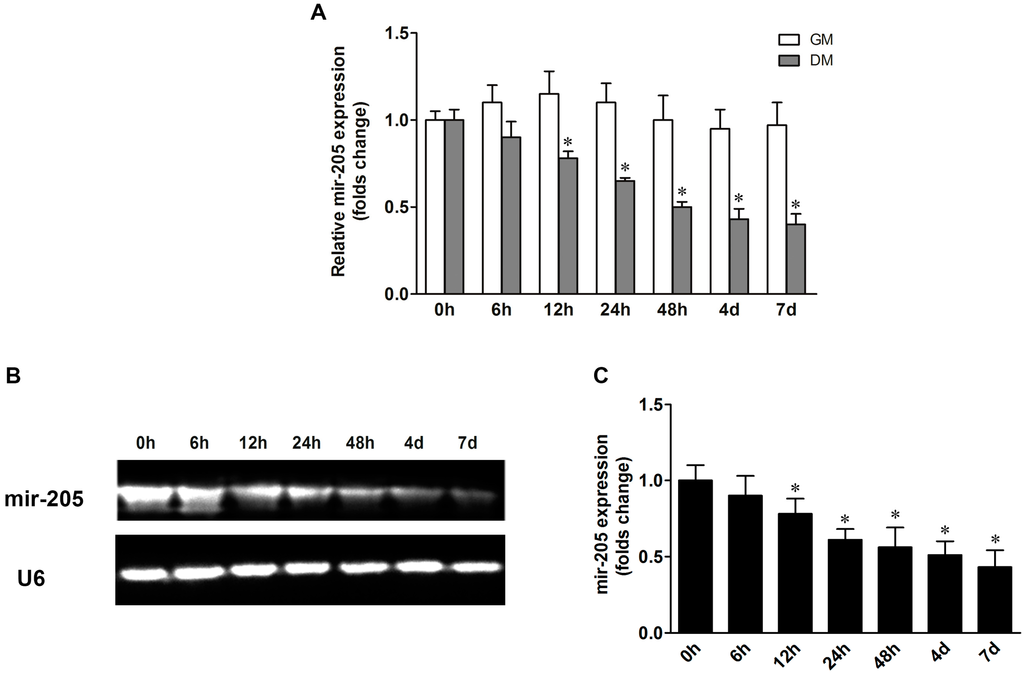 Figure 1
This is an open access article distributed under the
Creative Commons Attribution License
which permits unrestricted use, distribution, and reproduction in any medium, provided the original work is properly cited (CC BY 4.0).

Share & Cite This Article
MDPI and ACS Style
Hu, N.; Feng, C.; Jiang, Y.; Miao, Q.; Liu, H. Regulative Effect of Mir-205 on Osteogenic Differentiation of Bone Mesenchymal Stem Cells (BMSCs): Possible Role of SATB2/Runx2 and ERK/MAPK Pathway. Int. J. Mol. Sci. 2015, 16, 10491-10506.
Related Articles
Comments
[Return to top]