The Regulation of Nitric Oxide Synthase Isoform Expression in Mouse and Human Fallopian Tubes: Potential Insights for Ectopic Pregnancy
1
Department of Integrative Medicine and Neurobiology, State Key Lab of Medical Neurobiology, Shanghai Medical College and Institute of Acupuncture Research (WHO Collaborating Center for Traditional Medicine), Institute of Brain Science, Fudan University, Shanghai 200032, China
2
Department of Physiology and Endocrinology, Institute of Neuroscience and Physiology, the Sahlgrenska Academy at University of Gothenburg, 40530 Gothenburg, Sweden
3
Training Center of Medical Experiments, Fudan University, Shanghai 200032, China
4
Department of Gynecology, Obstetrics and Gynecology Hospital of Fudan University, Shanghai 200011, China
†
These authors contributed equally to this work.
*
Authors to whom correspondence should be addressed.
Academic Editor: Anthony Lemarié
Received: 23 September 2014 / Accepted: 17 December 2014 / Published: 23 December 2014
Abstract
Nitric oxide (NO) is highly unstable and has a half-life of seconds in buffer solutions. It is synthesized by NO-synthase (NOS), which has been found to exist in the following three isoforms: neuro nitric oxide synthase (nNOS), inducible nitric oxide synthase (iNOS), and endothelial nitric oxide synthase (eNOS). NOS activity is localized in the reproductive tracts of many species, although direct evidence for NOS isoforms in the Fallopian tubes of mice is still lacking. In the present study, we investigated the expression and regulation of NOS isoforms in the mouse and human Fallopian tubes during the estrous and menstrual cycles, respectively. We also measured isoform expression in humans with ectopic pregnancy and in mice treated with lipopolysaccharide (LPS). Our results confirmed the presence of different NOS isoforms in the mouse and human Fallopian tubes during different stages of the estrous and menstrual cycles and showed that iNOS expression increased in the Fallopian tubes of women with ectopic pregnancy and in LPS-treated mice. Elevated iNOS activity might influence ovulation, cilia beats, contractility, and embryo transportation in such a manner as to increase the risk of ectopic pregnancy. This study has provided morphological and molecular evidence that NOS isoforms are present and active in the human and mouse Fallopian tubes and suggests that iNOS might play an important role in both the reproductive cycle and infection-induced ectopic pregnancies.
View Full-Text
►

▼

Figures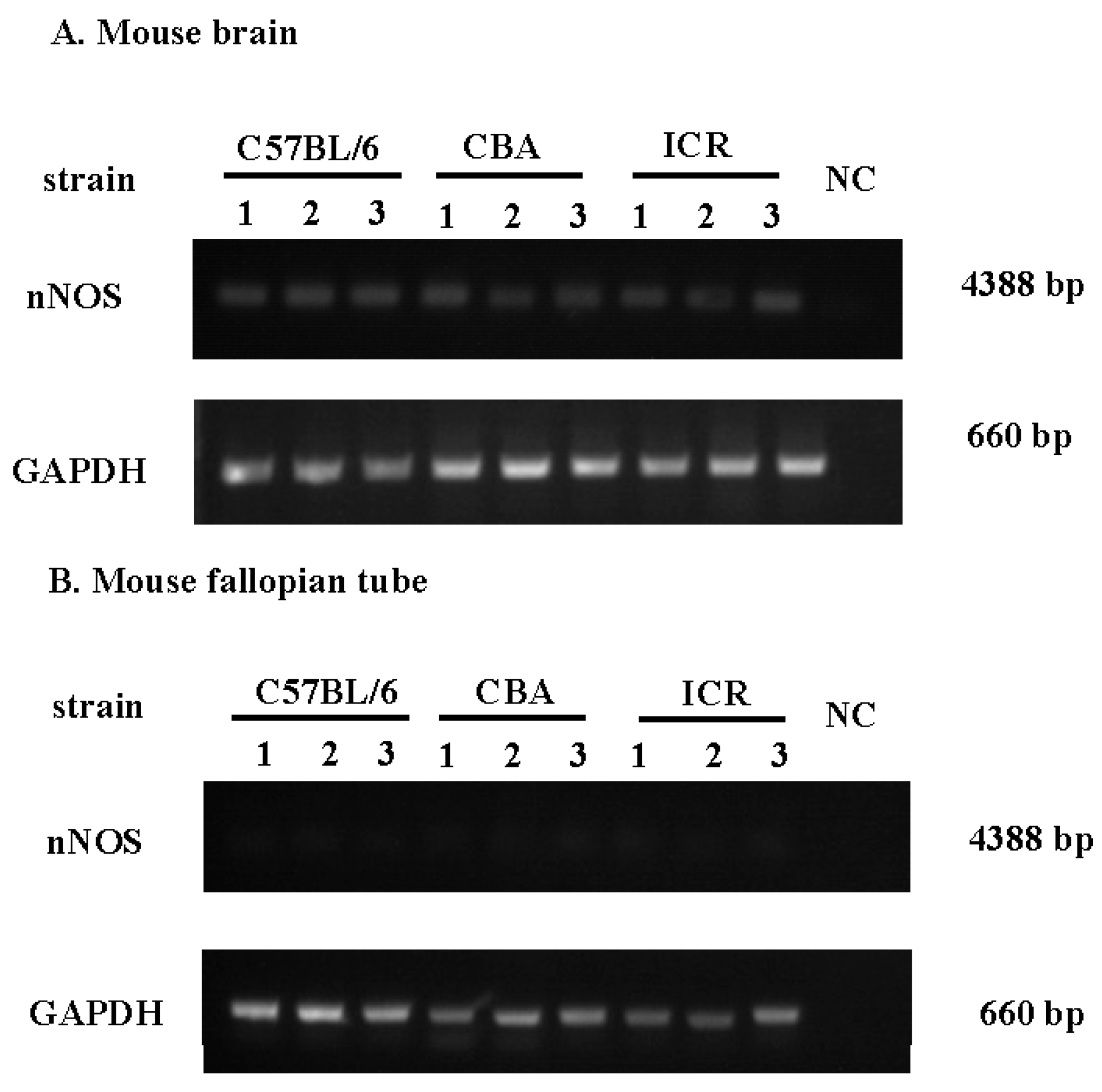 Figure 1
This is an open access article distributed under the
Creative Commons Attribution License
which permits unrestricted use, distribution, and reproduction in any medium, provided the original work is properly cited (CC BY 4.0).

Share & Cite This Article
MDPI and ACS Style
Hu, J.; Ma, S.; Zou, S.; Li, X.; Cui, P.; Weijdegård, B.; Wu, G.; Shao, R.; Billig, H.; Feng, Y. The Regulation of Nitric Oxide Synthase Isoform Expression in Mouse and Human Fallopian Tubes: Potential Insights for Ectopic Pregnancy. Int. J. Mol. Sci. 2015, 16, 49-67.
Related Articles
Comments
[Return to top]