A Novel Colorimetric Immunoassay Utilizing the Peroxidase Mimicking Activity of Magnetic Nanoparticles
Department of Chemical and Biomolecular Engineering (BK21 Program), KAIST, 291 Daehak-ro, Yuseong-gu, Daejeon 305-701, Korea
*
Author to whom correspondence should be addressed.
Received: 7 April 2013 / Revised: 28 April 2013 / Accepted: 6 May 2013 / Published: 10 May 2013
Abstract
A simple colorimetric immunoassay system, based on the peroxidase mimicking activity of Fe
3
O
4
magnetic nanoparticles (MNPs), has been developed to detect clinically important antigenic molecules. MNPs with
ca.
10 nm in diameter were synthesized and conjugated with specific antibodies against target molecules, such as rotaviruses and breast cancer cells. Conjugation of the MNPs with antibodies (MNP-Abs) enabled specific recognition of the corresponding target antigenic molecules through the generation of color signals arising from the colorimetric reaction between the selected peroxidase substrate, 3,3',5,5'-tetramethylbenzidine (TMB) and H
2
O
2
. Based on the MNP-promoted colorimetric reaction, the target molecules were detected and quantified by measuring absorbance intensities corresponding to the oxidized form of TMB. Owing to the higher stabilities and economic feasibilities of MNPs as compared to horseradish peroxidase (HRP), the new colorimetric system employing MNP-Abs has the potential of serving as a potent immunoassay that should substitute for conventional HRP-based immunoassays. The strategy employed to develop the new methodology has the potential of being extended to the construction of simple diagnostic systems for a variety of biomolecules related to human cancers and infectious diseases, particularly in the realm of point-of-care applications.
View Full-Text
►

▼

Figures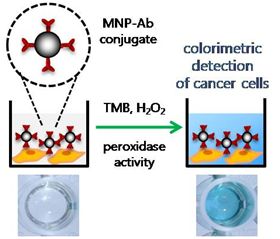 Graphical abstract

Share & Cite This Article
MDPI and ACS Style
Woo, M.-A.; Kim, M.I.; Jung, J.H.; Park, K.S.; Seo, T.S.; Park, H.G. A Novel Colorimetric Immunoassay Utilizing the Peroxidase Mimicking Activity of Magnetic Nanoparticles. Int. J. Mol. Sci. 2013, 14, 9999-10014.
Related Articles
Comments
[Return to top]