Geometrical Conditions Indispensable for Muscle Contraction
Nałęcz Institute of Biocybernetics and Biomedical Engineering of the Polish Academy of Sciences, Ks. Trojdena 4, 02-109 Warszawa, Poland
Received: 22 February 2011 / Revised: 10 March 2011 / Accepted: 18 March 2011 / Published: 29 March 2011
Abstract
Computer simulation has uncovered the geometrical conditions under which the vertebrate striated muscle sarcomere can contract. First, all thick filaments should have identical structure, namely: three myosin cross-bridges, building a crown, should be aligned at angles of 0°, 120°, 180°, and the successive crowns and the two filament halves should be turned around 120°. Second, all thick filaments should act simultaneously. Third, coordination in action of the myosin cross-bridges should exist, namely: the three cross-bridges of a crown should act simultaneously and the cross-bridge crowns axially 43 and 14.333 nm apart should act, respectively, simultaneously and with a phase shift. Fifth, six thin filaments surrounding the thick filament should be turned around 180° to each other in each sarcomere half. Sixth, thin filaments should be oppositely oriented in relation to the sarcomere middle. Finally, the structure of each of the thin filaments should change in consequence of strong interaction with myosin heads, namely: the axial distance and the angular alignment between neighboring actin monomers should be, respectively, 2.867 nm and 168° instead of 2.75 nm and 166.15°. These conditions ensure the stereo-specific interaction between actin and myosin and good agreement with the data gathered by electron microscopy and X-ray diffraction methods. The results suggest that the force is generated not only by the myosin cross-bridges but also by the thin filaments; the former acts by cyclical unwrapping and wrapping the thick filament backbone, and the latter byelongation.
View Full-Text
►

▼

Figures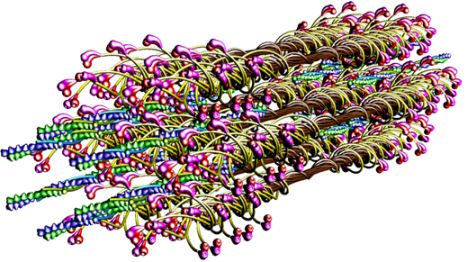 Graphical abstract

Share & Cite This Article
MDPI and ACS Style
Skubiszak, L. Geometrical Conditions Indispensable for Muscle Contraction. Int. J. Mol. Sci. 2011, 12, 2138-2157.
Related Articles
Comments
[Return to top]