Activity of Estafietin and Analogues on
Trypanosoma cruzi

and

Leishmania braziliensis

1

CONICET—Universidad de Buenos Aires, Instituto de Química y Metabolismo del Fármaco (IQUIMEFA), Junín 956 2° floor, Buenos Aires 1113, Argentina

2

Cátedra de Farmacognosia, Facultad de Farmacia y Bioquímica, Universidad de Buenos Aires, Junín 956 2° floor, Buenos Aires 1113, Argentina

3

Instituto de Fisiología Animal, Fundación Miguel Lillo and Facultad de Ciencias Naturales e Instituto Miguel Lillo, Universidad Nacional de Tucumán, Tucumán T4000INI, Argentina

4

CONICET—Universidad Nacional de Luján, Instituto de Ecología y Desarrollo Sustentable (INEDES), Ruta 5 y Avenida Constitución, Luján 6700, Argentina

5

Cátedra de Inmunología, Facultad de Farmacia y Bioquímica, Universidad de Buenos Aires, Junín 956 4° floor, Buenos Aires 1113, Argentina

6

Instituto de Estudios de la Inmunidad Humoral (IDEHU), UBA-CONICET, Junín 956 4° floor, Buenos Aires 1113, Argentina

7

CONICET—Universidad de Buenos Aires, Instituto de Microbiología y Parasitología Médica—CONICET (IMPaM), Facultad de Medicina, Paraguay 2155. 13° floor, Buenos Aires C1121ABG, Argentina

8

CONICET—Centro de Referencia para Lactobacilos (CERELA), Batalla de Chacabuco 145, San Miguel de Tucumán T4000INI, Argentina

9

CONICET—Universidad Nacional de Tucumán, Instituto de Química del Noroeste—CONICET (INQUINOA), Ayacucho 471, San Miguel de Tucumán T4000INI, Argentina

*

Authors to whom correspondence should be addressed.

†

These authors contributed equally to this work.

Received: 28 February 2019 / Revised: 22 March 2019 / Accepted: 25 March 2019 / Published: 28 March 2019
Abstract
Sesquiterpene lactones are naturally occurring compounds mainly found in the Asteraceae family. These types of plant metabolites display a wide range of biological activities, including antiprotozoal activity and are considered interesting structures for drug discovery. Four derivatives were synthesized from estafietin (
1
), isolated from
Stevia alpina
(Asteraceae): 11βH,13-dihydroestafietin (
2
), epoxyestafietin (
3a
and
3b
), 11βH,13-methoxyestafietin, (
4
) and 11βH,13-cianoestafietin. The antiprotozoal activity against
Trypanosoma cruzi
and
Leishmania braziliensis
of these compounds was evaluated. Epoxyestafietin was the most active compound against
T. cruzi
trypomastigotes and amastigotes (IC
50
values of 18.7 and 2.0 µg/mL, respectively). Estafietin (
1
) and 11βH,13-dihydroestafietin (
2
) were the most active and selective compounds on
L. braziliensis
promastigotes (IC
50
values of 1.0 and 1.3 μg/mL, respectively). The antiparasitic activity demonstrated by estafietin and some of its derivatives make them promising candidates for the development of effective compounds for the treatment of Chagas disease and leihsmaniasis.
View Full-Text
►

▼

Figures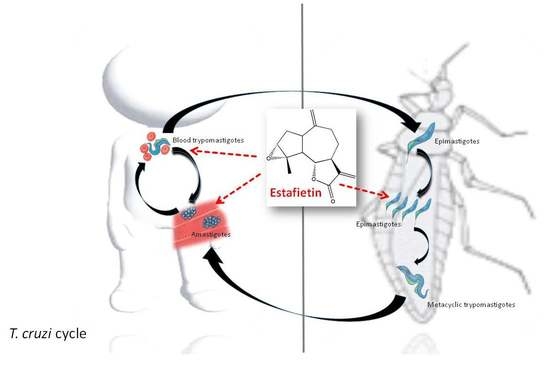 Graphical abstract
This is an open access article distributed under the
Creative Commons Attribution License
which permits unrestricted use, distribution, and reproduction in any medium, provided the original work is properly cited (CC BY 4.0).

Share & Cite This Article
MDPI and ACS Style
Sülsen, V.P.; Lizarraga, E.F.; Elso, O.G.; Cerny, N.; Sanchez Alberti, A.; Bivona, A.E.; Malchiodi, E.L.; Cazorla, S.I.; Catalán, C.A.N. Activity of Estafietin and Analogues on Trypanosoma cruzi and Leishmania braziliensis. Molecules 2019, 24, 1209.
Note that from the first issue of 2016, MDPI journals use article numbers instead of page numbers. See further details here.
Related Articles
Comments
[Return to top]