Characterization of Inulin-Type Fructan from
Platycodon grandiflorus

and Study on Its Prebiotic and Immunomodulating Activity

1

Natural Medicine Research Center, College of Veterinary Medicine, Sichuan Agricultural University, Chengdu 611130, China

2

Key Laboratory of Animal Disease and Human Health of Sichuan Province, College of Veterinary Medicine, Sichuan Agricultural University, Chengdu 611130, China

3

Sichuan Academy of Forestry, Chengdu 610081, China

4

Department of Pharmaceutical Chemistry, School of Pharmacy, University of Oslo, P.O. Box 1068, Blindern, 0316 Oslo, Norway

5

Department of Chemistry, University of Oslo, P.O. Box 1033, Blindern, 0315 Oslo, Norway

6

Shenzhen Institutes of Advanced Technology, Chinese Academy of Science, Shenzhen 518055, China

7

Animal Nutrition Institute, Sichuan Agricultural University, Chengdu 611130, China

8

Animal Microecology Institute, College of Veterinary Medicine, Sichuan Agricultural University, Chengdu 611130, China

*

Authors to whom correspondence should be addressed.

†

These authors contributed equally to this paper.

Academic Editor: Cédric Delattre

Received: 28 February 2019 / Revised: 17 March 2019 / Accepted: 25 March 2019 / Published: 27 March 2019
Abstract
Platycodon grandiflorus
is a plant widely used in traditional Chinese medicine, of which polysaccharides are reported to be the main components responsible for its bio-functions. In this work, the inulin-type fructan (PGF) was obtained by DEAE anion exchange chromatography from the water extracted from
P. grandifloras
. Characterization was performed with methanolysis, methylation, and NMR and the results showed that PGF is a β-(2-1) linked fructan, with terminal glucose and with a degree of polymerization of 2–10. In order to study its biofunctions, the prebiotic and immunomodulation properties were assayed. We found that PGF exhibited good prebiotic activity, as shown by a promotion on six strains of lactobacillus proliferation. Additionally, the PGF also displayed direct immunomodulation on intestinal epithelial cells and stimulated the expressions of anti-inflammatory factors. These results indicated that the inulin from
P. grandiflorus
is a potential natural source of prebiotics as well as a potential intestinal immunomodulator, which will be valuable for further studies and new applications.
View Full-Text
►

▼

Figures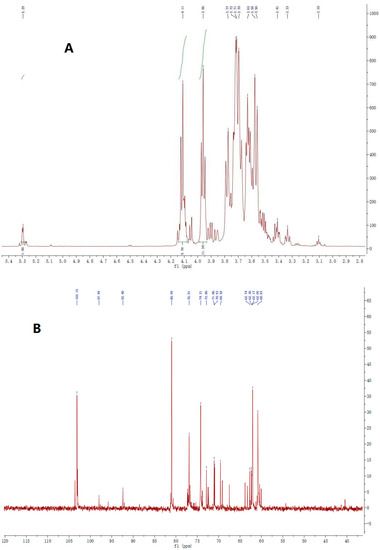 Figure 1
This is an open access article distributed under the
Creative Commons Attribution License
which permits unrestricted use, distribution, and reproduction in any medium, provided the original work is properly cited (CC BY 4.0).

Share & Cite This Article
MDPI and ACS Style
Pang, D.-J.; Huang, C.; Chen, M.-L.; Chen, Y.-L.; Fu, Y.-P.; Paulsen, B.S.; Rise, F.; Zhang, B.-Z.; Chen, Z.-L.; Jia, R.-Y.; Li, L.-X.; Song, X.; Feng, B.; Ni, X.-Q.; Yin, Z.-Q.; Zou, Y.-F. Characterization of Inulin-Type Fructan from Platycodon grandiflorus and Study on Its Prebiotic and Immunomodulating Activity. Molecules 2019, 24, 1199.
Note that from the first issue of 2016, MDPI journals use article numbers instead of page numbers. See further details here.
Related Articles
Comments
[Return to top]