2-Iodo-4′-Methoxychalcone Attenuates Methylglyoxal-Induced Neurotoxicity by Activation of GLP-1 Receptor and Enhancement of Neurotrophic Signal, Antioxidant Defense and Glyoxalase Pathway
1
Department of Pharmacology, School of Medicine, College of Medicine, Kaohsiung Medical University, Kaohsiung 80708, Taiwan
2
Graduate Institute of Natural Products, College of Pharmacy, Kaohsiung Medical University, Kaohsiung 80708, Taiwan
3
Institute of Pharmaceutical Chemistry, University of Szeged, Eötvös u. 6, H-6720 Szeged, Hungary
4
MTA-SZTE Stereochemistry Research Group, Hungarian Academy of Sciences, Eötvös u. 6, H-6720 Szeged, Hungary
5
National Research Institute of Chinese Medicine, Ministry of Health and Welfare, Taipei 11221, Taiwan
6
Department of Medical Research, Kaohsiung Medical University Hospital, Kaohsiung 80708, Taiwan
7
Graduate Institute of Medicine, College of Medicine, Kaohsiung Medical University, Kaohsiung 80708, Taiwan
*
Author to whom correspondence should be addressed.
Received: 31 May 2019 / Revised: 14 June 2019 / Accepted: 15 June 2019 / Published: 16 June 2019
Abstract
Methylglyoxal (MG) acts as a reactive precursor of advanced glycation end products (AGEs). This compound is often connected with pathologies such as diabetes, neurodegenerative processes and diseases of aging. 2-iodo-4′-methoxychalcone (CHA79), a synthetic halogen-containing chalcone derivative, has been reported its anti-diabetic activity. This study aims to investigate the potential protective capability of CHA79 against MG-mediated neurotoxicity in SH-SY5Y cells. Results indicated CHA79 increased viability of cells and attenuated the rate of apoptosis in MG-exposed SH-SY5Y. CHA79 up-regulated expression of anti-apoptotic protein (Bcl-2) and down-regulated apoptotic proteins (Bax, cytochrome
c
, caspase-3, caspase-9). Moreover, CHA79 significantly up-regulated expression of neurotrophic factors, including glucagon-like peptide-1 receptor (GLP-1R), brain derived neurotrophic factor (BDNF), p75NTR, p-TrkB, p-Akt, p-GK-3β and p-CREB. CHA79 attenuated MG-induced ROS production and enhanced the antioxidant defense including nuclear factor erythroid 2-related factor 2 (Nrf2), HO-1, SOD and GSH. Furthermore, CHA79 attenuated MG-induced reduction of glyoxalase-1 (GLO-1), a vital enzyme on removing AGE precursors. In conclusion, CHA79 is the first novel synthetic chalcone possessing the GLP-1R and GLO-1 activating properties. CHA 79 also exhibits neuroprotective effects against MG toxicity by enhancing neurotrophic signal, antioxidant defense and anti-apoptosis pathway.
View Full-Text
►

▼

Figures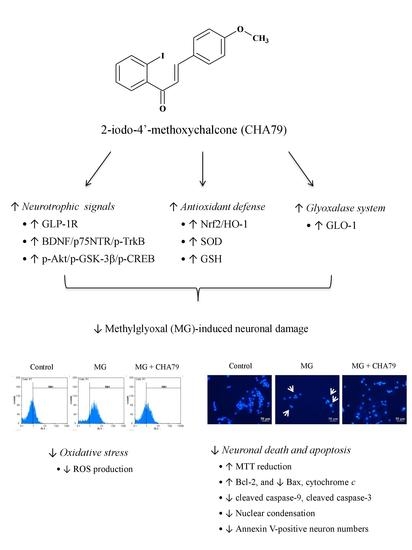 Graphical abstract
This is an open access article distributed under the
Creative Commons Attribution License
which permits unrestricted use, distribution, and reproduction in any medium, provided the original work is properly cited (CC BY 4.0).

Share & Cite This Article
MDPI and ACS Style
Tseng, Y.-T.; Tsai, Y.-H.; Fülöp, F.; Chang, F.-R.; Lo, Y.-C. 2-Iodo-4′-Methoxychalcone Attenuates Methylglyoxal-Induced Neurotoxicity by Activation of GLP-1 Receptor and Enhancement of Neurotrophic Signal, Antioxidant Defense and Glyoxalase Pathway. Molecules 2019, 24, 2249.
Note that from the first issue of 2016, MDPI journals use article numbers instead of page numbers. See further details here.
Related Articles
Comments
[Return to top]