Understanding the Role of Anti-PEG Antibodies in the Complement Activation by Doxil in Vitro
1
Nanotechnology Characterization Lab, Frederick National Laboratory for Cancer Research Sponsored by the National Cancer Institute, Frederick, MD 21702, USA
2
Membrane and Liposome Research Lab, Hebrew University Hadassah Medical School, POB 12272, Jerusalem 9112102, Israel
3
Nanomedicine Research and Education Center, Institute of Pathophysiology, Semmelweis University, 1089 Budapest, Hungary
4
SeroScience Ltd., Nagyvárad tér 4, 1089 Budapest, Hungary
5
Department of Nanobiotechnology and Regenerative Medicine, Faculty of Health, Miskolc University, 3515 Miskolc, Hungary
*
Author to whom correspondence should be addressed.
Received: 20 June 2018 / Revised: 6 July 2018 / Accepted: 10 July 2018 / Published: 12 July 2018
Abstract
Infusion reactions (IRs) are common immune-mediated side effects in patients treated with a variety of drug products, including, but not limited to, nanotechnology formulations. The mechanism of IRs is not fully understood. One of the best studied mechanisms of IRs to nanomedicines is the complement activation. However, it is largely unknown why some patients develop reactions to nanomedicines while others do not, and why some nanoparticles are more reactogenic than others. One of the theories is that the pre-existing anti-polyethylene glycol (PEG) antibodies initiate the complement activation and IRs in patients. In this study, we investigated this hypothesis in the case of PEGylated liposomal doxorubicin (Doxil), which, when used in a clinical setting, is known to induce IRs; referred to as complement activation-related pseudoallergy (CARPA) in sensitive individuals. We conducted the study in vitro using plasma derived from C57BL/6 mice and twenty human donor volunteers. We used mouse plasma to test a library of well-characterized mouse monoclonal antibodies with different specificity and affinity to PEG as it relates to the complement activation by Doxil. We determined the levels of pre-existing polyclonal antibodies that bind to PEG, methoxy-PEG, and PEGylated liposomes in human plasma, and we also assessed complement activation by Doxil and concentrations of complement inhibitory factors H and I in these human plasma specimens. The affinity, specificity, and other characteristics of the human polyclonal antibodies are not known at this time. Our data demonstrate that under in vitro conditions, some anti-PEG antibodies contribute to the complement activation by Doxil. Such contribution, however, needs to be considered in the context of other factors, including, but not limited to, antibody class, type, clonality, epitope specificity, affinity, and titer. In addition, our data contribute to the knowledge base used to understand and improve nanomedicine safety.
View Full-Text
►

▼

Figures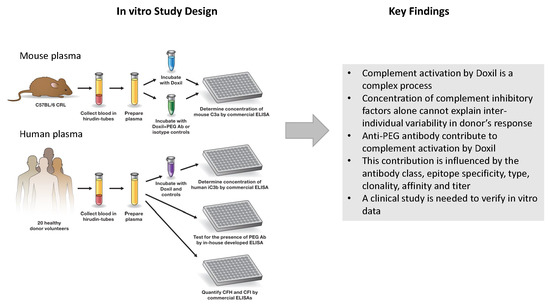 Graphical abstract
This is an open access article distributed under the
Creative Commons Attribution License
which permits unrestricted use, distribution, and reproduction in any medium, provided the original work is properly cited (CC BY 4.0).

Share & Cite This Article
MDPI and ACS Style
Neun, B.W.; Barenholz, Y.; Szebeni, J.; Dobrovolskaia, M.A. Understanding the Role of Anti-PEG Antibodies in the Complement Activation by Doxil in Vitro. Molecules 2018, 23, 1700.
Note that from the first issue of 2016, MDPI journals use article numbers instead of page numbers. See further details here.
Related Articles
Comments
[Return to top]