Search for Partner Proteins of
A. thaliana

Immunophilins Involved in the Control of Plant Immunity

1

N.I. Vavilov Institute of General Genetics Russian Academy of Sciences, Gubkina Str. 3, Moscow 119333, Russian

2

Department of Plant Pathology and Microbiology, Iowa State University, Ames, IA 50011, USA

3

Faculty of Geology, Lomonosov Moscow State University, GSP-1, 1 Leninskiye Gory, Moscow 119991, Russian

*

Authors to whom correspondence should be addressed.

Received: 27 March 2018 / Revised: 16 April 2018 / Accepted: 16 April 2018 / Published: 19 April 2018
Abstract
The involvement of plant immunophilins in multiple essential processes such as development, various ways of adapting to biotic and abiotic stresses, and photosynthesis has already been established. Previously, research has demonstrated the involvement of three immunophilin genes (
AtCYP19-1/ROC3
,
AtFKBP65/ROF2
, and
AtCYP57
) in the control of plant response to invasion by various pathogens. Current research attempts to identify host target proteins for each of the selected immunophilins. As a result, candidate interactors have been determined and confirmed using a yeast 2-hybrid (Y2H) system for protein–protein interaction assays. The generation of mutant isoforms of ROC3 and AtCYP57 harboring substituted amino acids in the in silico-predicted active sites became essential to achieving significant binding to its target partners. This data shows that ROF2 targets calcium-dependent lipid-binding domain-containing protein (At1g70790; AT1) and putative protein phosphatase (At2g30020; АТ2), whereas ROC3 interacts with GTP-binding protein (At1g30580; ENGD-1) and RmlC-like cupin (At5g39120). The immunophilin AtCYP57 binds to putative pyruvate decarboxylase-1 (Pdc1) and clathrin adaptor complex-related protein (At5g05010). Identified interactors confirm our previous findings that immunophilins
ROC3
,
ROF2
, and
AtCYP57
are directly involved with stress response control. Further, these findings extend our understanding of the molecular functional pathways of these immunophilins.
View Full-Text
►

▼

Figures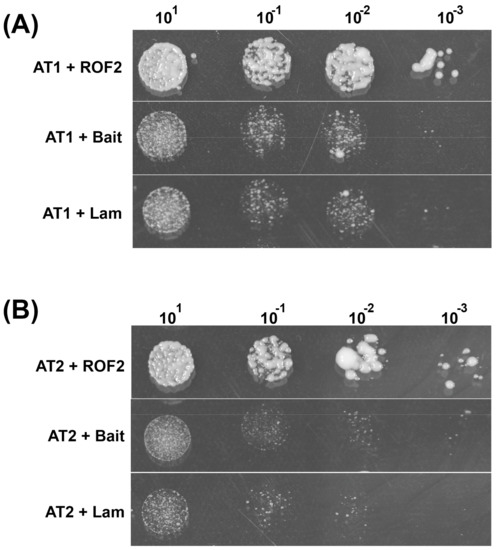 Figure 1
This is an open access article distributed under the
Creative Commons Attribution License
which permits unrestricted use, distribution, and reproduction in any medium, provided the original work is properly cited (CC BY 4.0).

Share & Cite This Article
MDPI and ACS Style
Abdeeva, I.A.; Pogorelko, G.V.; Maloshenok, L.G.; Mokrykova, M.V.; Fursova, O.V.; Bruskin, S.A. Search for Partner Proteins of A. thaliana Immunophilins Involved in the Control of Plant Immunity. Molecules 2018, 23, 953.
Note that from the first issue of 2016, MDPI journals use article numbers instead of page numbers. See further details here.
Related Articles
Comments
[Return to top]