Stable Isotope-Labeled Lipidomics to Unravel the Heterogeneous Development Lipotoxicity
1
Healthy Aging Research Center, Chang Gung University, Taoyuan 33302, Taiwan
2
Department of Biomedical Sciences, College of Medicine, Chang Gung University, Taoyuan 33302, Taiwan
3
Metabolomics Core Laboratory, Chang Gung University, Taoyuan 33302, Taiwan
4
Department of Mathematics, Fu-Jen Catholic University, New Taipei City 24205, Taiwan
5
Department of Medical Biotechnology and Laboratory Science, College of Medicine, Chang Gung University, Taoyuan 33302, Taiwan
6
Clinical Metabolomics Core Laboratory, Chang Gung Memorial Hospital, Taoyuan 33305, Taiwan
7
Graduate Institute of Biomedical Sciences, College of Medicine, Chang Gung University, Taoyuan 33302, Taiwan
*
Author to whom correspondence should be addressed.
Received: 3 October 2018 / Revised: 29 October 2018 / Accepted: 30 October 2018 / Published: 2 November 2018
Abstract
Non-alcoholic fatty liver disease (NAFLD) as a global health problem has clinical manifestations ranging from simple non-alcoholic fatty liver (NAFL) to non-alcoholic steatohepatitis (NASH), cirrhosis, and cancer. The role of different types of fatty acids in driving the early progression of NAFL to NASH is not understood. Lipid overload causing lipotoxicity and inflammation has been considered as an essential pathogenic factor. To correlate the lipid profiles with cellular lipotoxicity, we utilized palmitic acid (C16:0)- and especially unprecedented palmitoleic acid (C16:1)-induced lipid overload HepG2 cell models coupled with lipidomic technology involving labeling with stable isotopes. C16:0 induced inflammation and cell death, whereas C16:1 induced significant lipid droplet accumulation. Moreover, inhibition of de novo sphingolipid synthesis by myriocin (Myr) aggravated C16:0 induced lipoapoptosis. Lipid profiles are different in C16:0 and C16:1-treated cells. Stable isotope-labeled lipidomics elucidates the roles of specific fatty acids that affect lipid metabolism and cause lipotoxicity or lipid droplet formation. It indicates that not only saturation or monounsaturation of fatty acids plays a role in hepatic lipotoxicity but also Myr inhibition exasperates lipoapoptosis through ceramide in-direct pathway. Using the techniques presented in this study, we can potentially investigate the mechanism of lipid metabolism and the heterogeneous development of NAFLD.
View Full-Text
►

▼

Figures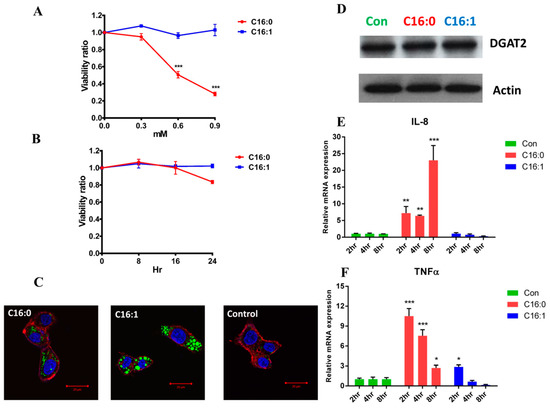 Figure 1
This is an open access article distributed under the
Creative Commons Attribution License
which permits unrestricted use, distribution, and reproduction in any medium, provided the original work is properly cited (CC BY 4.0).

Share & Cite This Article
MDPI and ACS Style
Shih, L.-M.; Tang, H.-Y.; Lynn, K.-S.; Huang, C.-Y.; Ho, H.-Y.; Cheng, M.-L. Stable Isotope-Labeled Lipidomics to Unravel the Heterogeneous Development Lipotoxicity. Molecules 2018, 23, 2862.
Note that from the first issue of 2016, MDPI journals use article numbers instead of page numbers. See further details here.
Related Articles
Comments
[Return to top]