Controlled Synthesis of Monodisperse Hexagonal NaYF4:Yb/Er Nanocrystals with Ultrasmall Size and Enhanced Upconversion Luminescence
MIIT Key Laboratory of Critical Materials Technology for New Energy Conversion and Storage, School of Chemistry and Chemical Engineering & Key Laboratory of Micro-Systems and Micro-Structures, Ministry of Education, Harbin Institute of Technology, Harbin 150001, China
*
Author to whom correspondence should be addressed.
Received: 3 November 2017 / Revised: 24 November 2017 / Accepted: 29 November 2017 / Published: 1 December 2017
Abstract
The ability to synthesize upconversion nanocrystals (UCNCs) with tailored upconversion luminescence and controlled size is of great importance for biophotonic applications. However, until now, limited success has been met to prepare bright, ultrasmall, and monodispersed β-NaYF
4
:Yb
3+
/Er
3+
UCNCs. In this work, we report on a synthetic method to produce monodisperse hexagonal NaYF
4
:Yb
3+
/Er
3+
nanocrystals of ultrasmall size (5.4 nm) through a precise control of the reaction temperature and the ratio of Na
+
/Ln
3+
/F
−
. We determined the optimum activator concentration of Er
3+
to be 6.5 mol % for these UCNCs, yielding about a 5-fold higher upconversion luminescence (UCL) intensity than the commonly used formula of NaYF
4
:30% Yb
3+
/2% Er
3+
. Moreover, a thin epitaxial shell (thickness, 1.9 nm) of NaLnF
4
(Ln = Y, Gd, Lu) was grown onto these ultrasmall NaYF
4
:Yb
3+
/Er
3+
NCs, enhancing its UCL by about 85-, 70- and 50-fold, respectively. The achieved sub-10-nm core and core–shell hexagonal NaYF
4
:Yb
3+
/Er
3+
UCNCs with enhanced UCL have strong potential applications in bioapplications such as bioimaging and biosensing.
View Full-Text
►

▼

Figures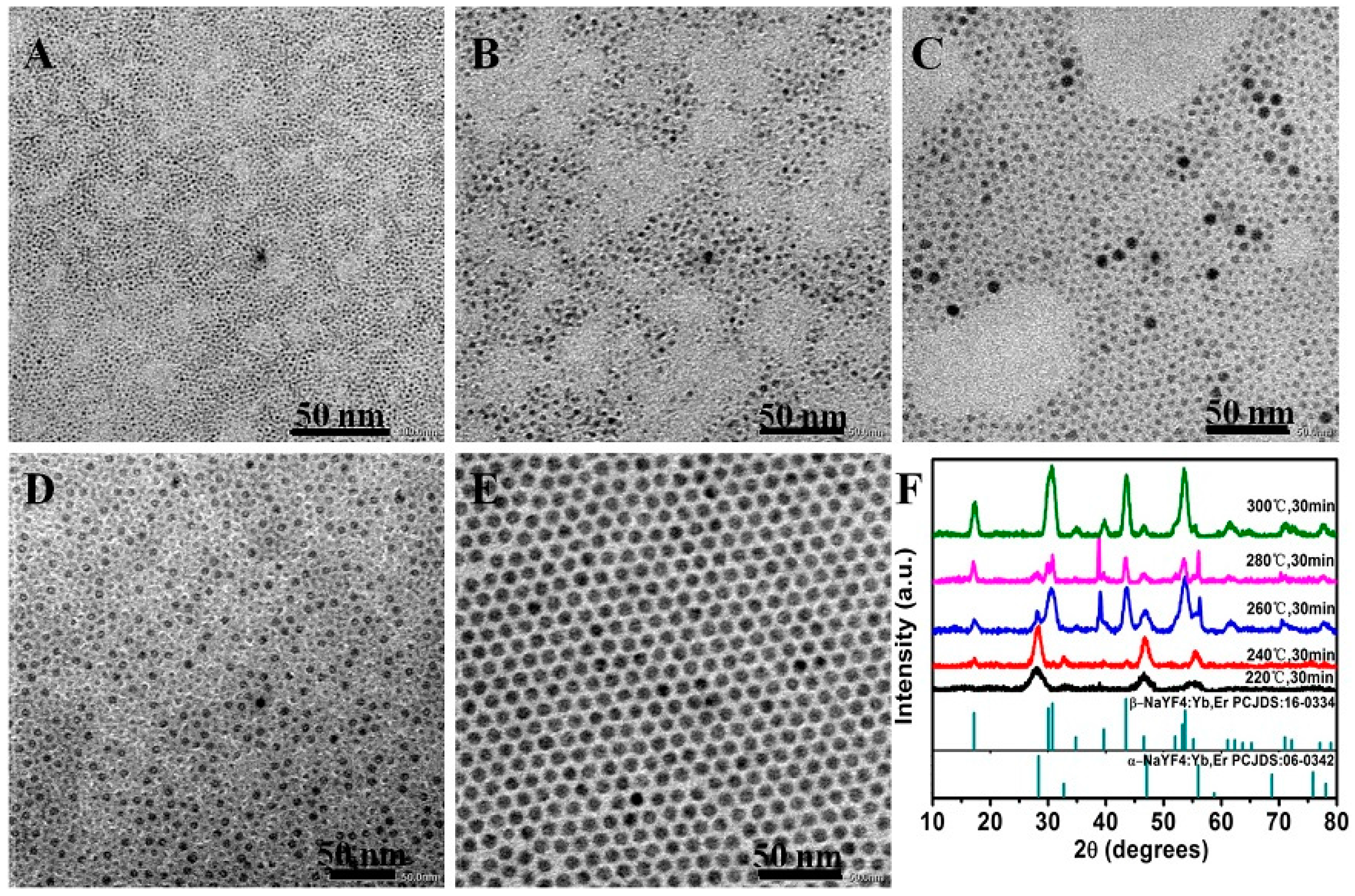 Figure 1
This is an open access article distributed under the
Creative Commons Attribution License
which permits unrestricted use, distribution, and reproduction in any medium, provided the original work is properly cited (CC BY 4.0).

Share & Cite This Article
MDPI and ACS Style
Li, H.; Xu, L.; Chen, G. Controlled Synthesis of Monodisperse Hexagonal NaYF4:Yb/Er Nanocrystals with Ultrasmall Size and Enhanced Upconversion Luminescence. Molecules 2017, 22, 2113.
Note that from the first issue of 2016, MDPI journals use article numbers instead of page numbers. See further details here.
Related Articles
Comments
[Return to top]