Biological Properties of Low-Toxicity PLGA and PLGA/PHB Fibrous Nanocomposite Implants for Osseous Tissue Regeneration. Part I: Evaluation of Potential Biotoxicity
1
Department of Material and Commodity Sciences and Textile Metrology, Technical University of Lodz, Zeromskiego 116, 90-924 Lodz, Poland
2
Department of Experimental Surgery and Biomaterials Research, Wroclaw Medical University, Pasteura 1, 50-367 Wroclaw, Poland
3
Institute of Immunology and Experimental Therapy, Polish Academy of Sciences, RudollfaWeigla 12, 53-114 Wroclaw, Poland
4
Department of Sanitary Biology and Ecotechnics, Wroclaw University of Technology, Wybrzeze Wyspianskiego 27, 50-370 Wroclaw, Poland
5
Centre of Polymer and Carbon Materials of the Polish Academy of Sciences, MariiSkłodowskiej-Curie 34, 41-819 Zabrze, Poland
6
Faculty of Science and Engineering, University of Wolverhampton, Wulfruna Street, WV1 1SB Wolverhampton, UK
*
Author to whom correspondence should be addressed.
Received: 24 October 2017 / Revised: 17 November 2017 / Accepted: 27 November 2017 / Published: 29 November 2017
Abstract
In response to the demand for new implant materials characterized by high biocompatibility and bioresorption, two prototypes of fibrous nanocomposite implants for osseous tissue regeneration made of a newly developed blend of poly(
l
-lactide-
co
-glycolide) (PLGA) and syntheticpoly([
R,S
]-3-hydroxybutyrate), PLGA/PHB, have been developed and fabricated. Afibre-forming copolymer of glycolide and
l
-lactide (PLGA) was obtained by a unique method of synthesis carried out in blocksusing Zr(AcAc)
4
as an initiator. The prototypes of the implants are composed of three layers of PLGA or PLGA/PHB, nonwoven fabrics with a pore structure designed to provide the best conditions for the cell proliferation. The bioactivity of the proposed implants has been imparted by introducing a hydroxyapatite material and IGF1, a growth factor. The developed prototypes of implants have been subjected to a set of in vitro and in vivobiocompatibility tests: in vitro cytotoxic effect, in vitro genotoxicity and systemic toxicity. Rabbitsshowed no signs of negative reactionafter implantation of the experimental implant prototypes.
View Full-Text
►

▼

Figures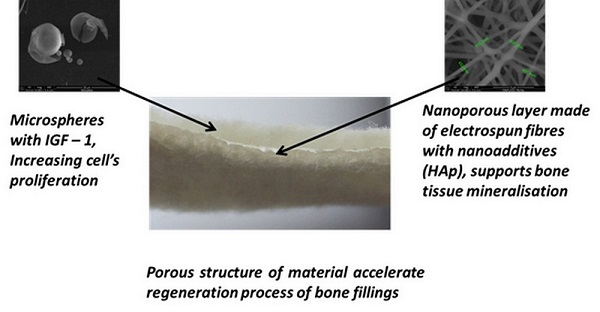 Graphical abstract
This is an open access article distributed under the
Creative Commons Attribution License
which permits unrestricted use, distribution, and reproduction in any medium, provided the original work is properly cited (CC BY 4.0).

Share & Cite This Article
MDPI and ACS Style
Krucińska, I.; Żywicka, B.; Komisarczyk, A.; Szymonowicz, M.; Kowalska, S.; Zaczyńska, E.; Struszczyk, M.; Czarny, A.; Jadczyk, P.; Umińska-Wasiluk, B.; Rybak, Z.; Kowalczuk, M. Biological Properties of Low-Toxicity PLGA and PLGA/PHB Fibrous Nanocomposite Implants for Osseous Tissue Regeneration. Part I: Evaluation of Potential Biotoxicity. Molecules 2017, 22, 2092.
Note that from the first issue of 2016, MDPI journals use article numbers instead of page numbers. See further details here.
Related Articles
Comments
[Return to top]