Evaluation of the Cytotoxicity of Structurally Correlated
p

-Menthane Derivatives

1

Departamento de Fisiologia, Universidade Federal de Sergipe, CEP 49100-000, São Cristóvão-SE, Brazil

2

Departamento de Fisiologia e Farmacologia, Universidade Federal do Ceará, CEP 60430-270, Fortaleza-SE, Brazil

3

Departamento de Ciências Farmacêuticas, Universidade Federal da Paraíba, CP 5009, CEP 58051-970, João Pessoa-PB, Brazil

4

Farmácia, Universidade Federal de Sergipe, CEP 58051-970, Lagarto-SE, Brazil

*

Author to whom correspondence should be addressed.

Academic Editor: Thomas J. Schmidt

Received: 7 May 2015 / Revised: 9 July 2015 / Accepted: 16 July 2015 / Published: 21 July 2015
Abstract
Compounds isolated from essential oils play an important role in the prevention and treatment of cancer. Monoterpenes are natural products, and the principal constituents of many essential oils. The aim of this study was to investigate the cytotoxic potential of
p
-menthane derivatives. Additionally, analogues of perillyl alcohol, a monoterpene with known anticancer activity, were evaluated to identify the molecular characteristics which contribute to their cytotoxicity, which was tested against OVCAR-8, HCT-116, and SF-295 human tumor cell lines, using the MTT assay. The results of this study showed that (−)-perillaldehyde 8,9-epoxide exhibited the highest percentage inhibition of cell proliferation (GI = 96.32%–99.89%). Perillyl alcohol exhibited high cytotoxic activity (90.92%–95.82%), while (+)-limonene 1,2-epoxide (GI = 58.48%–93.10%), (−)-perillaldehyde (GI = 59.28%–83.03%), and (−)-8-hydroxycarvotanacetone (GI = 61.59%–94.01%) showed intermediate activity. All of the compounds tested were less cytotoxic than perillyl alcohol, except (−)-perillaldehyde 8,9-epoxide (IC
50
= 1.75–1.03 µL/mg). In general, replacement of C-C double bonds by epoxide groups in addition to the aldehyde group increases cytotoxicity. Furthermore, stereochemistry seems to play an important role in cytotoxicity. We have demonstrated the cytotoxic influence of chemical substituents on the
p
-menthane structure, and analogues of perillyl alcohol.
View Full-Text
►

▼

Figures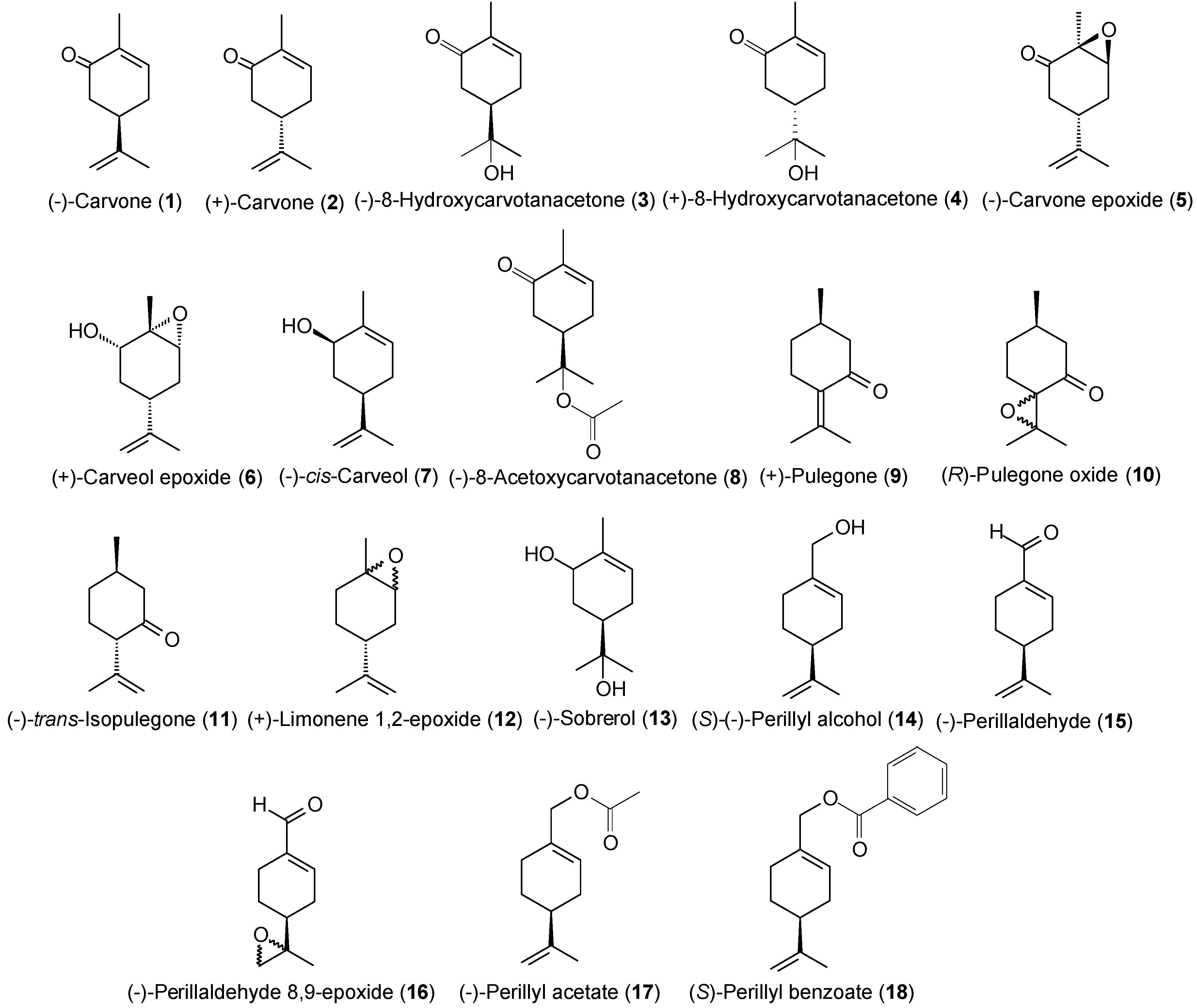 Figure 1
This is an open access article distributed under the
Creative Commons Attribution License
which permits unrestricted use, distribution, and reproduction in any medium, provided the original work is properly cited (CC BY 4.0).

Share & Cite This Article
MDPI and ACS Style
Andrade, L.N.; Lima, T.C.; Amaral, R.G.; Pessoa, C.D.Ó.; Filho, M.O.M.; Soares, B.M.; Nascimento, L.G.; Carvalho, A.A.; De Sousa, D.P. Evaluation of the Cytotoxicity of Structurally Correlated p-Menthane Derivatives. Molecules 2015, 20, 13264-13280.
Related Articles
Comments
[Return to top]