Leishmanicidal Activity of (+)-Phyllanthidine and the Phytochemical Profile of
Margaritaria nobilis

(Phyllanthaceae)

1

Laboratório de Parasitologia e Biologia Estrutural, Instituto de Ciências Biológicas, Universidade Federal do Pará, Belém, Pará 66075-110, Brazil

2

Instituto Nacional de Biologia Estrutural e Bioimagem, Universidade Federal do Rio de Janeiro, Rio de Janeiro 21941-901, Brazil

3

Programa de Pós-Graduação em Química, Instituto de Ciências Exatas e Naturais, Universidade Federal do Pará, Belém, Pará 66075-110, Brazil

4

Laboratório de Microscopia Eletrônica, Instituto Evandro Chagas, Secretaria de Vigilância em Saúde, Ministério da Saúde, Belém, Pará 66090-000, Brazil

5

Coordenação de Botânica, Museu Paraense Emílio Goeldi, Belém, Pará 66077-901, Brazil

*

Author to whom correspondence should be addressed.

Academic Editor: Thomas J. Schmidt

Received: 7 October 2015 / Revised: 26 November 2015 / Accepted: 27 November 2015 / Published: 11 December 2015
Abstract
The effects of the Securinega alkaloid (+)-phyllanthidine on
Leishmania (L.) amazonensis
and the first chemical investigation of
Margaritaria nobilis
L.f. (Phyllanthaceae) are described. Treating the parasites with this alkaloid caused a dose-dependent reduction in promastigote growth of 67.68% (IC
50
82.37 μg/mL or 353 µM) and in amastigote growth of 83.96% (IC
50
49.11 μg/mL or 210 µM), together with ultrastructural alterations in the promastigotes. No cytotoxic effect was detected in mammalian cells (CC
50
1727.48 µg/mL or CC
50
5268 µM). Classical chromatographic techniques and spectral methods led to the isolation and identification of betulinic acid, kaempferol, corilagin, gallic acid and its methyl ester, besides (+)-phyllanthidine from
M. nobilis
leaves and stems.
Margaritaria nobilis
is another source of the small group of Securinega alkaloids, together with other Phyllanthaceae (Euphorbiaceae s.l.) species. The low toxicity to macrophages and the effects against promastigotes and amastigotes are suggestive that (+)-phyllanthidine could be a promising antileishmanial agent for treating cutaneous leishmaniasis.
View Full-Text
►

▼

Figures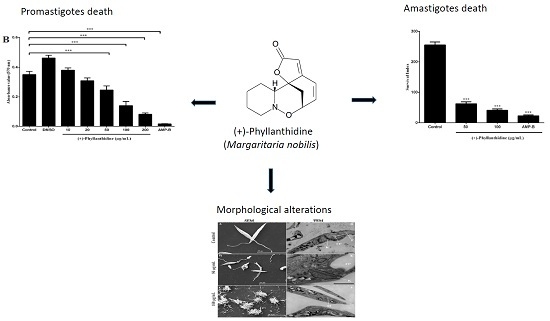 Graphical abstract
This is an open access article distributed under the
Creative Commons Attribution License
which permits unrestricted use, distribution, and reproduction in any medium, provided the original work is properly cited (CC BY 4.0).

Share & Cite This Article
MDPI and ACS Style
Moraes, L.S.; Donza, M.R.H.; Rodrigues, A.P.D.; Silva, B.J.M.; Brasil, D.S.B.; Zoghbi, M.D.G.B.; Andrade, E.H.A.; Guilhon, G.M.S.P.; Silva, E.O. Leishmanicidal Activity of (+)-Phyllanthidine and the Phytochemical Profile of Margaritaria nobilis (Phyllanthaceae). Molecules 2015, 20, 22157-22169.
Related Articles
Comments
[Return to top]