Trithiocyanurate Complexes of Iron, Manganese and Nickel and Their Anticholinesterase Activity
1
Department of Chemistry and Biochemistry, Faculty of Agronomy, Mendel University in Brno, Zemedelska 1, CZ-613 00 Brno, Czech Republic
2
Central European Institute of Technology, Brno University of Technology, Technicka 3058/10, CZ-616 00 Brno, Czech Republic
3
Centre of the Region Hana for Biotechnological and Agricultural Research, Faculty of Science, Palacky University & Institute of Experimental Botany, Academy of Sciences of Czech Republic, Slechtitelu 11, CZ-783 71 Olomouc, Czech Republic
4
Environmental Inorganic Chemistry, Department of Chemical and Biological Engineering, Chalmers University of Technology, SE-412 96 Göteborg, Sweden
5
Faculty of Military Health Sciences, University of Defence, Trebesska 1575, CZ-50001 Hradec Kralove, Czech Republic
6
Biomedical Research Center, University Hospital Hradec Kralove, Sokolska 581, CZ-50005 Hradec Kralove, Czech Republic
*
Author to whom correspondence should be addressed.
Received: 19 December 2013 / Revised: 31 March 2014 / Accepted: 1 April 2014 / Published: 8 April 2014
Abstract
The complexes of Fe(II), Mn(II) and Ni(II) with a combination of a Schiff base, nitrogen-donor ligand or macrocyclic ligand and trithiocyanuric acid (ttcH
3
) were prepared and characterized by elemental analysis and spectroscopies. Crystal and molecular structures of the iron complex of composition [Fe(L
1
)](ttcH
2
)(ClO
4
)·EtOH·H
2
O (
1
), where L
1
is Schiff base derived from tris(2-aminoethyl)amine and 2-pyridinecarboxaldehyde, were solved. It was found that the Schiff base is coordinated to the central iron atom by six nitrogens forming deformed octahedral arrangement, whereas trithiocyanurate(1-) anion, perchlorate and solvent molecules are not coordinated. The X-ray structure of the Schiff base sodium salt is also presented and compared with the iron complex. The anticholinesterase activity of the complexes was also studied.
View Full-Text
►

▼

Figures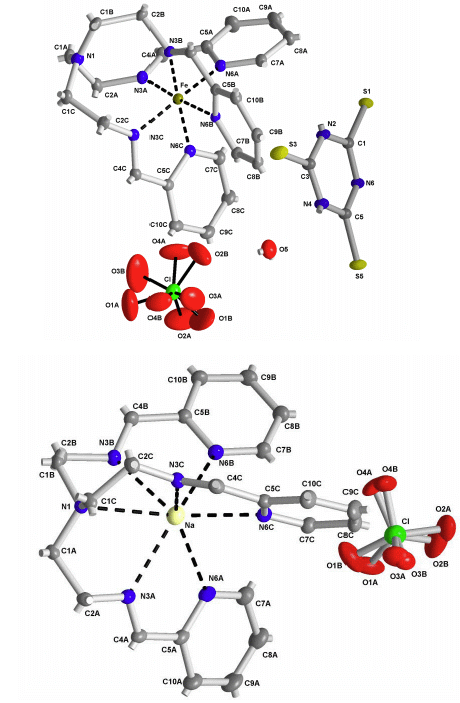 Graphical abstract

Share & Cite This Article
MDPI and ACS Style
Kopel, P.; Dolezal, K.; Langer, V.; Jun, D.; Adam, V.; Kuca, K.; Kizek, R. Trithiocyanurate Complexes of Iron, Manganese and Nickel and Their Anticholinesterase Activity. Molecules 2014, 19, 4338-4354.
Related Articles
Comments
[Return to top]