OSBP-Related Proteins: Liganding by Glycerophospholipids Opens New Insight into Their Function
1
Minerva Foundation Institute for Medical Research, Biomedicum 2U, Tukholmankatu 8, Helsinki FI-00290, Finland
2
Institute of Biomedicine, Anatomy, Biomedicum 1, Haartmaninkatu 8, University of Helsinki, Helsinki FI-00014, Finland 
Received: 11 September 2013 / Revised: 1 November 2013 / Accepted: 1 November 2013 / Published: 5 November 2013
(This article belongs to the Special Issue
Steroids
)
Abstract
Oxysterol-binding protein (OSBP) and its homologs designated OSBP-related (ORP) or OSBP-like (OSBPL) proteins constitute a conserved family of lipid binding/transfer proteins (LTP) in eukaryotes. The mechanisms of ORP function have remained incompletely understood, but they have been implicated as intracellular sterol sensors or transporters. A number of studies have provided evidence for the roles of ORPs at membrane contact sites (MCS), where endoplasmic reticulum is closely apposed with other organelle limiting membranes. ORPs are postulated to either transport sterols over MCSs or control the activity of enzymatic effectors or assembly of protein complexes with functions in signaling and lipid metabolism. Studies of yeast
Saccharomyces cerevisiae
ORPs Osh4p, Osh3p, Osh6p and Osh7p have revealed that ORPs do not exclusively bind sterols within their OSBP-related ligand-binding domain (ORD): The Osh4p ORD accommodates either sterols or phosphatidylinositol-4-phosphate (PI4P), and the Osh3p ORD was shown to specifically bind PI4P, the binding cavity being too narrow for a sterol to fit in. Most recently, Osh6p and Osh7p were demonstrated to show specific affinity for phosphatidylserine (PS), and to play a role in the intracellular transport of this glycerophospholipid; Additionally, two mammalian ORPs were shown to bind PS. Thus, the term frequently used for ORPs/OSBPLs,
oxysterol-binding proteins
, is a misnomer. While a number of ORPs bind oxysterols or cholesterol, other family members appear to interact with phospholipid ligands to regulate lipid fluxes, organelle lipid compositions and cell signaling. As a conclusion, ORPs are LTPs with a wide ligand spectrum and marked functional heterogeneity.
View Full-Text
►

▼

Figures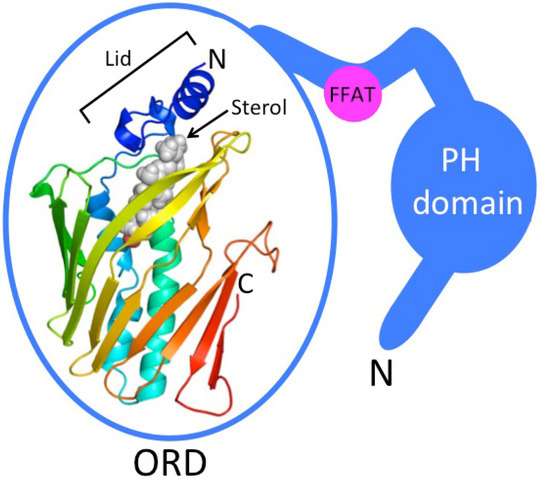 Figure 1

Share & Cite This Article
MDPI and ACS Style
Olkkonen, V.M. OSBP-Related Proteins: Liganding by Glycerophospholipids Opens New Insight into Their Function. Molecules 2013, 18, 13666-13679.
Related Articles
Comments
[Return to top]