A Comparative Study of the Characteristics of Cross-Linked, Oxidized and Dual-Modified Rice Starches
1
National Engineering Laboratory for Rice and By-product Further Processing, Central South University of Forestry & Technology, Changsha 410004, China
2
Faculty of Food Science and Engineering, Central South University of Forestry & Technology, Changsha 410004, China
3
College of Life Science and Technology, Central South University of Forestry & Technology, Changsha 410004, China
4
Department of Food Science and Technology, Hunan Biological Electromechanical Polytechnic, Changsha 410127, China
*
Authors to whom correspondence should be addressed.
Received: 10 July 2012 / Revised: 31 August 2012 / Accepted: 3 September 2012 / Published: 12 September 2012
Abstract
Rice starch was cross-linked with epichlorohydrin (0.3%, w/w, on a dry starch basis) and oxidized with sodium hypochlorite (2.5% w/w), respectively. Two dual-modified rice starch samples (oxidized cross-linked rice starch and cross-linked oxidized rice starch) were obtained by the oxidation of cross-linked rice starch and the cross-linking of oxidized rice starch at the same level of reagents. The physicochemical properties of native rice starch, cross-linked rice starch and oxidized rice starch were also studied parallel with those of the two dual-modified rice starch samples using rapid visco analysis (RVA), differential scanning calorimetry (DSC), dynamic rheometry and scanning electron microscopy (SEM). It was found that the levels of cross-linking and oxidation used in this study did not cause any significant changes in the morphology of rice starch granules. Cross-linked oxidized starch showed lower swelling power (SP) and solubility, and higher paste clarity in comparison with native starch. Cross-linked oxidized rice starch also had the lowest tendency of retrogradation and highest ability to resistant to shear compared with native, cross-linked, oxidized and oxidized cross-linked rice starches. These results suggest that the undesirable properties in native, cross-linked and oxidized rice starch samples could be overcome through dual-modification.
View Full-Text
►

▼

Figures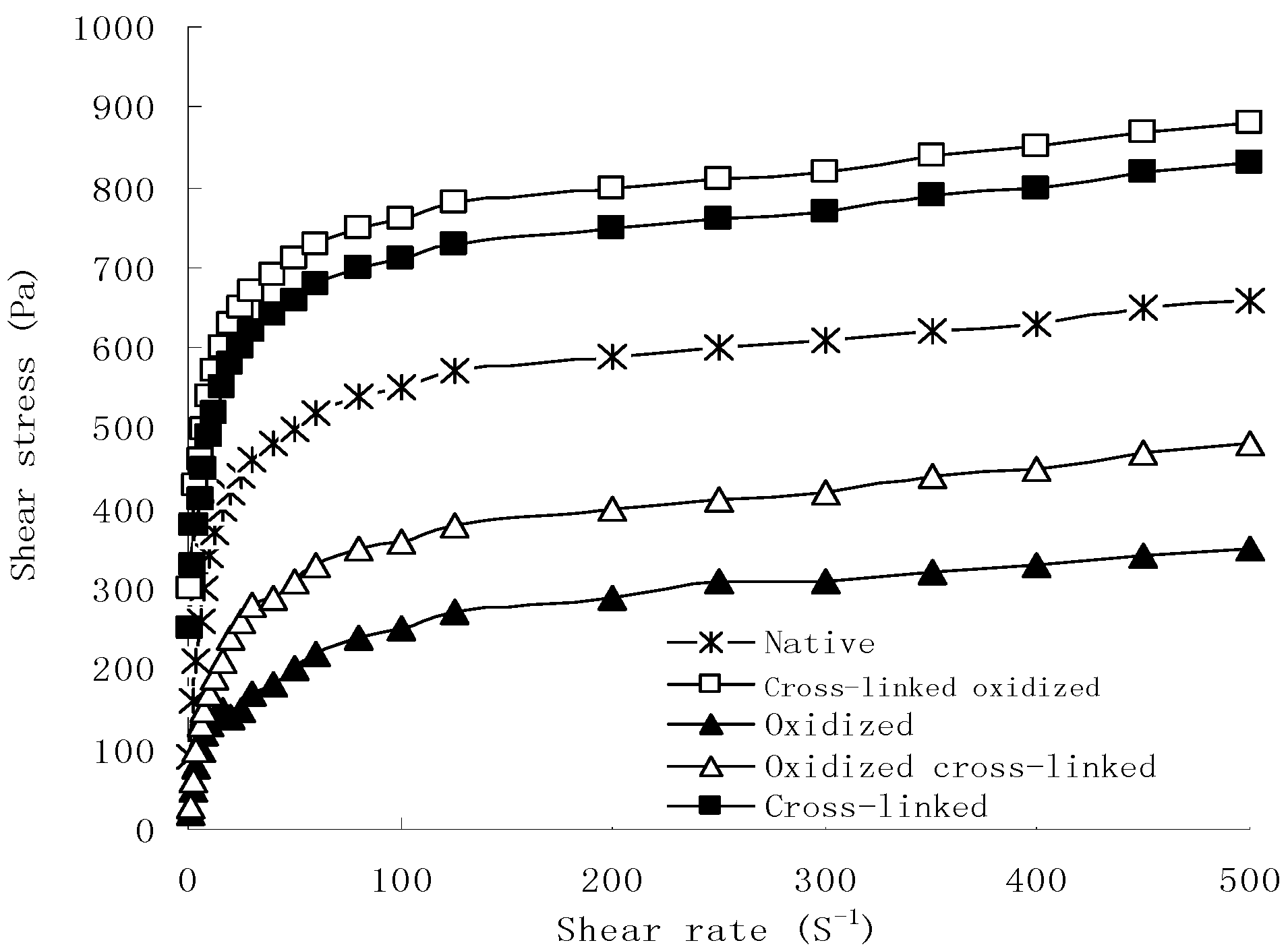 Figure 1

Share & Cite This Article
MDPI and ACS Style
Xiao, H.-X.; Lin, Q.-L.; Liu, G.-Q.; Yu, F.-X. A Comparative Study of the Characteristics of Cross-Linked, Oxidized and Dual-Modified Rice Starches. Molecules 2012, 17, 10946-10957.
Related Articles
Comments
[Return to top]