Chemical, Antioxidant and Antimicrobial Investigations of
Pinus cembra

L. Bark and Needles

1

Department of Plant and Animal Biology, School of Pharmacy, Gr. T. Popa University of Medicine and Pharmacy, Universitatii Street Number 16, 700115 Iasi, Romania

2

Department of Microbiology, School of Medicine, Gr. T. Popa University of Medicine and Pharmacy, Universitatii Street Number 16, 700115 Iasi, Romania

3

Department of Pharmacognosy, School of Pharmacy, Gr. T. Popa University of Medicine and Pharmacy, Universitatii Street Number 16, 700115 Iasi, Romania

4

Institute of Biological Research, Lascar Catargi Street Number 47, 700107 Iasi, Romania

5

Department of Pharmaceutical Chemistry, School of Pharmacy, University of Oslo, P.O. 1068, Blindern, 0316 Oslo, Norway

*

Author to whom correspondence should be addressed.

Received: 4 August 2011 / Revised: 4 September 2011 / Accepted: 8 September 2011 / Published: 13 September 2011
Abstract
The chemical constituents and biological activity of
Pinus cembra
L. (Pinaceae), native to the Central European Alps and the Carpathian Mountains, are not well known. The aim of the present work was to examine the phenolic content, antioxidant and antimicrobial effects of hydromethanolic extracts of
Pinus cembra
L. bark and needles. Bark extract had higher concentrations of total phenolics (299.3
vs.
78.22 mg gallic acid equivalents/g extract), flavonoids (125.3
vs.
19.84 mg catechin equivalents/g extract) and proanthocyanidins (74.3
vs.
12.7 mg cyanidin equivalents/g extract) than needle extract and was more active as a free radical scavenger, reducing agent and antimicrobial agent. The EC
50
values in the 2,2-diphenyl-1-picrylhydrazyl (DPPH), 2,2'-azino-bis(3-ethylbenzo-thiazoline-6-sulfonic acid) diammonium salt (ABTS) and reducing power assays were 71.1, 6.3 and 26 mg/mL for bark extract and 186.1, 24 and 104 mg/mL for needle extract, respectively. In addition, needle extract showed ferrous ions chelating effects (EC
50
= 1,755 μg/mL). The antimicrobial effects against
Staphylococcus aureus
,
Sarcina lutea
,
Bacillus cereus
,
Escherichia coli
,
Pseudomonas aeruginosa
and
Candida albicans
were assessed by the agar diffusion method. Both extracts (4 mg/well) were active against all the microorganisms tested; bark extract showed higher inhibition on all strains. These results indicate that
Pinus cembra
L. bark and needles are good sources of phytochemicals with antioxidant and antimicrobial activities.
View Full-Text
►

▼

Figures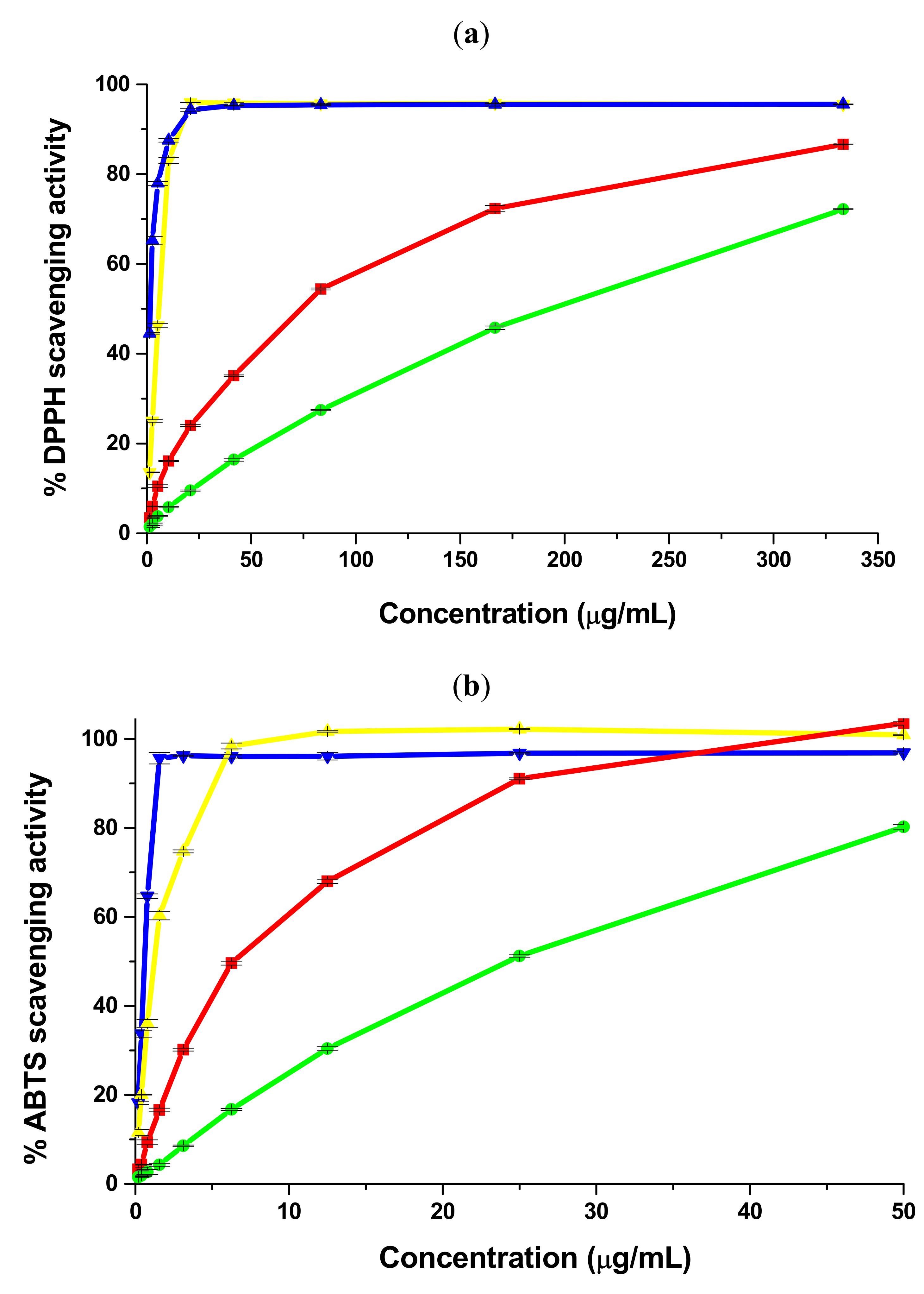 Figure 1

Share & Cite This Article
MDPI and ACS Style
Apetrei, C.L.; Tuchilus, C.; Aprotosoaie, A.C.; Oprea, A.; Malterud, K.E.; Miron, A. Chemical, Antioxidant and Antimicrobial Investigations of Pinus cembra L. Bark and Needles. Molecules 2011, 16, 7773-7788.
Related Articles
Comments
[Return to top]