Pre-Ischemic Treadmill Training Induces Tolerance to Brain Ischemia: Involvement of Glutamate and ERK1/2
Department of Rehabilitation Medicine, Hua Shan Hospital, Fudan University, WuLuMuQi Middle Road 12, Shanghai 200040, China
*
Author to whom correspondence should be addressed.
Received: 14 July 2010 / Revised: 28 July 2010 / Accepted: 30 July 2010 / Published: 2 August 2010
Abstract
Physical exercise has been shown to be beneficial in stroke patients and animal stroke models. However, the exact mechanisms underlying this effect are not yet very clear. The present study investigated whether pre-ischemic treadmill training could induce brain ischemic tolerance (BIT) by inhibiting the excessive glutamate release and event-related kinase 1/2 (ERK1/2) activation observed in rats exposed to middle cerebral artery occlusion (MCAO). Sprague–Dawley rats were divided into three groups (n = 12/group): sham surgery without prior exercise, MCAO without prior exercise and MCAO following three weeks of exercise. Pre-MCAO exercise significantly reduced brain infarct size (103.1 ± 6.7 mm
3
) relative to MCAO without prior exercise (175.9 ± 13.5 mm
3
). Similarly, pre-MCAO exercise significantly reduced neurological defects (1.83 ± 0.75) relative to MCAO without exercise (3.00 ± 0.63). As expected, MCAO increased levels of phospho-ERK1/2 (69 ± 5%) relative to sham surgery (40 ± 5%), and phospho-ERK1/2 levels were normalized in rats exposed to pre-ischemic treadmill training (52 ± 6%) relative to MCAO without exercise (69% ± 5%). Parallel effects were observed on striatal glutamate overflow. This study suggests that pre-ischemic treadmill training might induce neuroprotection by inhibiting the phospho-ERK1/2 over-activation and reducing excessive glutamate release.
View Full-Text
►

▼

Figures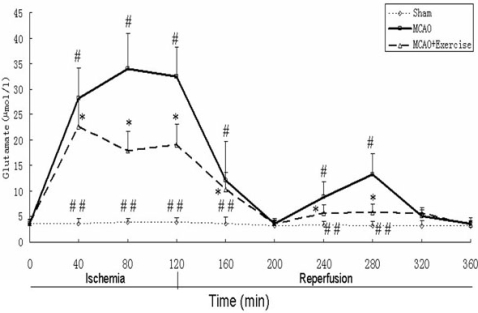 Graphical abstract

Share & Cite This Article
MDPI and ACS Style
Zhang, F.; Wu, Y.; Jia, J.; Hu, Y.-S. Pre-Ischemic Treadmill Training Induces Tolerance to Brain Ischemia: Involvement of Glutamate and ERK1/2. Molecules 2010, 15, 5246-5257.
Related Articles
Comments
[Return to top]