Fully Automated Spectrometric Protocols for Determination of Antioxidant Activity: Advantages and Disadvantages
1
Department of Breeding and Propagation of Horticultural Plants, Faculty of Horticulture, Mendel university in Brno, Valticka 337, CZ-691 44 Lednice, Czech Republic
2
Department of Chemistry and Biochemistry, Faculty of Agronomy, Mendel University in Brno, Zemedelska 1, CZ-613 00 Brno, Czech Republic
3
Department of Microelectronics, Faculty of Electrical Engineering and Communication, Brno University of Technology, Udolni 53, CZ-602 00 Brno, Czech Republic
4
Research Centre for Environmental Chemistry and Ecotoxicology, Faculty of Science, Masaryk University, Kotlarska 2, CZ-611 37 Brno, Czech Republic
5
Department of Plant Biology, Faculty of Agronomy, Mendel University in Brno, Zemedelska 1, CZ-613 00 Brno, Czech Republic
6
Department of Veterinary Ecology and Environmental Protection, Faculty of Veterinary Hygiene and Ecology, University of Veterinary and Pharmaceutical Sciences, Palackeho 1-3, CZ-612 42 Brno, Czech Republic
7
Department of Biomedical Engineering, Faculty of Electrical Engineering and Communication, Brno University of Technology, Kolejni 4, CZ-612 00 Brno, Czech Republic
8
Department of Natural Drugs, Faculty of Pharmacy University of Veterinary and Pharmaceutical Sciences, Palackeho 1-3, CZ-612 42 Brno, Czech Republic
*
Author to whom correspondence should be addressed.
Received: 19 October 2010 / Revised: 22 November 2010 / Accepted: 26 November 2010 / Published: 29 November 2010
Abstract
The aim of this study was to describe behaviour, kinetics, time courses and limitations of the six different fully automated spectrometric methods - DPPH, TEAC, FRAP, DMPD, Free Radicals and Blue CrO
5
. Absorption curves were measured and absorbance maxima were found. All methods were calibrated using the standard compounds Trolox
®
and/or gallic acid. Calibration curves were determined (relative standard deviation was within the range from 1.5 to 2.5 %). The obtained characteristics were compared and discussed. Moreover, the data obtained were applied to optimize and to automate all mentioned protocols. Automatic analyzer allowed us to analyse simultaneously larger set of samples, to decrease the measurement time, to eliminate the errors and to provide data of higher quality in comparison to manual analysis. The total time of analysis for one sample was decreased to 10 min for all six methods. In contrary, the total time of manual spectrometric determination was approximately 120 min. The obtained data provided good correlations between studied methods (R = 0.97 – 0.99).
View Full-Text
►

▼

Figures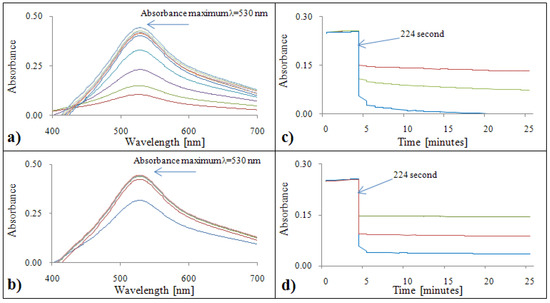 Figure 1

Share & Cite This Article
MDPI and ACS Style
Sochor, J.; Ryvolova, M.; Krystofova, O.; Salas, P.; Hubalek, J.; Adam, V.; Trnkova, L.; Havel, L.; Beklova, M.; Zehnalek, J.; Provaznik, I.; Kizek, R. Fully Automated Spectrometric Protocols for Determination of Antioxidant Activity: Advantages and Disadvantages. Molecules 2010, 15, 8618-8640.
Related Articles
Comments
[Return to top]