Antiosteoporotic Activity of Anthraquinones from
Morinda officinalis

on Osteoblasts and Osteoclasts

1

Department of Pharmacy, Fujian University of Traditional Chinese Medicine, Fuzhou, Fujian 350108, P.R. China

2

Department of Pharmacognosy, School of Pharmacy, Second Military Medical University, Shanghai 200433, P.R. China

3

Academy of Integrative Medicine, Fujian University of Traditional Chinese Medicine, Fuzhou, Fujian 350108, P.R. China

*

Authors to whom correspondence should be addressed.

Received: 16 December 2008 / Revised: 17 January 2009 / Accepted: 22 January 2009 / Published: 23 January 2009
Abstract
Bioactivity-guided fractionation led to the successful isolation of antiosteoporotic components, i.e. physicion (1), rubiadin-1-methyl ether (2), 2-hydroxy-1-methoxy- anthraquinone (3), 1,2-dihydroxy-3-methylanthraquinone (4), 1,3,8-trihydroxy-2-methoxy- anthraquinone (5), 2-hydroxymethyl-3-hydroxyanthraquinone (6), 2-methoxyanthraquinone (7) and scopoletin (8) from an ethanolic extract of the roots of
Morinda officinalis
. Compounds 4-8 are isolated for the first time from
M. officinalis.
Among them, compounds 2 and 3 promoted osteoblast proliferation, while compounds 4, 5 increased osteoblast ALP activity. All of the isolated compounds inhibited osteoclast TRAP activity and bone resorption, and the inhibitory effects on osteoclastic bone resorption of compounds 1 and 5 were stronger than that of other compounds. Taken together, antiosteoporotic activity of
M. officinalis
and its anthraquinones suggest therapeutic potential against osteoporosis.
View Full-Text
►

▼

Figures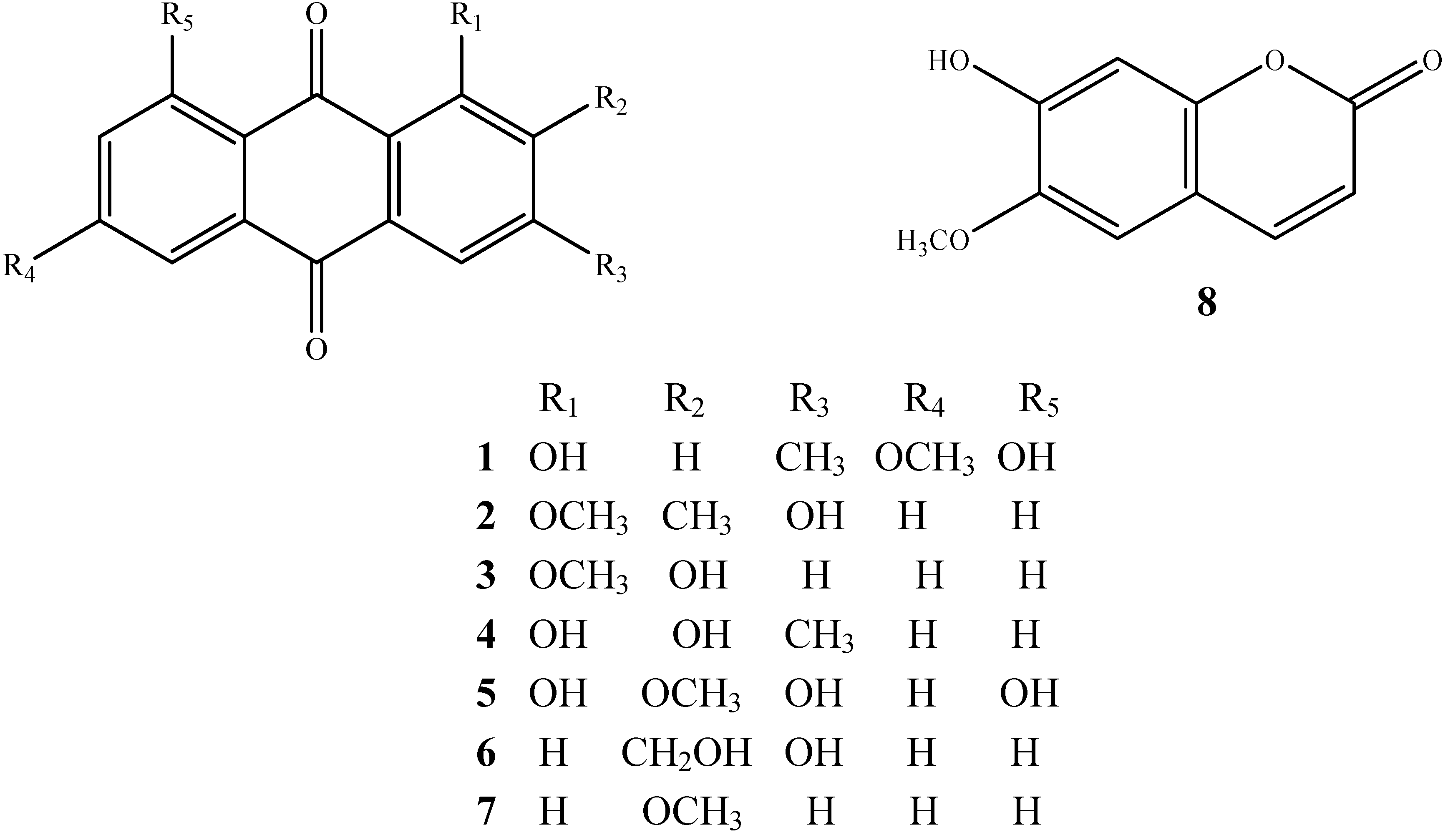 Figure 1

Share & Cite This Article
MDPI and ACS Style
Wu, Y.-B.; Zheng, C.-J.; Qin, L.-P.; Sun, L.-N.; Han, T.; Jiao, L.; Zhang, Q.-Y.; Wu, J.-Z. Antiosteoporotic Activity of Anthraquinones from Morinda officinalis on Osteoblasts and Osteoclasts. Molecules 2009, 14, 573-583.
Related Articles
Comments
[Return to top]