Radical-scavenging Activity of the Reaction Products of Isoeugenol with Thiol, Thiophenol, Mercaptothiazoline or Mercaptomethylimidazole Using the Induction Period Method
1
Institute of Biomaterials and Bioengineering, Tokyo Medical and Dental University, Kandasurugadai, Chiyoda-ku, Tokyo 101-0062, Japan
2
Faculty of Pharmaceutical Sciences, Josai University, Saitama 3500295; Meikai Unversity School of Dentistry, Sakado, Saitama 3500283 Japan
*
Author to whom correspondence should be addressed.
Received: 13 July 2007 / Revised: 9 August 2007 / Accepted: 9 August 2007 / Published: 13 August 2007
Abstract
The reaction products in the presence of Lewis acid of isoeugenol (1) with ethanethiol, thiophenol, 2-mercaptothiazoline or 2-mercapto-1-methylimidazole (ISO-S1 – ISO-S-4) were obtained. The radical-scavenging activity of these compounds was investigated using the induction period method for polymerization of methyl methacrylate (MMA) initiated by thermal decomposition of 2,2'-azobisisobutyronitrile (AIBN) and benzoyl peroxide (BPO) and monitored by differential scanning calorimetry (DSC). For BPO, the stoichiometric factor (number of free radicals trapped by one mole of antioxidant moiety,
n
) declined in the order isoeugenol (1.8) > ISO-S-1 (1.6) > ISO-S-2 (1.2 ) > ISOS- 3 (0.9) > ISO-S-4 (0.3), whereas for AIBN, their
n
values were about 1, except for ISOS- 3 (0.6). The ratio of the rate constant of inhibition to that of propagation (k
inh
/k
p
) for BPO declined in the order ISO-S-4 (56) > ISO-S-3 (15) > ISO-S-2 (11) >ISO-S-1 (9) > isoeugenol (8). Similarly, for AIBN the k
inh
/k
p
of the reaction products (33-57) was greater than that of isoeugenol (31). The reaction products of isoeugenol with a SH group showed greater inhibition rate constants (kinh) than the parent compound isoeugenol.
View Full-Text
►

▼

Figures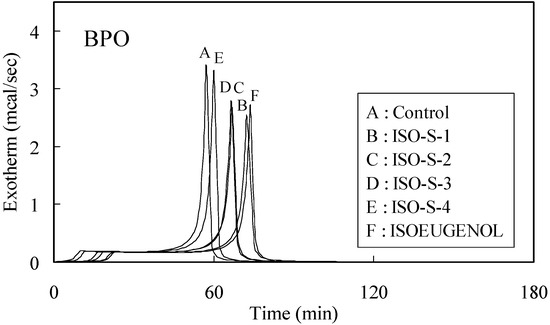 Figure 1

Share & Cite This Article
MDPI and ACS Style
Kadoma, Y.; Kumada, W.; Asai, Y.; Sugita, Y.; Yokoe, I.; Fujisawa, S. Radical-scavenging Activity of the Reaction Products of Isoeugenol with Thiol, Thiophenol, Mercaptothiazoline or Mercaptomethylimidazole Using the Induction Period Method. Molecules 2007, 12, 1836-1844.
Related Articles
Comments
[Return to top]