Definition and Counting of Configurational Microstates in Steady-State Two-Phase Flows in Pore Networks
1
Department of Civil Engineering, Technological Educational Institute of Athens, Ag. Spyridonos, GR-12210 Athens, Greece
2
School of Environmental Engineering, Technical University of Crete, GR-73100 Kounoupidiana, Greece
*
Author to whom correspondence should be addressed.
Academic Editor: Antonio M. Scarfone
Received: 12 October 2015 / Accepted: 22 January 2016 / Published: 6 February 2016
Abstract
Steady-state two-phase flow in porous media is a process whereby a wetting phase displaces a non-wetting phase within a pore network. It is an off-equilibrium stationary process—in the sense that it is maintained in dynamic equilibrium at the expense of energy supplied to the system. The efficiency of the process depends on its spontaneity, measurable by the rate of global entropy production. The latter has been proposed to comprise two components: the rate of mechanical energy dissipation at constant temperature (a thermal entropy component, Q/T, in the continuum mechanics scale) and the configurational entropy (a Boltzmann–Gibbs entropy component, klnW), due to the existence of a canonical ensemble of flow configurations, physically admissible to the externally imposed macrostate conditions. Here, we propose an analytical model to account the number of microstates, lnW, in two-phase flows in pore networks. Combinatorial analysis is implemented to evaluate the number of identified microstates per physically admissible internal flow arrangement, compatible with the imposed steady-state flow conditions. Then, Stirling's approximation is applied to downscale the large factorial numbers. Finally, the number of microstates is estimated by contriving an appropriate mixing scheme over the canonical ensemble of the physically admissible flow configurations. Indicative computations are furnished.
View Full-Text
►

▼

Figures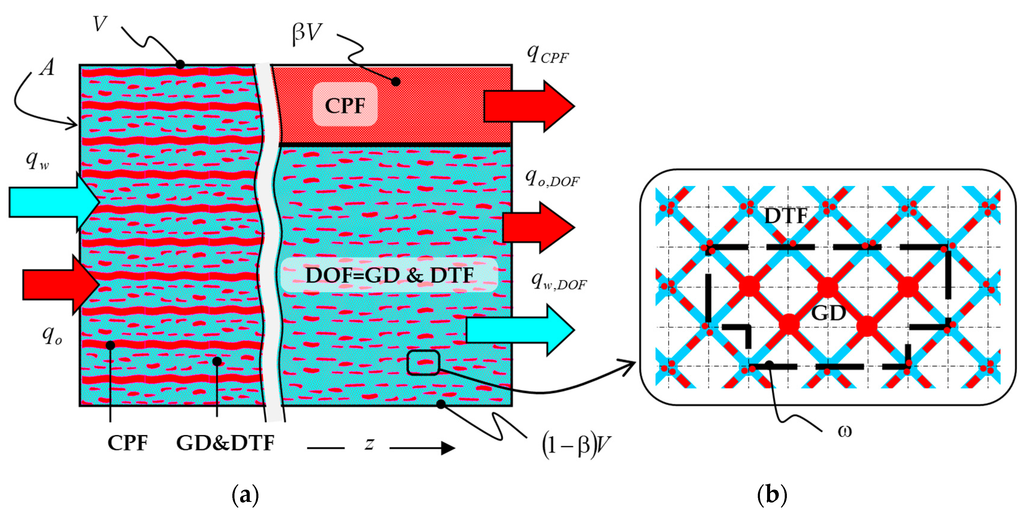 Figure 1
This is an open access article distributed under the
Creative Commons Attribution License
which permits unrestricted use, distribution, and reproduction in any medium, provided the original work is properly cited (CC BY 4.0).

Share & Cite This Article
MDPI and ACS Style
Valavanides, M.S.; Daras, T. Definition and Counting of Configurational Microstates in Steady-State Two-Phase Flows in Pore Networks. Entropy 2016, 18, 54.
Note that from the first issue of 2016, MDPI journals use article numbers instead of page numbers. See further details here.
Related Articles
Comments
[Return to top]