Materials Events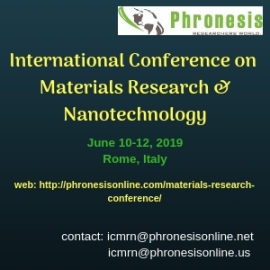 10–12 June 2019
International Conference on Materials Research and Nanotechnology
Rome, Italy
International Conference on Materials Research and Nanotechnology will be held in Rome, Italy, during June 10-12, 2019. ICMRN-2019 is aiming to bring together innovative academicians and industrial experts in the field of materials science and Nanotechnology to a common forum. The primary goal of the conference is to promote research and developmental activities in materials research and technology and another goal is to promote scientific information interchange between researchers, developers, engineers, students, and practitioners working all around the world. This conference offers you knowledge oriented sessions with the theme of "Outlining the forefront Research: Materials Research-Nanotechnology" that will renew the practical skills that you need to improve.
Why to Attend?
Meet worldwide Experts
Networking Opportunities
Greater Focus
Learn skills and stay up-to-date
Position yourself as an expert
New Tips & Tactics
Learn beyond your field or interest
Young researchers opportunity:
The Young Researcher Awards are part of a global initiative to support early career researchers, with the intention of supporting young researchers in their quest to advance the frontiers of science across a broad range of disciplines. This Award is instituted to recognize and reward young researchers with outstanding track record, a deep commitment to find innovative solutions and potential for high quality research.
Conference Sessions
Materials Science & Engineering
Advances in Nanotechnology
Nanotechnology in Materials Science
Energy Materials and Semiconductors
Materials and Metals
Photovoltaics, Fuel Cells and Solar Cells
Smart Materials and Structures
Materials Characterization, Modeling and Theory
Corrosion, Mining and Metallurgy
Materials Chemistry and Sustainable Chemistry
Surface Science and Engineering
Ceramic Materials and Composite Materials
Biomaterials and Tissue Engineering
Biophysics and Systems Biology
Electronic, Optical and Magnetic Materials
Advances in Instrumentation Technology
Polymer Science and Polymeric Materials
Emerging Areas of Materials Science
Big data in Materials Science
Industrial Coating Materials and alloys
Glass Science and Technologies
Graphene Technologies
Carbon Based Devices and Nanocomposites
Functional materials
Nanowires and Nanocrystals
Nanofabrication and Nanolithography
Green Nanotechnology and Nanobiotechnology
Nanomedicine and Biomedical Engineering
Nanotoxicology
Nanotechnology in Healthcare
Carbon Nanomaterials
Cancer nanotechnology & tissue engineering
Nanorobots and Nanoelectronics
Scope of Nanotechnology in Europe
Nanotechnology for Energy and the Environment
Nanotechnology in Food and Agriculture
Nanotechnology Products and Applications
Future Nanotechnology
Graphene and carbon Nanotubes
Nanomaterials and Nanocomposites
Manufacturing Technology
For more details PS: http://phronesisonline.com/materials-research-conference/
Contact: Lisa Jones
Event Manager ICMRN-2019
E:[email protected]
[email protected]