Conferences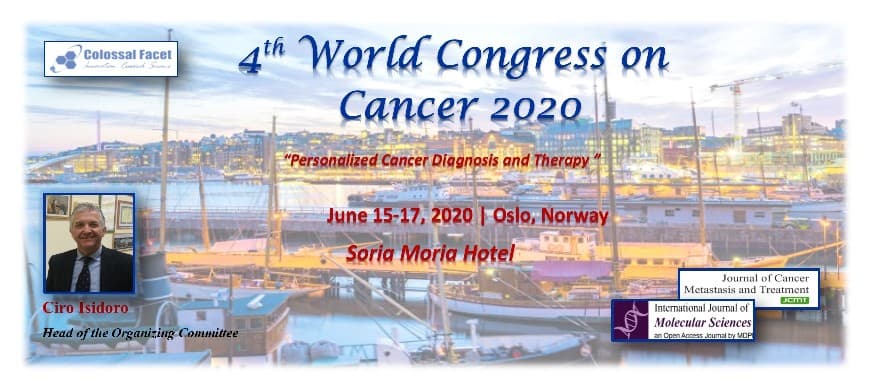 On behalf of the Scientific Organizing Committee, I am pleased to welcome you to the 4th World Congress on Cancer going to be held during June 15-17, 2020 at Soria Moria Hotel, Oslo, Norway.
The theme of the Conference Cancer-2020 is "Personalized Cancer Diagnosis and Therapy".
Major topics include:
Cancer Biology: Current Concepts, Cancer Immunology and therapy, Tumour Molecular Epidemiology, Cancer Cell and Model Systems, Organ Specific Cancer.
Oncologists and diagnosis therapy, Cancer Vaccines, Cancer Nursing, Cancer Biomarkers, Radiology and Chemotherapy, Breast Cancer, Neuro Oncology.
Cervical Cancer, Melanoma, Prevention and Palliative care in Cancer, Cancer Drugs, Complementary and alternative Cancer Treatments.
We will gather academicians and young inspired scientists from all around the world with the aim to strengthen the international cooperation in the fight against Cancer. One other major goal of this Conference is, in fact, to create an atmosphere of interactions between young and senior scientists to favor novel cooperation that shall bring to new and more efficacious strategies to understand and fight cancer.
Articles focusing on Molecular Cancer can be submitted to International Journal of Molecular Sciences (include its banner) weblink: https://www.mdpi.com/journal/ijms Also consider the following Special issue: https://www.mdpi.com/journal/ijms/special_issues/Lysosomes