Due to planned maintenance work on our platforms, there might be short service disruptions on Saturday, December 3rd, between 15:00 and 16:00 (CET).
Conferences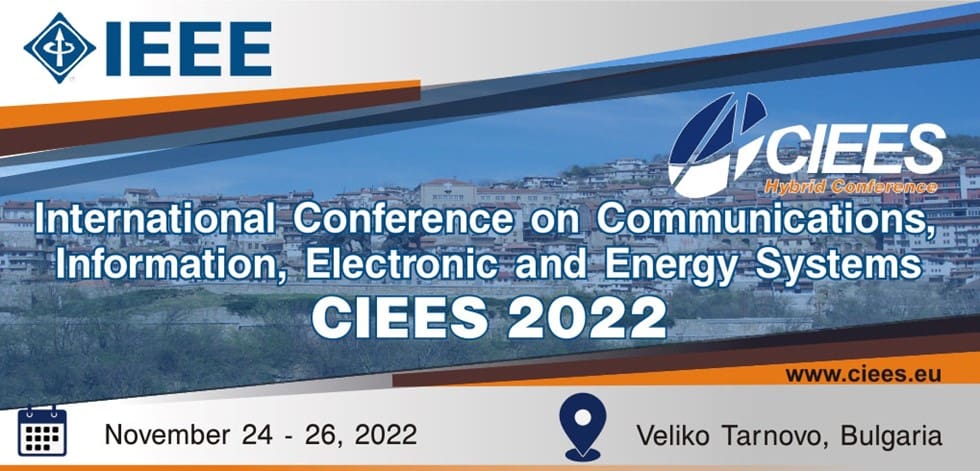 This conference aims to provide an international forum for researchers, academics, people in industry, and students to address recent research results and to present as well as discuss their ideas, theories, technologies, systems, tools, applications, work in progress, and experiences on all theoretical and practical issues arising in telecommunications, electronics, signal processing and applications, information technologies, energy, automotives, and industrial engineering.
CIEES 2022 welcomes all high-quality research papers and presentations from related research fields. The conference will be in a hybrid mode—face-to-face and/or virtual.
The conference is organized by the Association on Communication, Information, Electronic and Energy System, in addition to the IEEE Bulgaria Section. The main conference sponsor is Vipimex Ltd (Bulgaria).
The scope of the conference includes, but is not limited to, the following:
Telecommunication systems;
Information technologies;
Electronics;
Smart grid systems;
Energy and renewable sources;
Automotive and industrial engineering;
Smart telecommunications, industry, and services.
On behalf of the organizing committee,
Teodor Iliev and Ivaylo Stoyanov
CIEES 2022 General Conference Chairs
Contact us: [email protected]
Conference website: