Conferences
Upcoming MDPI Conferences (2)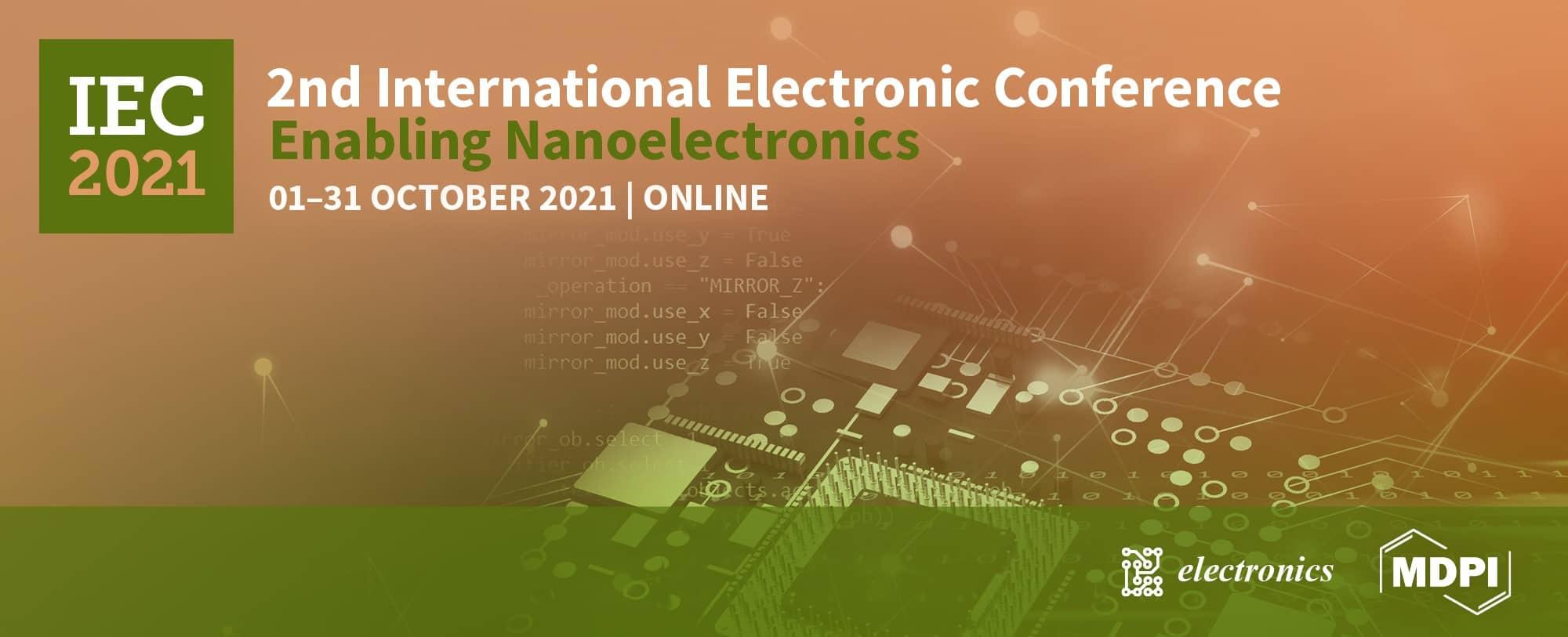 1–31 October 2021
The 2nd International Electronic Conference - Enabling Nanoelectronics
online
We are pleased to invite you to join the 2nd International Electronic Conference—Enabling Nanoelectronics, which will be held on 1-31 October 2021 at https://sciforum.net/conference/IEC2021
In the past year, we've all learned to adjust to a world where we do not necessarily interact with people face-to-face. Instead, we've learned to move our interactions online. While this can be a challenge in many ways, it has also led to new ways of doing things. Many scientific conferences have moved online, where people from all over the world can discuss the latest research without ever leaving their home. IEC 2021 aims to focus on four broad areas:
A. Material, Process, Device and Technology
3-D Integration
Device Physics, Materials and Scaling
Emerging Device Technologies
IC Assembly and Packaging
MEMS, MOEMS and NEMS
Modeling and Characterization
Nanoelectronics and Spintronics
Nanoprocessing, Nanotechnology and Nanofabrication
Reliability and Failure Analysis
Semiconductor Devices
Testing and Yield Enhancement
B. Integrated Circuits
ADC, DAC
Analog, digital, mixed-signal, power and RF/mm-wave/THz IC
ASIC
Fault Tolerant Circuits
Frequency-to-Digital Converters (FDC)
IC Sensors
Low-Power Low-Voltage IC
Memories
Microprocessors, Microcontrollers and DSPs
Nonlinear Circuits
Optoelectronic
Switched Capacitor and Current Mode Circuits
Time-to-Digital Converters (TDC)
VLSI Arithmetic Circuits
Voltage-to-Frequency Converters (VFC)
C. Integrated Systems
Biomedical Systems
Clock Distribution
Digital Multimedia IC
Distributed Computing Architecture
Embedded Systems
Power Management
Reconfigurable Systems
Sensory Systems
Soft Computing Systems
System-in-Package (SiP)
System-on-Chip (SoC)
Wireless and RF Communications
D. Design Automation and Verification
Analog Synthesis
Area, Power and Thermal Analysis
Computer-Aided Design (CAD) for ICs
Floor plan and Layout
Hardware/Software Co-Design
Library Development and Design Methodology
Logic, Architectural and System Synthesis
Mixed-Mode/Domain Simulation
Routing and Interconnect
Signal Integrity/EMC/EMI
Simulation, Verification and Testability
SoC, MPSoC, NoC, SIP, and NIP Design and Test
Testing, Design for Testability, Design for Manufacturing, Built-in Self-test
17–19 November 2021
8th International Symposium on Sensor Science - China
Nanjing, China
Dear Colleagues,
It is with great enthusiasm that we announce the 8th International Symposium on Sensor Science—China (I3S-CN 2021). The conference is organized by the MDPI open access journal Sensors (Impact Factor 3.275), and will be held in Nanjing, Jiangsu, China from 17 to 19 November 2021.
With the finding and artificial synthesis of new recognition elements, the significant advancement in the synthesis of nanomaterials and understanding of their properties, and the innovation of signal transduction principles, sensor science has become one of the most active research areas. This conference will provide leading scientists working in this field with a platform to share their latest research and engage in exciting discussions.
The main topics of the conference include:
Biosensors and Bioelectronics;
Chemical Sensors;
Internet of Things and Sensor Networks;
Intelligent Sensors and Smart Sensing;
Physical Sensors and MEMS;
Wearable Sensors;
Sensing and Imaging;
Optical Sensors;
Sensors and Actuators;
Fault Diagnosis Systems and Machines;
Vehicular Sensing.
There will also be two specific topics of Remote Sensing Science Workshop:
Remote Sensors, Data Acquisition and Processing
Remote Sensing Application
The symposium invites submissions for abstracts that will be reviewed by the conference committee. The authors of accepted contributions will be invited to submit a conference paper along with a slide or poster presentation of their works. All participants will have the opportunity to examine, explore, and critically engage with research during the symposium.
During the symposium, a number of renowned speakers will share their current state-of-the-art research, which will also include a Q&A session to allow audience participation.
After the conference, all accepted conference papers will be published in the proceedings of this Symposium within a dedicated issue of the MDPI journal Engineering Proceedings. In addition, all participants will be encouraged to submit an extended full manuscript to one dedicated Special Issue in Sensors with a 500 CHF discount on the Article Processing Charge (APC).
We hope that you will join this Symposium to exchange ideas, communicate fruitful collaborations, and make this eighth edition in China a success.
Kind regards,
Prof. Dr. Huangxian Ju
The Chair of the 8th International Symposium on Sensor Science—China
Electronics announces selected third-party conferences. In case you would like to announce your own event on the Electronics website, please fill out the following form to apply for the announcement of a conference or other academic event (seminar, workshop).
Upcoming Partner Conferences (5)