Two Pregnancy Care Models in Poland—A Descriptive–Comparative Study
Abstract
Care for a pregnant woman can take various organizational forms. The World Health Organization (WHO) recommends leaders increase research into health systems. The aim of this is to manage the healthcare system in such a way as to provide beneficiaries with access to
[...] Read more.
Care for a pregnant woman can take various organizational forms. The World Health Organization (WHO) recommends leaders increase research into health systems. The aim of this is to manage the healthcare system in such a way as to provide beneficiaries with access to high-quality services with limited financial resources. The study presented in this paper was conducted using a diagnostic survey on a group of 1697 Polish women in the traditional model of care (TM) and 3216 women in the Coordinated Care for Pregnant Women Program (CCP). Two research tools were used in this study. The first is a survey prepared by the National Health Fund, the second is an author's survey. The results indicate that most women (85%) receiving care under the CCP received effective pain management, compared to 67% under the traditional care model (
p
< 0.001). In the CCP, women were significantly more likely to receive midwife assistance in infant care (90%) than women in the traditional care model (60%) (
p
< 0.001). Significantly more CCP patients want to return to the same hospital for their subsequent childbirth (74%) than women in the traditional model of care (43%) (
p
< 0.001). In patients' opinion, the new CCP model is superior in meeting their needs and providing higher-quality services. However, educating women that an obstetrician-gynecologist and a midwife can manage their pregnancy is still necessary. In addition to the CCP program, special attention should be paid to available pain management during childbirth since the use of analgesia is still insufficient in Polish hospitals.
Full article
►

▼

Show Figures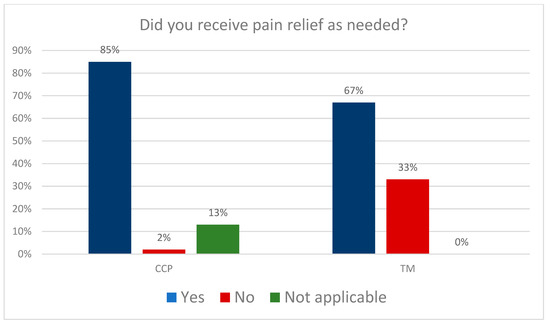 Figure 1