Conferences
Upcoming MDPI Conferences (1)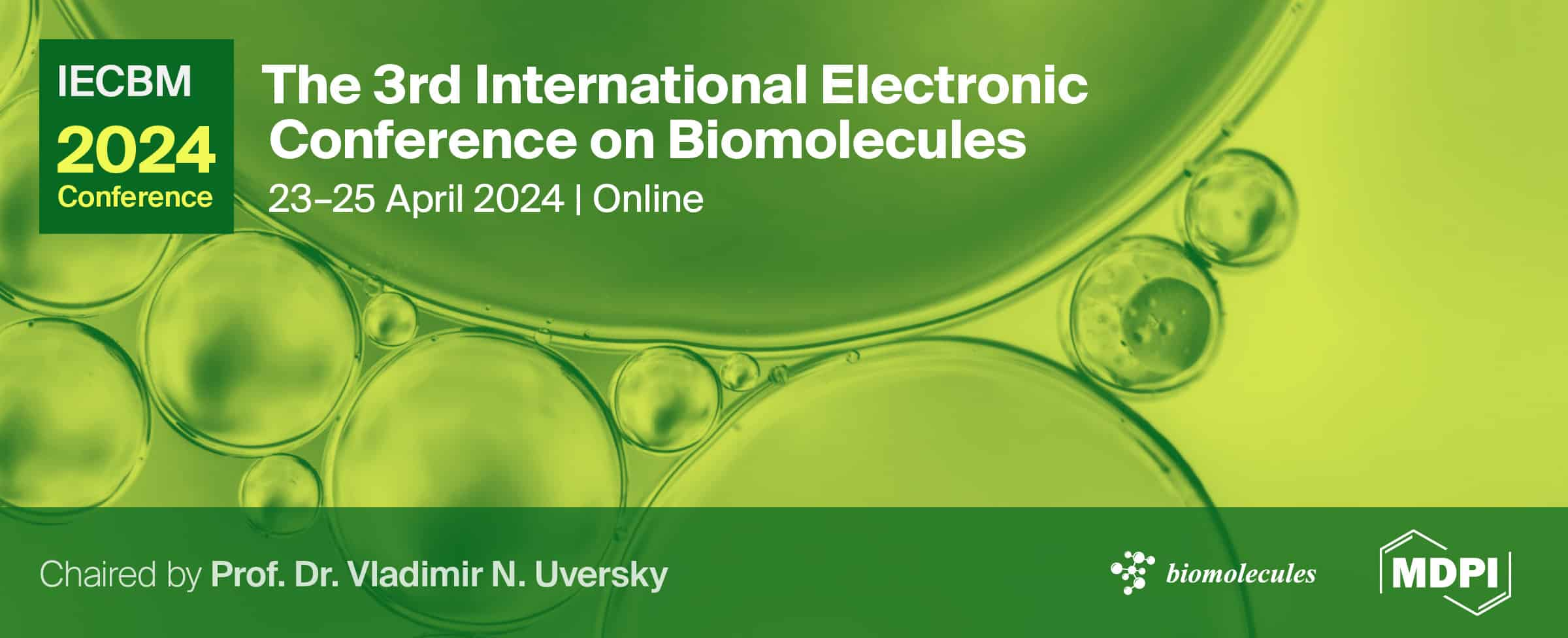 23–25 April 2024
The 3rd International Electronic Conference on Biomolecules
Online
The conference is organized by the MDPI journal Biomolecules and will take place virtually on 23–25 April 2024 (Central European Time)
Conference Chair:
Prof. Dr. Vladimir N. Uversky
Department of Molecular Medicine, University of South Florida, USA
The Topics of Interest
Biomolecular Structures and Functions
Molecular Mechanisms in Cellular Processes
Biomolecular Interactions and Networks
Biomaterials Design and Characterization
Biocatalysis and Enzyme Engineering
Bioinformatics and Computational Biology
Important Dates
Deadline for abstract submission: 23rd January 2024
Notification of acceptance: 23rd February 2024
Deadline for Early Bird Registration: 27th February 2024
Guide for Authors
To submit your abstract, please click on the following link: https://sciforum.net/user/submission/create/939.
To register for the event, please click "Event Registration" on the homepage.
For details regarding submission of abstracts, posters, and slides, as well as publication opportunities, please refer to "Instructions for Authors".
For any enquiries regarding the event, please contact: [email protected].
We look forward to seeing you at the 3rd International Electronic Conference on Biomolecules.
Cells announces selected third-party conferences. In case you would like to announce your own event on the Cells website, please fill out the following form to apply for the announcement of a conference or other academic event (seminar, workshop).
Upcoming Partner Conferences (0)
No conferences found for the selection.