Conferences
Upcoming MDPI Conferences (2)
16–28 November 2020
Cell-to-Cell Metabolic Cross-Talk in Physiology and Pathology
online
On behalf of the Scientific Advisory Committee, we are pleased to welcome you to the first electronic conference, Cells 2020, dedicated to the "mechanisms and pathophysiological role of the metabolic cross-talk between the cells".
Cells 2020 is an online event that covers all aspects of cell metabolic cross-talk.
The event is hosted on Sciforum, the platform developed by MDPI for organizing electronic conferences and discussion groups, and is sponsored by MDPI and the Cells open access Journal.
The theme of the electronic conference is "Cell-to-Cell Metabolic Cross-Talk in Physiology and Pathology" .
The conference will be held from 16 to 28 November 2020 on sciforum.net, a platform service for hosting international electronic conferences for scientific communities.
Topical sessions include:
Cell Cycle Regulators: The Cross-Talk with Metabolism
Exosomes and Extracellular Vesicles in Health and Disease
The Cross-Talk between Cell Adhesion and Metabolism
The Cross-Talk between Cell Death Regulation and Metabolism
The Cross-Talk between Immune Cells and Tissue Microenvironment
The Compartmentalisation of Cellular Signaling
Cells 2020 will allow scientists from all over the world to present their latest research and receive direct feedback from peers, without costs of travel. Cells 2020 will be sponsored by MDPI, Switzerland.
Please note that registration and publishing abstracts/presentations/proceedings are free of charge. Full papers will be selected for publication in a Special Issue of Cells (IF 4.366; with 20% discount on article processing charges): Selected Papers from the International Electronic Conference on Cell-to-Cell Metabolic Cross-Talk in Physiology and Pathology.
We hope that you will join the conference to make use of the presence of internationally renowned scholars to exchange ideas and to merge different areas of expertise into successful collaborations.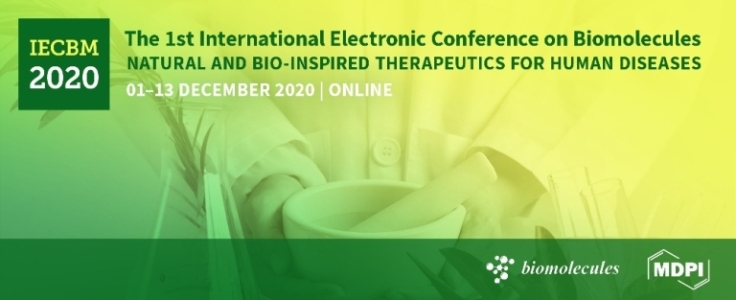 1–13 December 2020
1st International Electronic Conference on Biomolecules: Natural and Bio-Inspired Therapeutics for Human Diseases
Scifurm, online
Dear Colleagues,
It is with great enthusiam that we announce the 1st International Electronic Conference on Biomolecules: Natural and Bio-Inspired Therapeutics for Human Diseases (IECBM2020). The conference is organized by the MDPI open-access journal Biomolecules (Impact Factor 4.082), and will be held online from 1 to 13 December 2020.
Nature has long inspired drug discovery. While synthetic products often fail to meet clinical expectacions, natural products are highly optimized for their in vivo specific functions. The field of natural and bio-inspired therapeutics grows with every new attempt to mimic nature to produce new and succesful drugs targeting a wide variety of human diseases. This conference will provide leading scientists working in the field with an online platform on which to share their latest research and engage in exciting discussions. The main topics and sessions of the conference are:
Natural and bio-inspired drug universe (Session 1);
Derivatives of natural drugs: when chemistry allows to optimize what was created by nature (Session 2);
Pathways for the discovery of new bio-inspired and natural drugs and their derivatives (Session 3);
Repurposing of previously approved natural and bio-inspired drugs (Session 4)
This online event will bring together researchers from all over the world with no concerns of travel or other related expenditures. Participation and "attendance" to the IECBM2020 are FREE of charge.
The conference invites submissions for abstracts that will be reviewed by the conference committee. The authors of accepted contributions will be invited to submit a conference paper along with a slide or poster presentation of their work. All participants will have the opportunity to examine, explore, and critically engage with research findings published in Sciforum during the conference.
After the conference, all accepted papers will be published in the proceedings of this e-conference within a dedicated issue of the MDPI journal Proceedings. In addition, all participants will be encouraged to submit a full paper to one dedicated Special Issue in Biomolecules with a 20% discount on the Article Processing Charges (APC).
We hope that you will join this e-conference to exchange ideas, start fruitful collaborations, and make this first edition a success—the first of many.
Kind regards,
Prof. Dr. Vladimir Uversky
Prof. Dr. Prakash Kulkarni
Dr. Marc Maresca
Cells announces selected third-party conferences. In case you would like to announce your own event on the Cells website, please fill out the following form to apply for the announcement of a conference or other academic event (seminar, workshop).
Upcoming Partner Conferences (4)