Conferences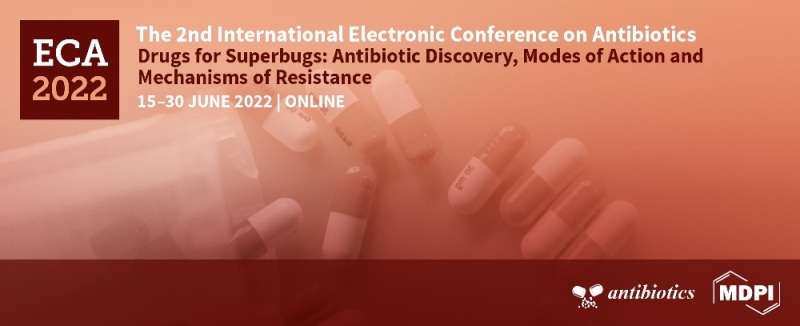 We are pleased to launch the 2nd International Electronic Conference on Antibiotics—Drugs for Superbugs: Antibiotic Discovery, Modes of Action, and Mechanisms of Resistance (ECA2022), chaired by Prof. Dr. Manuel Simões and Prof. Dr. Jesus Simal-Gandara, which will be held virtually from 15 to 30 June 2022.
This conference aims to provide an opportunity to representatives of academia, industry, and health services to discuss and advance our current knowledge on how to control microorganisms. We hope to encourage discovery across the discipline as we cover the following seven broad themes in Sessions S1–S7, as listed below:
S1. Antimicrobial Discovery, Development, and Optimization
S2. Mechanisms of Action and Resistance
S3. Epidemiology and Multidrug Resistance
S4. Repurposing and Antimicrobial Adjuvants
S5. Antimicrobials and Interfaces
S6. Clinical Studies
S7. Initiatives and Policies on Antimicrobial Development and Resistance
The conference is organized and sponsored by MDPI and the scientific journal Antibiotics (ISSN 2079-6382, IF 4.639), and it will be completely free of charge. You are welcome to both upload and present your work and to attend this conference.
The conference proceeding papers and presentations will be available online for discussion during the time of the conference and will be published in the journal Medical Sciences Forum (you will be informed before your abstract is published, and you can decide whether to publish it or not). In addition, all participants of ECA2022 are welcome to submit an extended full paper to the Special Issue of the journal Antibiotics with a 20% discount on the Article Processing Charges.
Important Dates:
Abstract Submission: 15 April 2022
Notification of Acceptance: 30 April 2022
Proceedings Paper Submission Deadline: 10 May 2022
Conference Date: 15–30 June 2022
Event Awards
To acknowledge the support of the conference esteemed authors and recognize their outstanding scientific accomplishments, we are pleased to launch the following awards:
Best Paper Award
Prize: 500 CHF and a chance to publish a waived paper in Antibiotics in 2022.
Best Poster Award
Prize: 300 CHF.
For more information on ECA2022, please visit the conference website (https://eca2022.sciforum.net/) or contact us by email ([email protected]).
We look forward to receiving your research papers and to welcoming you to the electronic conference.
Conference Secretariat