Open Access This article is
freely available
re-usable
Review
The Quest for a Vaccine Against Coccidioidomycosis: A Neglected Disease of the Americas
Departments of Pathology and Medicine, University of California, San Diego, School of Medicine, San Diego, CA 92161, USA
Academic Editor: David S. Perlin
Received: 24 October 2016 / Accepted: 14 December 2016 / Published: 16 December 2016
Abstract
:
Coccidioidomycosis (Valley Fever) is a disease caused by inhalation of
Coccidioides
spp. This neglected disease has substantial public health impact despite its geographic restriction to desert areas of the southwestern U.S., Mexico, Central and South America. The incidence of this infection in California and Arizona has been increasing over the past fifteen years. Several large cities are within the endemic region in the U.S. Coccidioidomycosis accounts for 25,000 hospital admissions per year in California. While most cases of coccidioidomycosis resolve spontaneously, up to 40% are severe enough to require anti-fungal treatment, and a significant number disseminate beyond the lungs. Disseminated infection involving the meninges is fatal without appropriate treatment. Infection with
Coccidioides
spp. is protective against a second infection, so vaccination seems biologically plausible. This review of efforts to develop a vaccine against coccidioidomycosis focuses on vaccine approaches and the difficulties in identifying protein antigen/adjuvant combinations that protect in experimental mouse models. Although the quest for a vaccine is still in the early stage, scientific efforts for vaccine development may pave the way for future success.
Keywords:
Coccidioides immitis
;
Coccidioides posadasii
; coccidioidomycosis; vaccine; immunology; fungi; T-cell mediated immunity
Conflicts of Interest
The author has no conflict of interest.
Figure 1.
Geographic distribution and phylogeny of
C. immitis
and
C. posadasii
. This figure is adapted from reference [
1
]. CA refers to California (
C. immitis
) and non-CA refers to non-California (
C. posadasii
). The color coding is based on phylogenetic relatedness [
1
]. The publisher has granted the rights for reproduction of this figure.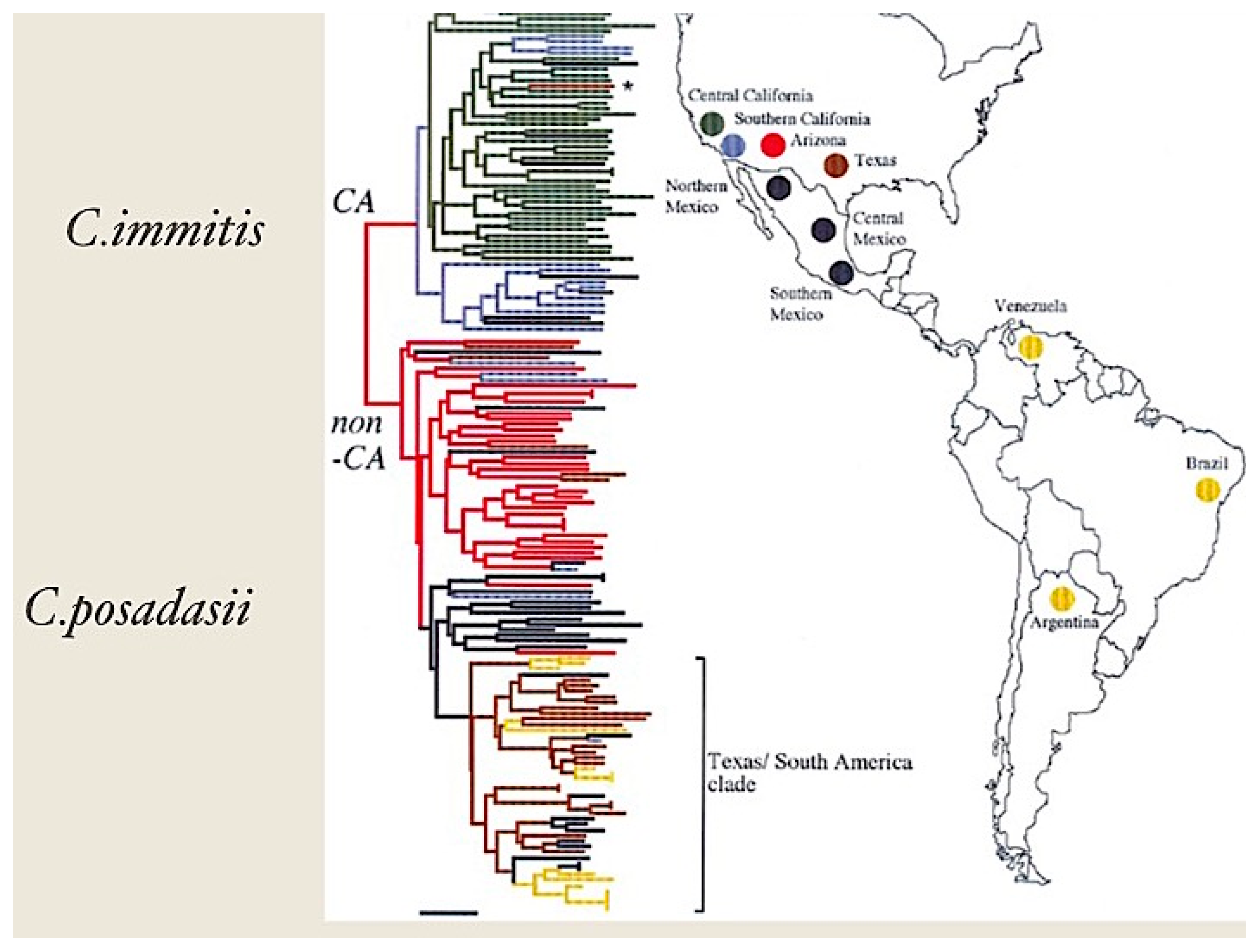 Figure 2.
Coccidioides
spp. arthroconidia and spherules. (
A
) Arthroconidia within hyphae (lacto-phenol cotton blue preparation) (
B
) Spherule containing endospores in tissue (periodic acid—Schiff stain). The images were obtained from the CDC (
http://phil.cdc.gov/phil/details.asp
). The images are in the public domain.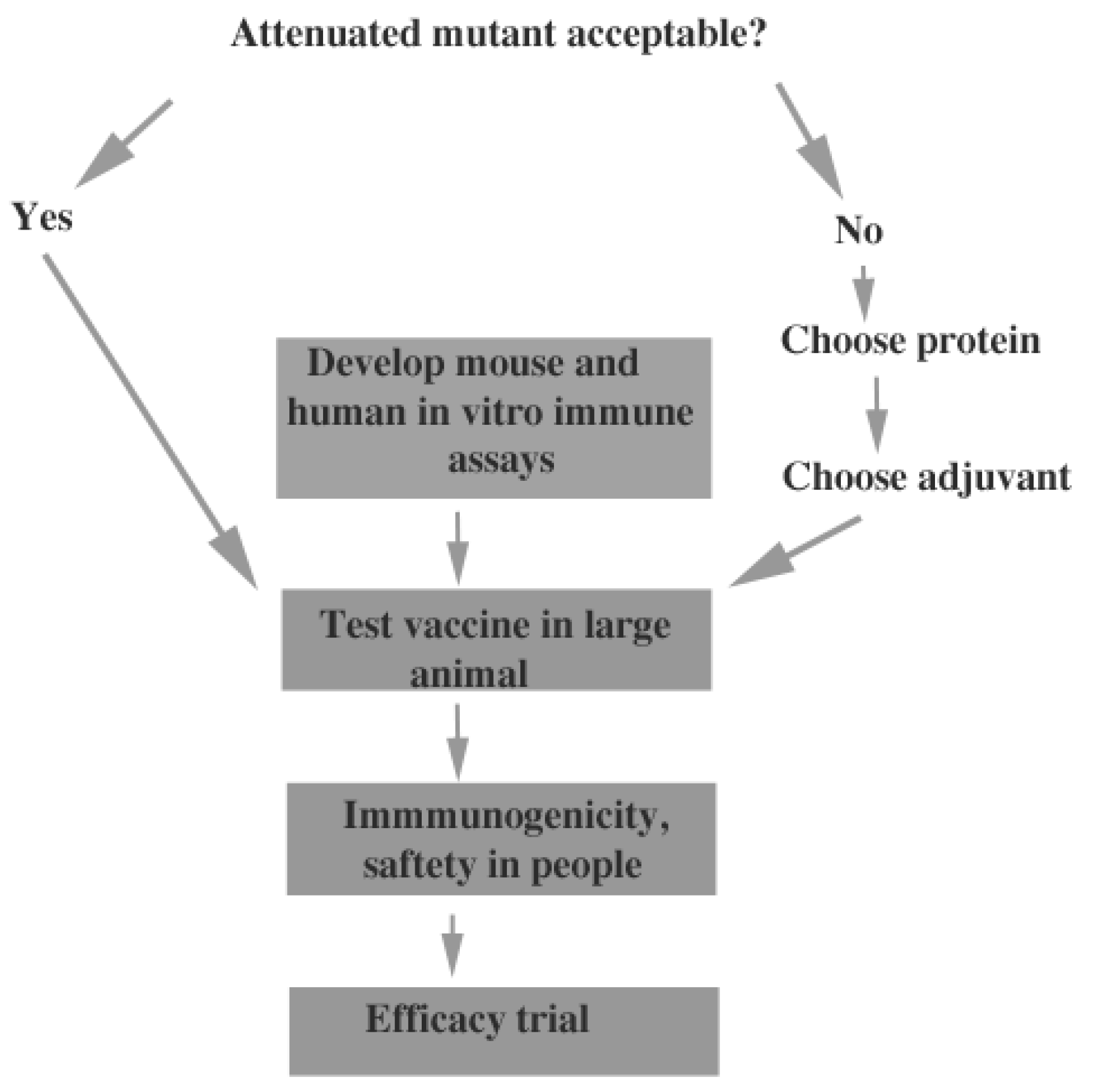 Table 1. Vaccine antigens.
Antigen
Form
Adjuvant
Activity
Reference
Live attenuated mutants
N/A a
N/A
Active
[30,31]
Formalin-killed spherules
N/A
N/A
Active in mice but not humans
[28,32]
Spherule extract
N/A
Various
Active
[29]
Ag2/PRA
Protein, DNA
Various
Moderately active
Inactive
[33,10]
β-glucanosyltransferase
Protein
CpG-ODN b
Moderately active
[34]
Calnexin
Protein
Glucan and Adjuplex
Modestly active
[35]
Aspartyl protease
Protein
CpG-ODN
Moderately active
[36]
CSA c
Protein
CpG-ODN and MPLA d
Modestly active
[37]
Ag2/PRA and CSA fusion protein
Protein
CpG-ODN and MPLA
Highly active
[37]
Phospholipase, α-mannosidase and aspartyl protease
Protein
CpG-ODN
Highly active
[36,38]
a Not applicable; b cytosine triphosphate deoxynucleotide—guanine triphosphate deoxynucleotide immunostimulatory polymer; c Coccidioides specific antigen; d monophosphoryl lipid A.
© 2016 by the author. Licensee MDPI, Basel, Switzerland. This article is an open access article distributed under the terms and conditions of the Creative Commons Attribution (CC-BY) license ( http://creativecommons.org/licenses/by/4.0/).